Medical researcher contracts SARS
UNWELCOME COMEBACK A researcher at the Institute of Preventive Medicine tested positive for the virus after handling lab equipment without wearing protective gear
The Center for Disease Control (CDC) confirmed yesterday that a 44-year-old male surnamed Chan has been diagnosed with the SARS virus, becoming Taiwan's first case of the disease since an earlier epidemic was brought under control in July.
Department of Health (DOH) Director-General Chen Chien-jen (陳建仁) said the patient, a researcher at the Institute of Preventive Medicine at National Defense University in Taipei, had most likely contracted the virus on Dec. 5 after handling laboratory equipment without wearing protective gear.
The patient had been commissioned by the National Science Council to study SARS prevention drugs.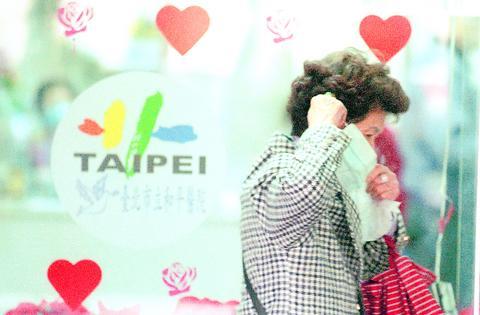 A woman entering Taipei Municipal Hoping Hospital puts on a mask after a SARS patient was transferred to the hospital for treatment yesterday.
PHOTO: GEORGE TSORNG, TAIPEI TIMES
Chan had left for a conference in Singapore on Dec. 7 with six colleagues and did not develop a fever until the evening of Dec. 10, the date he returned to Taiwan.
Chan was admitted to the Tri-Service General Hospital on Tuesday evening and was transferred to the Taipei Municipal Hoping Hospital, which is designated to handle infectious diseases, yesterday morning.
The Tri-Service General Hospital announced that the patient tested positive for SARS at 2:30am yesterday and the CDC confirmed the results hours later.
The CDC said the colleagues who accompanied Chan to Singapore will not be put under home quarantine but must perform personal health management measures that include daily temperature readings.
Since coming down with a fever, Chan had come into close contact with his wife, father and two children. The four family members will be put under home quarantine and required to take daily temperature readings.
The six colleagues and four family members will be under close observation for three weeks. If fever is detected, samples will be sent to the DOH for SARS tests.
Chen said that beginning today the nation's SARS alert level would be raised from zero to level B.
Level zero indicates that there are no cases of SARS worldwide, level A indicates SARS cases in other nations and level B indicates a limited number of SARS cases in Taiwan.
At level B, those who have been in close contact with SARS patients cannot leave Taiwan. Also, travelers with a fever cannot depart the country without a health certificate ruling out SARS.
Under the policies for a level-B outbreak, airlines are required to adopt more stringent SARS-prevention measures and hospital workers are to be mobilized to help handle cases of fever found during checks at airports.
On Monday the CDC had recommended temperature readings be taken of those entering any schools or public institutions. At the B alertness level, those recommendations are mandatory.
The level-B prevention policies will be in place until Dec. 31. If there are no additional cases of SARS reported before Dec. 31, the nation will return to level-zero status.
Because Chan had worked in a maximum-security laboratory, the incident has raised concerns about the safety of laboratories conducting SARS research.
"All laboratories with SARS cultures will be required to undergo disinfection procedures. In addition, all research on viral cultures will be temporarily discontinued," CDC Director-General Su Ih-jen (蘇益仁) said.
"The patient currently has a respiratory rate of 23 breaths per minute and a temperature of 37?C," said Chang Shan-chwen (張上淳), director of the northern region of the Infection Prevention Medical Care Network.
The CDC has notified the World Health Organization and all APEC members of the SARS case.
"Judging from how the Singaporean case in September was handled by the international community, travel advisories against visiting Taiwan probably will not be issued by other nations because transmission was confined to a research laboratory," Chen said.
This is the second case of research-related infection worldwide since this past summer's outbreak was brought under control. Singapore had reported a similar case on Sept. 9.
Also see story:
Taipei deploys tough anti-SARS measures
Comments will be moderated. Keep comments relevant to the article. Remarks containing abusive and obscene language, personal attacks of any kind or promotion will be removed and the user banned. Final decision will be at the discretion of the Taipei Times.