Millions leaving it to the last minute to file their taxes
If you haven't filed your taxes for last year yet, you're not alone. As of yesterday, more than half of those required to file taxes hadn't. But there is still time.
Tax offices will remain open until 7pm on Monday -- the last day people can file their taxes -- while the online tax-filing system will be open until midnight.
Officials said yesterday that a record 55 percent, or 2.73 million of the nation's 5 million single and joint filing taxpayers, had failed to complete the dreaded annual chore, even though they have only two working days left to do so.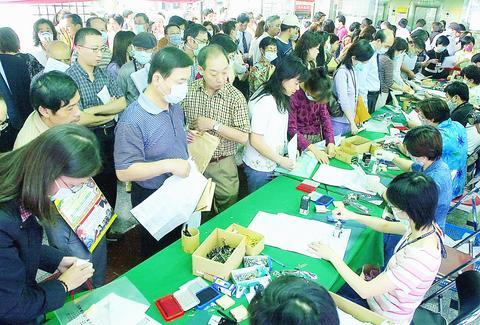 People swarm into a tax office in Taipei to file their annual tax reports yesterday. This year's deadline for filing tax reports is June 2.
PHOTO: LIAO CHENG-HUEI, TAIPEI TIMES
Chen Wen-tzong (陳文宗), deputy commissioner at the National Tax Administration of Taipei, said yesterday that, because of SARS fears, many taxpayers may have sent their tax reports by mail and hadn't been tallied yet.
Chen urged all taxpayers to file before the deadline or take advantage of the 24-hour online tax-filing system and pay with credit cards if they owe taxes.
The tax-filing rate in Taipei is similar to the nationwide average. According to Chen, 327,000 taxpayers -- or 49 percent -- of the capital city's 800,000 taxpayers have filed taxes.
And for Taipei's nearly 20,000 expatriate taxpayers -- who cannot use the online tax-filing system program -- Chen yesterday reminded them to file as soon as possible lest they waste time waiting in long lines at the tax offices.
With members of the public preferring to stay home to reduce the risk of catching SARS, Chen said that the number of people filing taxes online had increased by nearly 150 percent from last year.
So far, 640,000 taxpayers had logged on to the Internet to file their income tax reports compared to 280,000 during the same period last year, Chen said, adding that he expected to see more last-minute online filings.
The finance ministry said on Monday that health workers tending to SARS patients would be given another month to file their taxes.
According to the Ministry of Finance, Taiwan may face a shortfall of NT$106.6 billion in tax revenues this year, including a shortage of NT$5.2 billion in business taxes and NT$6.2 billion in securities-exchange transaction tax following the SARS epidemic.
To offset the tax losses, Minister of Finance Lin Chuan (林全) said yesterday that the government planned to issue bonds to raise capital.
Comments will be moderated. Keep comments relevant to the article. Remarks containing abusive and obscene language, personal attacks of any kind or promotion will be removed and the user banned. Final decision will be at the discretion of the Taipei Times.