Nation mourns Lin Wang's death
AN ICON DEPARTS The old elephant died in his sleep at the age of 86 after delighting visitors to Taipei's zoo for 50 years
Lin Wang (林旺), Taipei City Zoo's star elephant, decorated World War II veteran and the world's oldest Asian elephant in captivity, died early yesterday morning at the zoo at the grand old age of 86.
"Lin Wang was found dead by his pool at 2:30am yesterday. He died with dignity from extreme weakness due to old age," said Lin Hua-ching (林華慶), a city zoo section chief.
An autopsy later determined that he died from cardiopulmonary failure.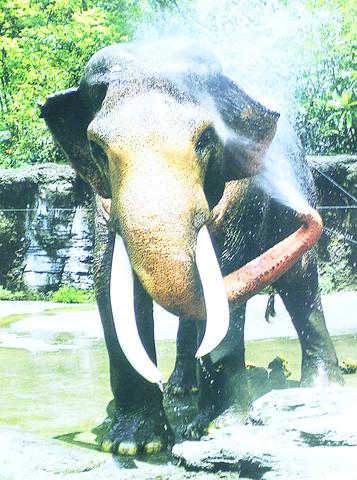 The world's oldest Asian elephant, 86-year-old Lin Wang, seen cooling off in this undated photo, died at the age of 86 yesterday at the Taipei Zoo. Asian elephants usually live to be about 50 years old.
PHOTO: REUTERS
Lin Wang showed signs of frailty after the Lunar New Year holiday early this month, moving slowly and eating less.
The zookeeper said the elephant had been observed spending unusually long periods of time in the pool by his enclosure, known as the White House, since last Friday.
"Though we knew his health was deteriorating, we're still surprised that he has died so soon. But we take solace from the dignified way in which he died -- the fact that he didn't experience a lot of pain," Lin said.
The zoo plans to have the body of the pachyderm stuffed and displayed at the zoo, together with a reconstruction of his skeleton, an undertaking that will require around NT$5 million.
"We hope local businesses will donate the necessary funds for the project," Lin said.
The octogenarian had lived in Taiwan for more than five decades. Known as "Granddaddy Lin Wang," the elephant was an icon to many Taiwanese, young and old.
President Chen Shui-bian (陳水扁) yesterday sent wreathes to the zoo yesterday, bearing the inscription, "For Lin Wang, a friend forever."
Taipei City Mayor Ma Ying-jeou (馬英九) said: "The average life expectancy of Asian elephants is 50 years. Lin Wang had exceeded that period by so long that he had become an icon to four generations of people in Taiwan. When I was a child, my parents took me to see Lin Wang at the zoo. When I became a father, I took my daughters to see him. We watched him grow old, but he also accompanied us as we grew up."
Ma said the city government had originally planned to allow the nation's students and children to visit the zoo for free to wish the elephant well for three days starting Friday, knowing that he was weakening.
The activity will still proceed as planned, but for the purposes of conveying condolences.
"We didn't expect him to die so soon. But the activity will go ahead as scheduled," Ma said.
Lin Wang's extraordinary story began in 1943 when the ROC military acquired the elephant from Japanese prisoners of war in Burma during World War II. At the time, Lin Wang was about 26 years old.
He was used for carrying military supplies during the war and was honored later for his contributions to the war effort.
In 1947, he was transported to Kaohsiung and was transferred to Taipei City Zoo in 1954, where he lived with his long-term companion Malan.
Malan died last October at the age of 54 due to a malignant tumor on her foot.
Comments will be moderated. Keep comments relevant to the article. Remarks containing abusive and obscene language, personal attacks of any kind or promotion will be removed and the user banned. Final decision will be at the discretion of the Taipei Times.