Hokkien should be given official status, says TSU
ETHNIC DIVIDE In a bid to give the Taiwanese dialect the recognition it deserves, TSU lawmakers plan to introduce a new proposal that would make it a second official language
TSU lawmakers say they will petition the Legislative Yuan to make Hokkien Taiwan's second official language alongside Mandarin.
They plan to make the proposal next week at the legislature and if successful in their venture, demand the Ministry of Education to adjust school syllabuses to increase the number of hours that youngsters would be required to spend studying Hokkien.
They said the initiative is not intended to exacerbate ethnic tensions, but rather to ease strain between different ethnic groups by acknowledging that Taiwan is a multi-cultural society.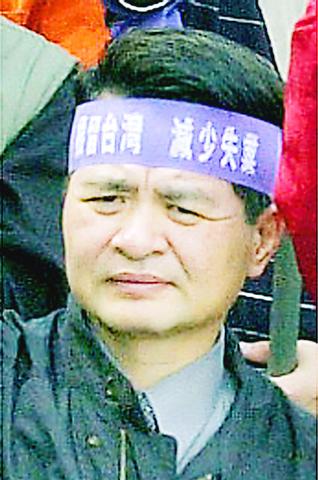 PHOTO: CHIANG YING-YING,TAIPEI TIMES
The idea, however, has drawn flak from opposition parties, who called upon the TSU to stop raising politically sensitive issues.
Just two weeks after the beginning of the legislative session, the pro-Taiwan political group has whipped up a media frenzy by championing highly controversial policies.
The language issue comes hot on the heels of TSU proposals to halve the number of legislative seats and to require presidential candidates to be born in Taiwan.
However, TSU legislators deflected accusations that they harbor extreme political ideologies.
"Many democratic nations have long accepted the notion that a country does not necessarily need to have just one official language. Multiple-language policy has been adopted in many countries," TSU lawmaker Cheng Chen-lung (程振隆), the initiator of the proposal, said yesterday.
Singapore, Finland and Canada all have two official languages, whereas Switzerland has four, according to Cheng.
Cheng said in light of the fact that more than 75 percent of people in Taiwan speak Hokkien fluently, there is no reason why Hokkien can't be designated as an official language.
The lawmaker stated that his proposal will pacify, not inflame the ethnic tension in Taiwan if everybody speaks the same language because "the cultural gap will instantly vanish."
The lawmaker also pointed out that learning native languages for just four hours a week at the elementary-school level is insufficient. He said teaching hours should be extended for students to achieve a greater level of language ability.
Students of grades one through six are currently required to select at least one language, either Hokkien, Hakka or one of the numerous Aboriginal languages. The language course only accounts for one-tenth of the entire weekly learning hours.
Cheng's initiative won endorsement from his party's allied DPP lawmakers, but the motion was attacked by opposition parties.
Throwing his weight behind the initiative, lawmaker Wang Tuoh (王拓), a DPP caucus leader, said there is "nothing outrageous in officially designating Hokkien as the second national language," given that the language is prevalently used in society.
"This matter can be discussed, it is not sensitive anymore. It is unnecessary to politicize the issue," Wang said.
He added that officially recognizing diverse languages will benefit the government showing that Taiwan is a democratic and open society.
KMT legislator Apollo Chen (陳學聖), however, criticized the proposal as an attempt to fuel existing ethnic tension.
He said the TSU's initiative favors only Hokkien. "What about other native languages such as Hakka or the Aboriginal languages?" he asked.
PFP lawmaker Diane Lee (李慶安) said there is no need to further burden already-overworked students by prolonging hours set aside for for native-language study.
"Our students already shoulder too much stress from school studies. The proposal will further burden students merely to satisfy adults' [political] considerations," she said.
Comments will be moderated. Keep comments relevant to the article. Remarks containing abusive and obscene language, personal attacks of any kind or promotion will be removed and the user banned. Final decision will be at the discretion of the Taipei Times.