Paddling 'out of Taiwan'
Launched last year, the Taiwan Outrigger Canoe Voyaging Society hopes to reconnect the nation with its seafaring past as the starting point of the Austronesian migration, while promoting indigenous culture and local understanding of the ocean
While participating in outrigger canoe activities in Hawaii, Yvonne Jiann (江伊茉) often heard indigenous locals say that their ancestors came from Taiwan.
"I didn't really understand why," the long-time US resident tells the Taipei Times. Growing up in Taipei, she knew little about indigenous culture. "Only when I returned to Taiwan did I learn about our shared Austronesian cultural background and saw the similarities."
Jiann visited Taiwan just before the COVID-19 pandemic shut down international travel. Unable to leave and missing her canoe family across the Pacific Ocean, she started the Taiwan Outrigger Canoe Club (TOCC) and began researching how Austronesian peoples voyaged from Taiwan to Madagascar, New Zealand and Hawaii in outrigger canoes. She later moved to Taitung and recruited a team of paddlers. Last week, they returned from the world's largest Queen Lili'uokalani Canoe Race in Hawaii, where the delegation also participated in various indigenous cultural exchanges. It was the first time a Taiwan team attended.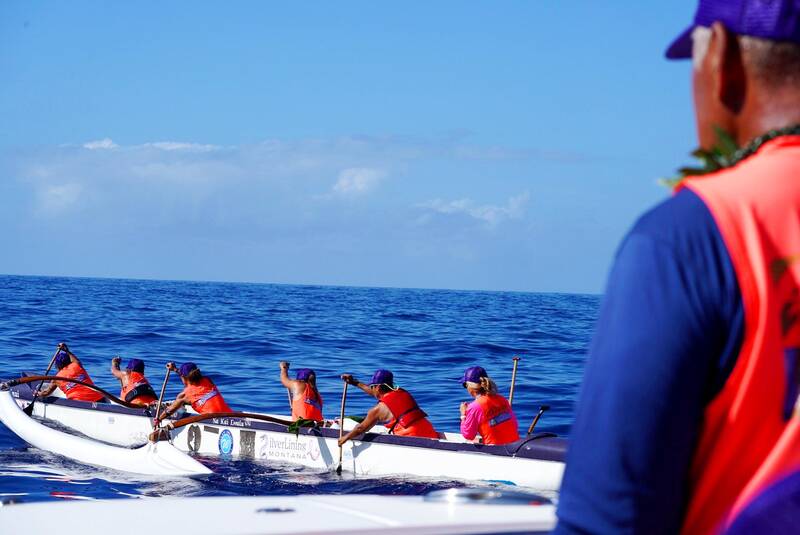 Members of the Taiwan Outrigger Canoe Voyaging Society compete during the Queen Lili'uokalani Canoe Race in Hawaii.
Photo courtesy of Ray Wang
However, while outrigger canoe culture is still maintained on many other islands, it doesn't exist in Taiwan.
"Since Taiwan is the Austronesian motherland, they expected us to have great canoes," Puyuma/Amis artist and TOCC paddler Akac Orat says. "They couldn't imagine that we didn't even have a single one, nor the culture."
Jiann also found that despite living on an island, there was still a general lack of understanding and fear of the ocean among Taiwanese, a product of coastal areas being largely off-limits during the Martial Law era. Now she has decided to stay and promote outrigger canoe paddling, foster indigenous cultural exchanges and encourage deeper local connections with the ocean and awareness toward protecting it.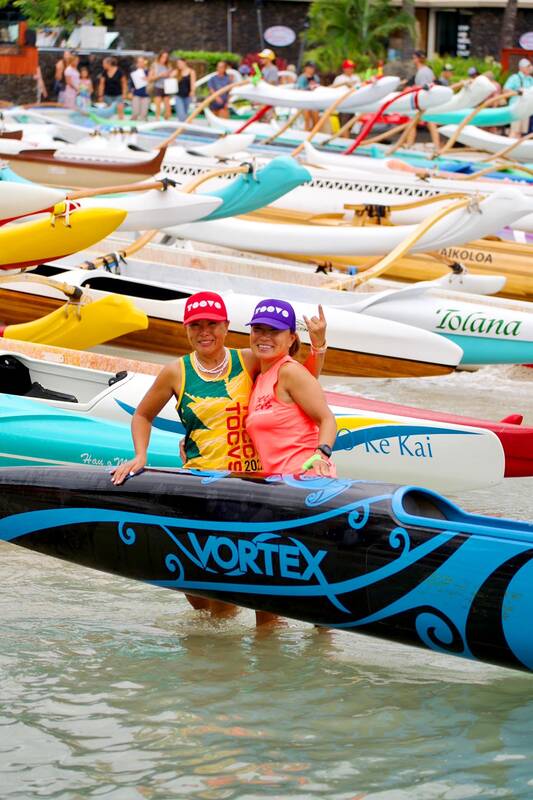 Taiwan Outrigger Canoe Voyaging Society founder Yvonne Jiann, left, at the Queen Lili'uokalani Canoe Race in Hawaii.
Photo courtesy of Ray Wang
CANOE BEGINNINGS
Even before she knew about Taiwan's Austronesian connections, outrigger canoe paddling was more than just a sport to Jiann. Training under renowned Hawaiian canoe master Kimokeo Kapahulehua, Jiann learned much about the traditional ways of life and came to see her paddling team as ohana, or extended family.
Akac had no seafaring experience, but two years ago he began building a canoe with his friend and Amis artist Lafin Sawmah for an exhibition.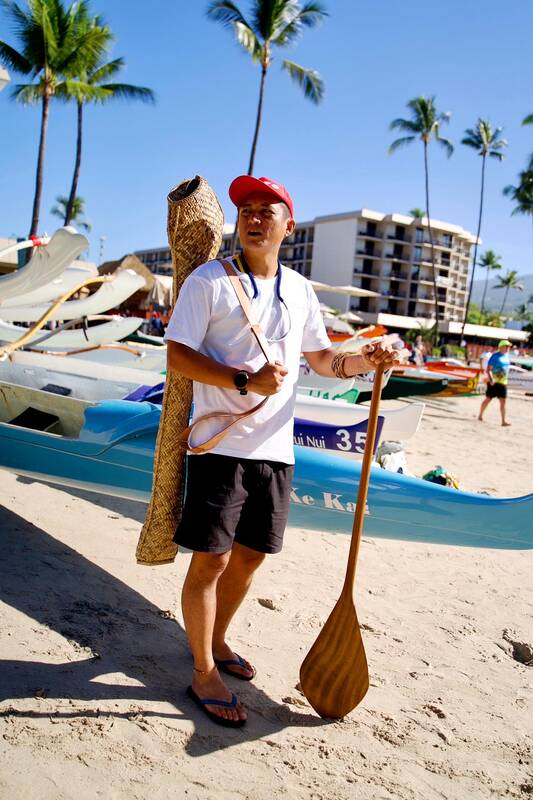 Indigenous artist Akac Orat stands with his paddle in Hawaii last week during the Queen Lili'uokalani Canoe Race.
Photo courtesy of Ray Wang
"It was more of a creative endeavor and we didn't know whether it would be functional or not," Akac says. "But Yvonne saw it and came to speak to us enthusiastically about her plans. Since Taiwan doesn't have this culture, we actually had no idea what she was talking about."
A year later, they met again through the Taitung Blue Ocean Daily festival. By that time Jiann's canoe family had sent her a vessel and she was promoting it at the event. After learning more about the Austronesian expansion, Jiann saw that the long distances outrigger canoe paddlers often travel — her coach once completed a 2,500km trip — were an extension of the ancient migration routes that ultimately originated in Taiwan.
"I wanted us to reconnect to this heritage," she says. "I wanted to introduce the island's first peoples and ancient cultures, and use our canoes to follow their ancestors' migration routes on a journey of discovery."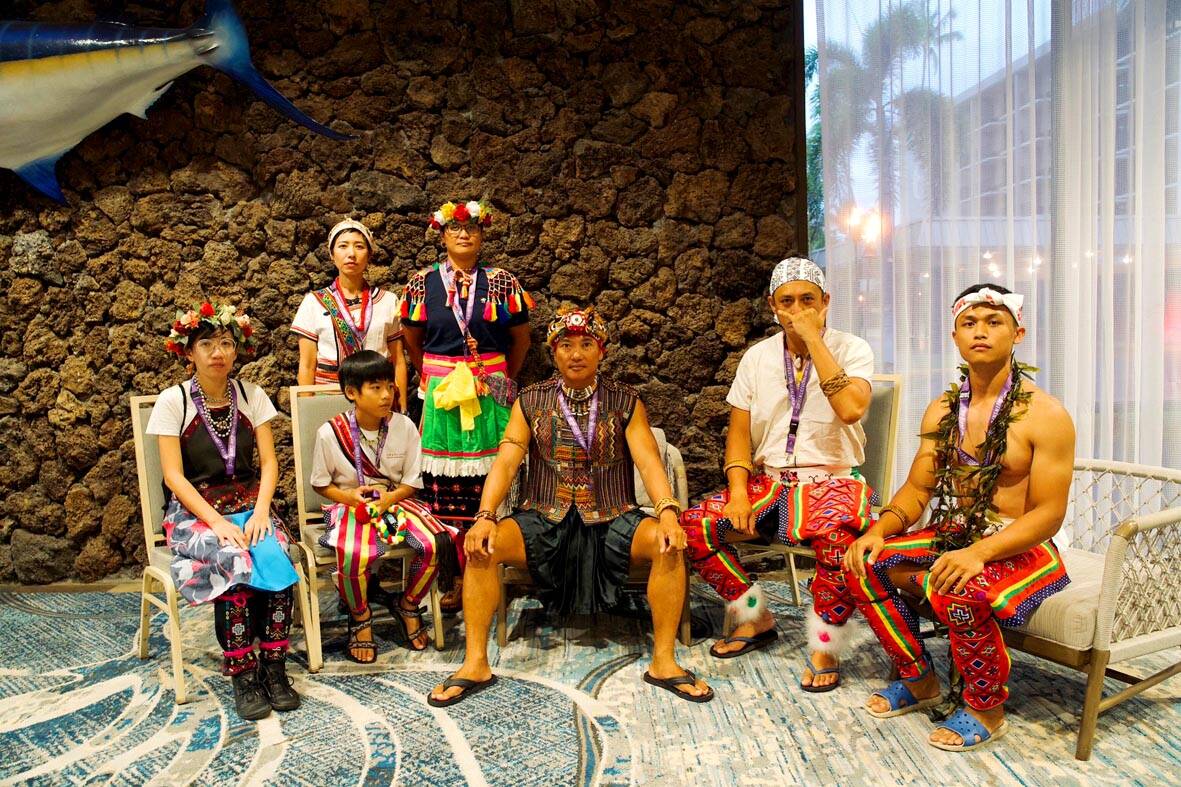 Indigenous paddlers from the Taiwan Outrigger Canoe Voyaging Society pose for a photo during the Queen Lili'uokalani Canoe Race in Hawaii.
Photo courtesy of Ray Wang
Akac and Sawfin's canoe was also ready to sail by then. Kapahulehua, who was in Taiwan for the festival, blessed their vessel. The connections between the two peoples were apparent when Kapahulehua could understand about 20 percent of what was said at a ceremony held in the Amis language, Jiann says. They also traveled to Orchid Island (Lanyu, 蘭嶼) to learn about their existing seafaring traditions, finding different similarities there.
RESPECT THE OCEAN
After training for about a month, the fledgling team set out for TOCC's first international competition in Singapore. Jiann asked each member to think about what aspect of Taiwan they could share.
"During the trip, Uncle Kimokeo went to great lengths to explain his traditions and teach us about the ocean, canoe culture and the concept of ohana," Akac says. "This is what made me want to continue participating. Even though this culture is lost in Taiwan, we can learn it again from them."
However, Akac doesn't want to just blindly copy what he sees, instead applying Taiwan's traditions and resources — such as using rattan weaving in the construction of canoes and possibly making paddles out of bamboo.
Through competing, Akac also learned that appreciating the ocean also means respecting its power and being fully equipped to deal with its perils. He saw people of all ages surfing in Hawaii, but in Taiwan, not only do most people find such activities dangerous, there isn't a comprehensive safety system to deal with and prevent accidents.
Lafin tragically drowned during a fishing trip in June. Akac brought his friend's paddle with him to Hawaii and placed it in the position of the back-up paddle during the roughly 30km main event.
"I asked his soul to bless our canoe, but halfway through the journey we tipped over," Akac says. "I asked him if he had stood in the wrong place and upset our balance. When training you can be careful to avoid accidents, but in the ocean, disaster can happen in a split second with just one strong wave."
The crew had to flip the boat over, get in and immediately scoop out the water while continuing to paddle. Their arms cramped, but they couldn't stop, determined to finish the race.
FUTURE OF TAIWAN'S OCEANS
This is just the beginning and there's still a lot to learn and much training needed before they can even claim to be promoting canoe culture, Akac says.
"You have to do something millions of times before it becomes a 'culture,'" he says. "Not until we're able to paddle with ease, can we display the deeper, spiritual side of it. It's not something we can accomplish in a year or two."
Fostering Taiwan's ocean culture as a whole, is a much longer endeavor that will take generations and require much resources. But Jiann thinks it's necessary, otherwise Taiwan will miss out on countless opportunities as an island nation and allow its shores to deteriorate further.
"If we feel that the ocean has nothing to do with us, then the policymakers won't respect it. We'll continue to destroy the ecology and drift further and further away from it," she says.
Comments will be moderated. Keep comments relevant to the article. Remarks containing abusive and obscene language, personal attacks of any kind or promotion will be removed and the user banned. Final decision will be at the discretion of the Taipei Times.