Book review: Fox on the run
Trump tell-all author returns with tale of Fox News strife, which also includes prediction Ron DeSantis will be Republican nominee
In winter 2022, at a hideaway in St Barts, Rupert Murdoch directed "sudden fury" at Donald Trump, who he thought would lose the 2024 Republican presidential primary to Ron DeSantis, but who the media mogul also said was likely to cost him "fifty million dollars," through a lawsuit regarding Trump's lies about the 2020 election.
The lawsuit was filed by Dominion Voting Systems, over Fox News's broadcast of Trump's lies.
Settled this April, it cost Murdoch considerably more than he predicted: US$787.5m, to be precise.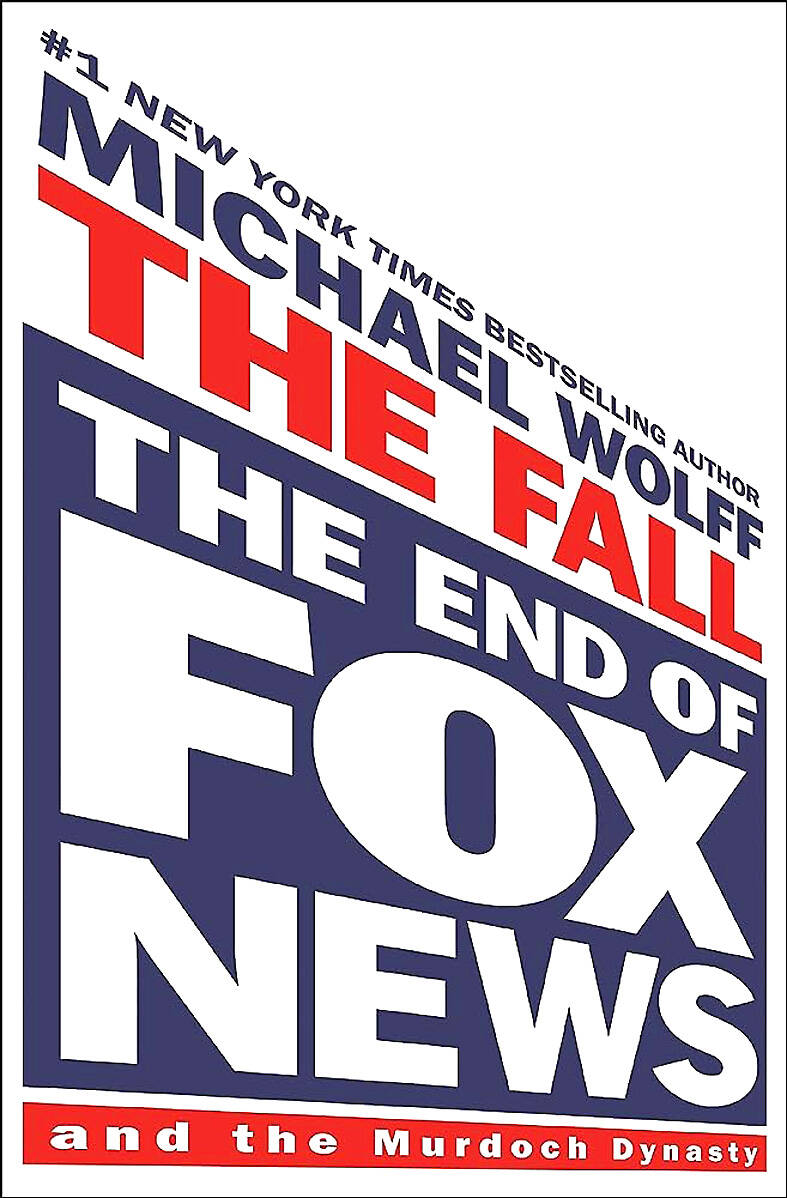 The Fall: The End of Fox News and the Murdoch Dynasty, by Michael Wolff.
Murdoch's wildly off miscalculation and his anger at Trump — in conversation with friends at the idyllic Caribbean getaway — is described by the journalist Michael Wolff in his new book, The Fall: The End of Fox News and the Murdoch Dynasty, in a passage set towards the end of Murdoch's marriage to the model Jerry Hall.
Wolff's new book was announced with fanfare last month. It will be published in the US next Tuesday. The Guardian obtained a copy.
Murdoch's "hand suddenly hit the table, a hard blow, shaking it," Wolff writes in the book. "This might have appeared like sudden fury at his wife … But, no, it was directed somewhere else.
At Trump, apparently.
"Here, nearly under his breath, was a rat-a-tat-tat of jaw-clenching 'fucks.' Murdoch was as passionate in his Trump revulsion as any helpless liberal."
According to Wolff, Hall said Murdoch should "do something" about Trump, only for a friend to say: "But he can't. He'll lose money."
Wolff writes: "Money. 'This lawsuit could cost us 50 million dollars,' [Murdoch] said quietly, but clearly."
Dominion sued for US$1.6 billion but settled for US$787.5 million. The terms of the settlement were not released. Tucker Carlson, the former far-right star of Fox News's prime-time lineup, has said he "knows" his later dismissal was part of the deal. Fox News and Dominion say it was not.
Among other lawsuits faced by Fox News over Trump's election lies is an even bigger demand, for US$2.7 billion from Smartmatic, another maker of election machines.
Murdoch's reported prediction about DeSantis winning the Republican presidential nomination, "tak[ing] the evangelical vote in Iowa" because "it was going to come out about the abortions Trump had paid for," now seems similarly off-beam.
Trump has long dodged questions about whether he, the leader of an anti-abortion party, has ever had sexual partners who have had abortions. His Republican supremacy unchallenged, he enjoys vast leads in national and key state polls and is reportedly planning to attack DeSantis in Iowa, the first state to vote, in an attempt to kill off his flatlining campaign.
Wolff, once a Guardian columnist, achieved global fame with three tell-all books on the Trump presidency, starting in January 2018 with Fire and Fury and ending in 2021 with Landslide.
But he is also the author of The Man Who Owns the News: Inside the Secret World of Rupert Murdoch. Now, in the introduction to The Fall, he says he may be "the journalist not in his employ who knows [Murdoch] best."
His new volume, Wolff writes, is based on "conversations specifically for this book, and other conversations that have taken place over many years, and on scenes and events that I have personally witnessed or that I have recreated with the help of participants in them."
The scene in St Barts is described in terms that seem to indicate sources among those present.
Then soon to turn 91, Murdoch was "full-time on the job running the Fox News cable channel, its sister Fox Broadcasting Company, the television stations he owned across the country, newspapers in the US, Britain and Australia, and the book publisher HarperCollins," writes Wolff, in the book published in the US by Henry Holt.
Describing tension between Hall and Murdoch — in a marriage that would end in August last year — Wolff says Murdoch was sitting with "a few friends — really, his wife's friends … at the patio table."
Murdoch, Wolff writes, "seemed to have just gotten off the phone" and to be continuing a conversation or train of thought. Someone present called Trump's claims about Dominion-made voting machines being used for electoral fraud "crazy."
Wolff writes: "'Trump is crazy, crazy, crazy,' sighed Murdoch."
Hall reportedly retorted: "You helped make him president."
"'We have some idiots,' said Murdoch, as though ruefully — but his meaning unclear."
Most of Wolff's book is concerned with machinations and maneuvering at Fox News between hosts, executives and Murdoch family members, as the end of the patriarch's reign draws near.
Murdoch's distaste for and estrangement from Trump, the far-right president he helped install, has been widely reported, not least by Wolff himself.
But as Trump continues to dominate a 2024 Republican primary widely seen as his best chance of avoiding prison time arising from 91 criminal charges under four separate indictments, Wolff's new reporting may cause further embarrassment for Murdoch and Fox News.
Numerous pungent passages in The Fall are based on conversations with Roger Ailes, the Fox News chief who died in 2017, in disgrace after being forced out in a sexual harassment scandal, but who is widely remembered for building the rightwing network and concurrently shaping the modern Republican party.
In one such exchange, Ailes, who helped Trump's campaign in 2016, is quoted as saying: "Donald? He's Richie Rich. He's richer than you but he's not smarter than you — in fact, he's clearly a dumb motherfucker."
Publication Notes
Publication Notes
The Fall: The End of Fox News and the Murdoch Dynasty By Michael Wolff 320 pages Henry Holt and Co Hardcover: US
Comments will be moderated. Keep comments relevant to the article. Remarks containing abusive and obscene language, personal attacks of any kind or promotion will be removed and the user banned. Final decision will be at the discretion of the Taipei Times.