Taiwan in Time: A compound fit for a dictator
Former president Chiang Kai-shek enjoyed Yangmingshan's Zhongxing Guesthouse for just over a year before his health failed. The compound then served as the KMT's historical archives until 1998
Sept. 11 to Sept.17
More than 5,000 visitors flocked to Yangmingshan on Sept 11, 1999 to get a glimpse of what many called former president Chiang Kai-shek's (蔣介石) "final residence." Although it wasn't where Chiang spent his last days, it was the last of his numerous abodes across Taiwan to be built, and also the most spacious.
Like many Chiang residences, the highlight on the news was the secret underground tunnel that he would use in case of emergency. The "Daxi Files" (大溪檔案), consisting of more than 270,000 documents, letters and photos tied to or created by Chiang between 1925 and 1975, were stored underground here until they were handed over to Academia Historica in the 1990s.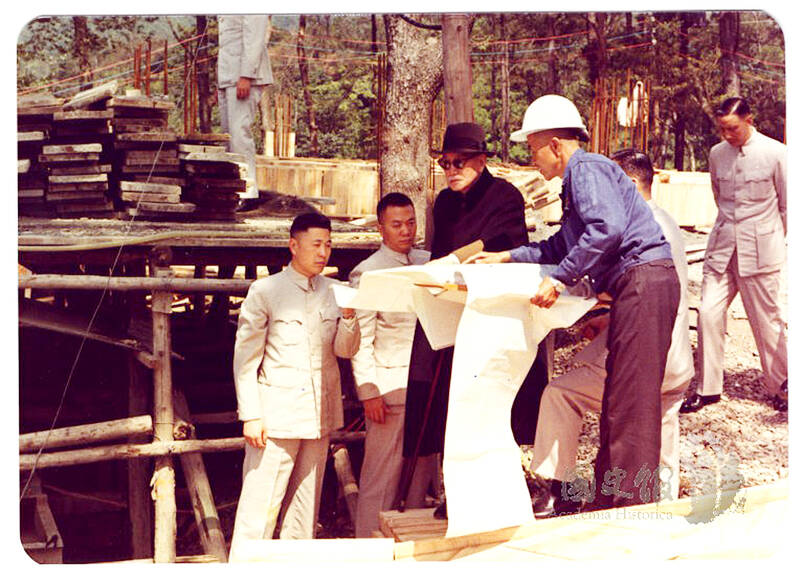 Chiang Kai-shek inspects construction of the Zhongxing Guesthouse in April 1969.
Photo courtesy of Academia Historica
Named the Zhongxing Guesthouse (中興賓館), this complex was completed in 1970, just four years before Chiang's death. Chiang was fond of Yangmingshan; he stayed there when he first arrived in Taiwan and spent many summers at the Grass Mountain Chateau (草山行館), originally a recreational center and guesthouse built by the Taiwan Sugar Corporation in 1920.
Zhongxing Guesthouse was meant to serve as a new summer home for the president, where he would also receive foreign dignitaries. Chiang did not get to enjoy it for long, however, as he was hospitalized with a serious bout of pneumonia in July 1972. He shuttled between the Taipei Veterans General Hospital and his main residence in Taipei's Shilin District (士林) until his death in April 1975, never returning to his beloved mountain villa.
The structure remained empty for four years, upon which it became Yangming Shuwu (陽明書屋), the headquarters and storage for the Chinese Nationalist Party's (KMT) Party History Institute. The entire property was handed over to Yangmingshan National Park in 1997, and soon became a tourist attraction.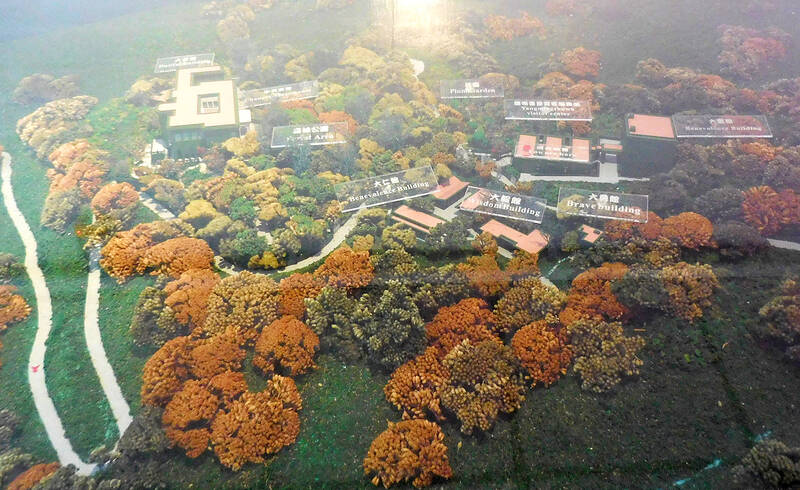 A model showing the Yangming Shuwu complex.
Photo courtesy of Wikimedia Commons
GRASS MOUNTAIN CHATEAU
Chiang was well-acquainted with Yangmingshan before he retreated to Taiwan from China in 1949. In June of that year, he stayed at the mountain, and on one of his walks he discovered the empty Grass Mountain Chateau. He took a great liking to the building and its environs, using it as a living and working space when he returned in October.
With China all but lost to the communists, Chiang left his homeland for good on Dec. 10, 1949, moving into Grass Mountain Chateau upon arrival. He had temporarily stepped down as president, but after he resumed office in March 1950 he needed a place closer to the government agencies in downtown Taipei. On March 31, he moved into the Japanese-built Horticultural Experimental Station, known today as the Shilin Residence (士林官邸). The residence was exceptionally hot during summers, and Chiang, who reportedly eschewed fans and air conditioners, often spent May to September at Grass Mountain Chateau.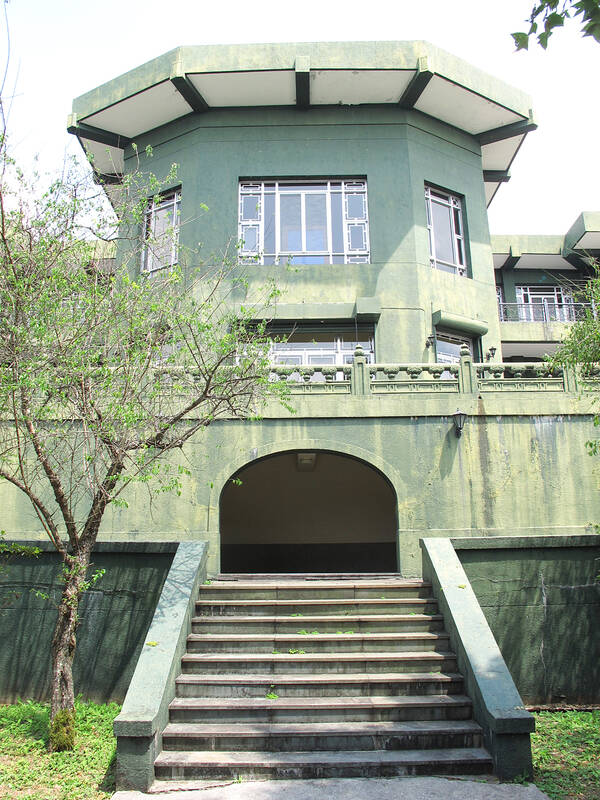 One of the buildings at the former Zhongxing Guesthouse.
Photo: Chen Wei-tzu, Taipei Times
The presence of officialdom on Yangmingshan grew when Zhongshan Hall was completed in 1966. Many government meetings as well as international conferences and gatherings were held there, and in 1972 it became home to the National Assembly.
While spending his summers on Yangmingshan, Chiang enjoyed walking in the woods where the guesthouse was to be built. The views from there, like many places in Taiwan, reminded him of his hometown in Fenghua County, Zhejiang Province.
The Grass Mountain Chateau was hard to maintain as a historic structure and was running out of space, so in the late 1960s, the Chiangs decided to build a new residence. The Veteran Affairs Council's RSEA Engineering Corporation was in charge of construction under a "special permit," supervised by Chiang's grandson Chiang Hsiao-yung (蔣孝勇). The architect of the Chinese garden style structure was Huang Pao-yu (黃寶瑜), designer of the National Palace Museum. Most laborers were veterans from China.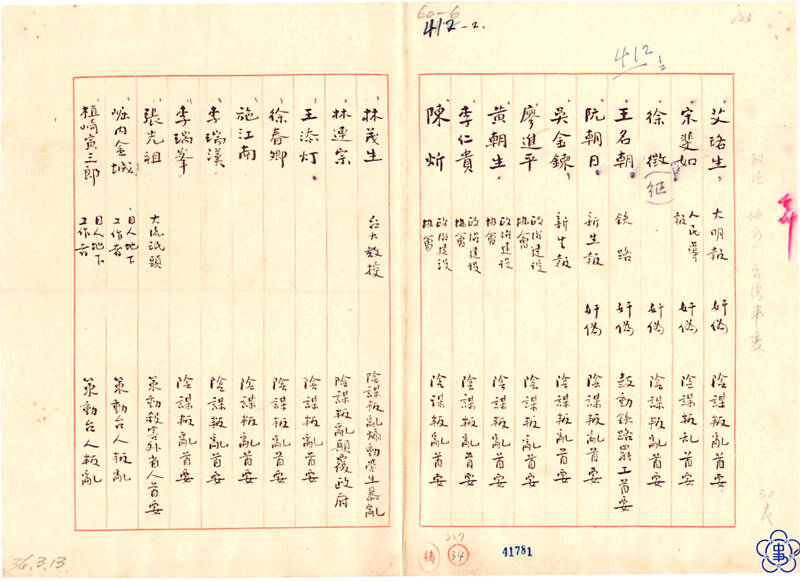 This list of 228 Incident suspects from 1947 was found in the since-declassified Daxi Documents.
Photo courtesy of Wikimedia Commons
Chiang often personally inspected the construction, and in 1969 he was involved in a car accident on Yangde Boulevard (仰德大道) leading to the mountain, which greatly affected his health. He wrote in his diary that the accident caused him to lose 20 years of his life, though he was already 82 years then.
HISTORICAL ARCHIVES
Zhongxing Guesthouse's main building was finished in May 1970, while the other structures and gardens were completed over the year. It was breezy and spacious, but also suffered from humidity by being sandwiched between two peaks. Chiang's personal doctor Hsiung Wan (熊丸) disliked the wind, however, saying that it sounded terrifying at night and attributed Chiang's rapid decline in health to the structure's bad fengshui.
Chiang spent the summer of 1971 living and working from the guesthouse, and he was staying there in July 1972 when he fell ill. Soong Mayling (宋美齡), known to much of the world as Madame Chiang Kai-shek, and relatives visited occasionally while Chiang recovered, but activity at the compound decreased after his death.
Locals recall still seeing military police guard the residence over the ensuing years, adding to its mystique. In 1979, Chiang's son Chiang Ching-kuo (蔣經國) decided to move the Party History Institute into the building, transporting the KMT history archives and the Daxi Documents from Nantou and Taoyuan, respectively.
Institute director Chin Hsiao-yi (秦孝儀) rechristened the place Yangming Shuwu ("Yangming archives") and engraved it on a new plaque in front. The exterior of the buildings remained unchanged, but the interiors were all repurposed, with the main structure serving as a memorial hall to Chiang, KMT founder Sun Yat-sen (孫逸仙) and other important figures in party history. The Daxi Documents were stored below this building and were off limits — even to staff members without special permission.
A three-story building was erected to keep the other documents, while Party History Institute staff worked from auxiliary spaces such as the former security guard living quarters.
Few visited at first, but long-time employee Chen Li-wen (陳立文) recalls in a Yangmingshan National Park study on the residence that students, scholars and local officials began showing up starting around 1984 for research or touring purposes. Former Singaporean prime minister Lee Kuan Yew (李光耀) visited in 1986.
The compound remained guarded and off limits to the public until the lifting of martial law in 1987 led to demands to open it up. In 1991, Zhongxing Road (中興路, dubbed the "President's Road") began allowing civilian traffic. By 1992, only the main structure remained guarded by plainclothes officers.
In 1993, the Lee family (李), who owned more than half of the 14-hectares of land the compound sat on, wanted their property back. After three years of negotiations, the government decided to give the buildings to the national park and buy the rest of the land from the Lees.
The Party History Institute held a bash at the residence for its 65th anniversary in 1995, and in 1998 it relocated to then-party headquarters on Zhongshan S Road.
Taiwan in Time, a column about Taiwan's history that is published every Sunday, spotlights important or interesting events around the nation that either have anniversaries this week or are tied to current events.
Comments will be moderated. Keep comments relevant to the article. Remarks containing abusive and obscene language, personal attacks of any kind or promotion will be removed and the user banned. Final decision will be at the discretion of the Taipei Times.