Russian Doll film
Wes Anderson on his new '50s-set film 'Asteroid City,' AI and all those TikTok videos
When Wes Anderson comes down from Paris for the Cannes Film Festival in the south of France, he and his actors don't stay in one of Cannes' luxury hotels but more than an hour down the coast and well outside the frenzy of the festival.
"When we arrived here yesterday, we arrived at a calm, peaceful hotel," Anderson said in a interview. "We're one hour away, but it's a total normal life."
Normal life can mean something different in a Wes Anderson film, and that may be doubly so in his latest, Asteroid City. It's among Anderson's most charmingly chock-full creations, a much-layered, '50s-set fusion of science fiction, midcentury theater and about a hundred other influences ranging from Looney Tunes to Bad Day at Black Rock.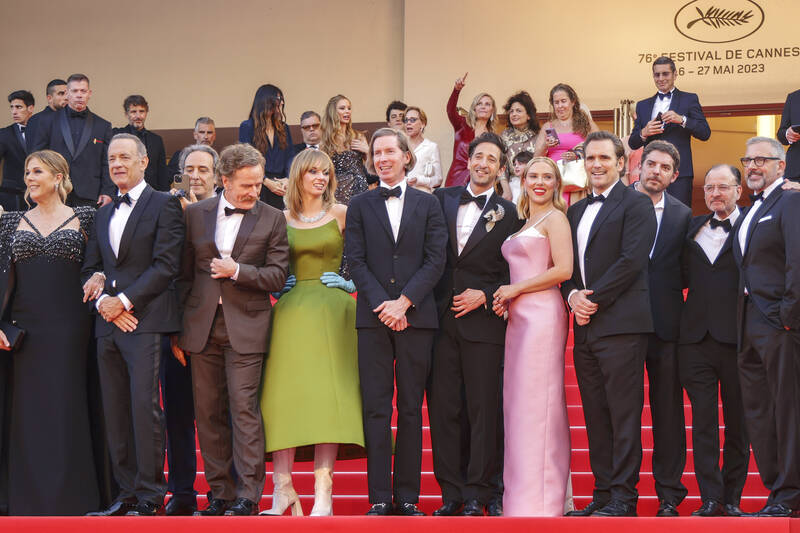 From left, Rita Wilson, Tom Hanks, Bryan Cranston, Maya Hawke, director Wes Anderson, Adrien Brody, Scarlett Johansson, Matt Dillon, Damien Bonnard, Fisher Stevens and Steve Carell on Tuesday pose for photographers upon arrival at the premiere of the film Asteroid City at the 76th international film festival, Cannes, southern France.
Photo: AP
Asteroid City, which Focus Features will release June 16, premiered Tuesday in Cannes. Anderson and his starry cast — including Jason Schwartzman, Scarlett Johansson, Tom Hanks, Steve Carell, Margot Robbie, Bryan Cranston, Jeffrey Wright and Adrien Brody — arrived all together in a coach bus.
The film, which Anderson wrote with Roman Coppola, takes place in a Southwest desert town where a group of characters, some of them nursing an unspoken grief, gather for various reasons, be it a stargazing convention or a broken-down car. But even that story is part of a Russian Doll fiction. It's a play being performed — which, itself, is being filmed for a TV broadcast.
All of which is to say Asteroid City is going to give all those Tik Tok videos made in Anderson's distinct, diorama style fresh fodder for new social-media replicas, both human-made and AI-crafted. Anderson spoke about those Tik Toks in an interview the day before Asteroid City debuted in Cannes, as well as other questions of style and inspiration in Asteroid City, a sun-dried and melancholic work of vintage Anderson density.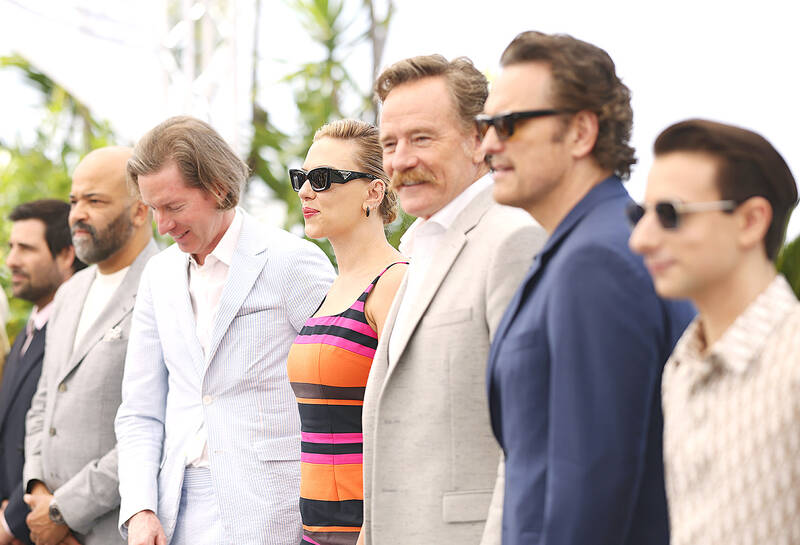 From left: Jason Schwartzman, Jeffrey Wright, director Wes Anderson, Scarlett Johansson, Bryan Cranston, Matt Dillon and Jake Ryan pose on Wednesday for photographers at the photo call for the film 'Asteroid City' at the 76th international film festival, Cannes, southern France.
Photo: AP
"I do feel like this might be a movie that benefits from being seen twice," Anderson said. "Brian De Palma liked it the first time and had a much bigger reaction on the second time. But what can you say? You can't make a movie and say, 'I think it's best everyone sees it twice.'"
AP: It's quite a treat to read in the movie's opening credits "Jeff Goldblum as the alien," before you even know there's an alien. That seems to announce something.
Wed Anderson: We naturally were debating whether this is necessary in the opening credits. I said, "You know, it's a good thing." It's a little foreshadowing. In our story, it's not a expansive role. But part of what the movie is to me and to Roman, it has something to do with actors and this strange thing that they do. What does it mean when you give a performance? If somebody has probably written something and then you study it and learn and you have an interpretation. But essentially you take yourself and put it in the movie. And then you take a bunch of people taking themselves and putting themselves in the movie. They have their faces and their voices, and they're more complex than anything than even the AI is going to come up with. The AI has to know them to invent them. They do all these emotional things that are usually a mystery to me. I usually stand back and watch and it's always quite moving.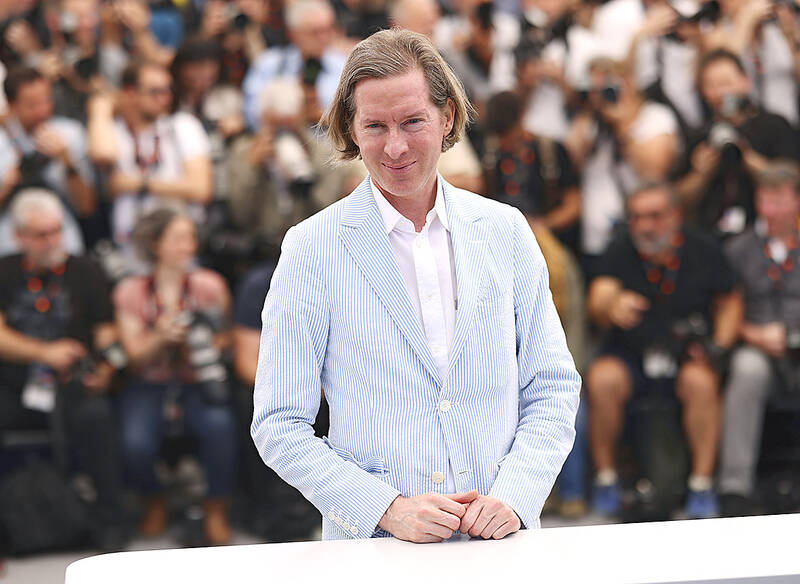 Director Wes Anderson on Wednesday poses for photographers at the photo call for the film Asteroid City at the 76th international film festival, Cannes, southern France.
Photo: AP
AP: The alien may signal doom for the characters of Asteroid City, and there are atomic bomb tests in the area. Is this your version of an apocalyptic movie?
WA: The apocalyptic stuff was all there. There probably were no aliens, but there certainly was a strong interest in them. There certainly were atom bombs going off. And there had just been I think we can say the worst war in the history of mankind. There's a certain point where I remember saying to Roman: "I think not only is one of these men suffering some kind of post-traumatic stress that he's totally unaware of, but he's sharing it with his family in a way that's going to end up with Woodstock. But also: They should all be armed. So everybody's got a pistol.
AP: Since maybe Grand Budapest Hotel, you seem to be adding more and more frames within frames for Russian doll movies of one layer after another. Your first movies, Bottle Rocket and Rushmore are starting to seem almost realistic by comparison. Do you think your films are getting more elaborate as you get older?
WA: Ultimately, every time I make a movie, I'm just trying to figure out what I want to do and then figure out how to make it such that we do what I want. It's usually an emotional choice and it's usually quite mysterious to me how end up with how end up. The most improvisation aspect of making a movie to me is writing it. I have a tendency to obsess over the stage directions, which are not in the movie. With Grand Budapest we had multiple layers to it, and French Dispatch certainly had that. This one is really split in two but there's more complex layers. We know the main movie is the play. But we also have a behind-the-scenes making of the play. We also have a guy telling us that this is a television broadcast of a hypothetical play that doesn't actually exist. It's not intention to make it complicated. It's just me doing what I want.
AP: Have you seen all the TikTok videos that have made in your style? They're everywhere.
WA: No, I haven't seen it. I've never seen any TikTok, actually. I've not seen the ones related to me or the ones not related to me. And I've not seen any of the AI-type stuff related to me.
AP: You could look at it as a new generation discovering your films.
WA: The only reason I don't look at the stuff is because it probably takes the things that I do the same again and again. We're forced to accept when I make a movie, it's got to be made by me. But what I will say is anytime anyone's responding with enthusiasm to these movies I've made over these many years, that's a nice, lucky thing. So I'm happy to have it. But I have a feeling I would just feel like: Gosh, is that what I'm doing? So I protect myself.
AP: People sometimes miss in your films that the characters operating in such precise worlds are deeply flawed and comic. The ornate tableaux may be exact but the people are all imperfect.
WA: That's what I would aspire to, anyway. In the end, it's a lot more important to me what it's about. I spend a lot more time writing the movie than doing anything to do with making it. It's the actors who are the center of it all to me. You can't simulate them. Or maybe you can. If you look at the AI, maybe I'll see that you can.
Comments will be moderated. Keep comments relevant to the article. Remarks containing abusive and obscene language, personal attacks of any kind or promotion will be removed and the user banned. Final decision will be at the discretion of the Taipei Times.