Moving beyond diabolo dancing
Diabolo Dance Theatre returns next weekend to the National Theater after 18 years, with a new presentation that incorporates acrobats, singers and other artists into a fantastical story
The first time Diabolo Dance Theatre (舞鈴劇場) performed at the National Theater in 2005, 99 percent of the content focused on the diabolo, an hourglass-shaped juggling apparatus derived from the Chinese yo-yo that's popular with local youngsters.
"Our challenge is how to use such a simple thing as the diabolo to entertain an audience for 70 minutes," artistic director Liu Le-chun (劉樂群) told the Taipei Times then.
That won't be the case for the group's return to the National Theater next weekend. The crowd-wowing "diabolo dancers" (鈴舞者) will still be a vital part of the performance, but the child-friendly VALO Part 2: The Island (VALO 二部曲: 島嶼) will also feature singers, drummers, acrobats, special effects and colorful, fantastical costumes and backdrops. And for the first time, the show will follow a clear storyline, one that revolves around an ancient prophecy about a girl confronting darkness and bringing light back to the world.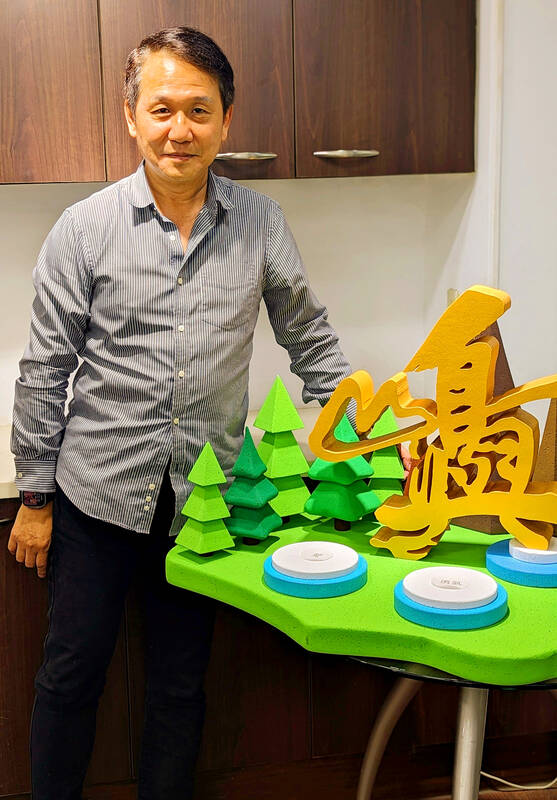 Diabolo Dance Theatre director Liu Le-chun poses for a photo next to a promo piece for VALO Part 2: The Island in his office in Taipei.
Photo: Han Cheung, Taipei Times
The group began evolving in this direction around 2017, Liu says. They had demonstrated that an all-diabolo performance could be successful, and he had begun incorporating other types of performers into his shows.
If he could push the diabolo beyond its usual acrobatic, showmanship-based qualities and create a unique way to present them, couldn't he take it further and build something completely new?
"I realized that I wanted to create a world on the stage based on my imagination," he says. "I wondered if it needed to be completely based on the diabolo, and after working with different performers, this world only became richer."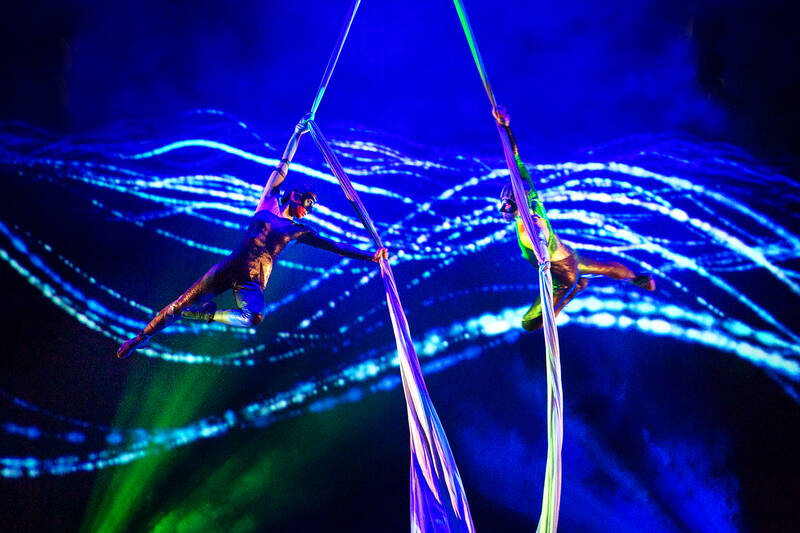 Scene from a 2021 production of VALO Part 2: The Island.
Photo courtesy of Diabolo Dance Theatre
"Diabolo remains our soul, but it doesn't mean that every time we have to use all our might to tell people, 'this is diabolo,'" Liu adds. "It now plays more of a connecting role that brings the many elements together to tell a story of this world."
Some compare the new format to Cirque du Soleil, and although Liu sees it as an honor, he disagrees.
"Cirque du Soleil uses its abundant resources and top-notch talent to serve up a grand imperial banquet," he says. "We are more like a xiaolongbao (soup dumpling); more delicate. There's less splendor, and more quiet, subdued parts."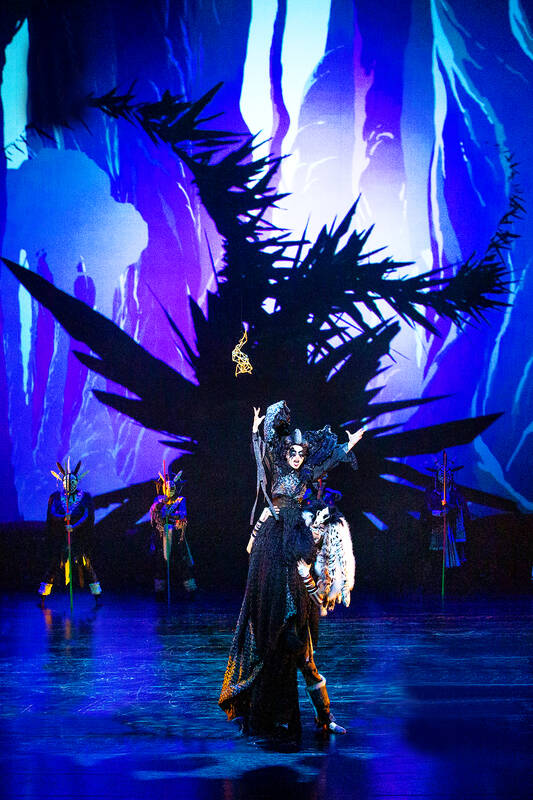 Scene from a 2021 production of VALO Part 2: The Island.
Photo courtesy of Diabolo Dance Theatre
RETURN TO THE START
Liu has no artistic training — and can barely use the diabolo. The elementary school math teacher started a diabolo group with students three decades ago. The Internet wasn't common then, so there was not much to refer to when leading the children and later developing performances with Pang Kuo-hua (邊國華), whose background is in dance. Perhaps that's why Liu was able to go so far out of the box, he says.
The goal for these shows is to create something that can move and inspire joy in both children and adults. Liu says that it sounds challenging, but it's not hard to do, especially since he says there's still a little child living inside of him.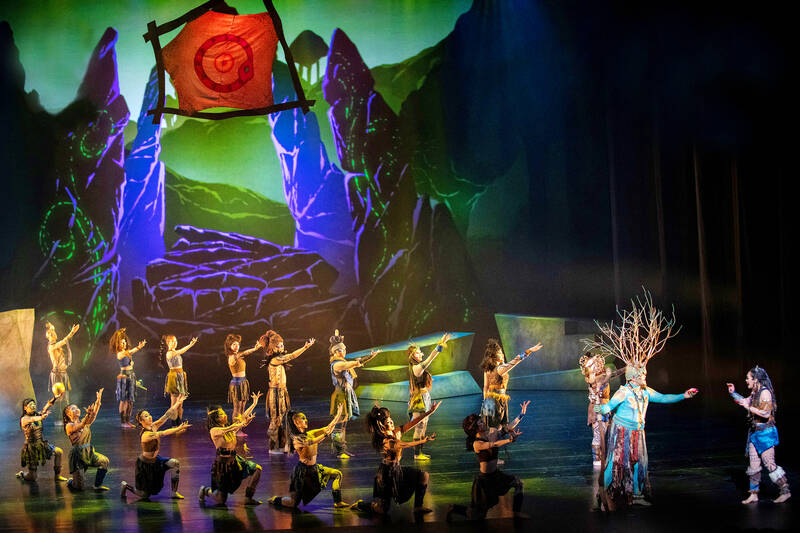 Scene from a 2021 production of VALO Part 2: The Island.
Photo courtesy of Diabolo Dance Theatre
"As an elementary school teacher, when speaking with children, it was always very pure and coming straight from the heart," he says. "But Peter Pan grows up and loses his wings and his imagination. That was the direction I started with … When adults see our show, we want them to remember this original feeling."
The "diabolo dancers" go through rigorous training from a young age, especially learning to work as a group. The first skill they must master is to catch a diabolo from someone else without moving their feet. During Ameoba, they demonstrated this skill in the dark with diabolos being tossed off the second floor balcony. Performers must then perfect the arc and rhythm of throwing the diabolos to each other, a process that may take up to two years. They also train in dancing, drumming and other skills.
Although there are many skilled young solo diabolo players today with flashier techniques, there are fewer people willing to go through this training, and the group faces a lack of talent. Instead, they have to invite established performers and retrain them in the group's unique techniques. The efforts are further hampered by a lack of an established school system, resources and space to practice.
This is another reason the group's performances are changing. Liu says that he used to feature 20 diabolo dancers on stage, but is now lucky to find 10.
TALES OF LIGHT
Next weekend's performance follows on the heels of VALO Part I: Ameoba (VALO首部曲-阿米巴), which was performed last month at the Taipei Performing Arts Center.
Island will include dialogue, which as usual is a made-up language pieced together from tongues of the world. Valo, for example, means "light" in Finnish. This has drawn mixed reactions from the audience in past showings, with some saying that they're able to understand the tale as is, and others have requested subtitles. For the National Theater, they've found a compromise by having titles that introduce each scene.
Both stories are about light and hope, Liu says. Amoeba presents it as the birth and vitality of new life, and Island revolves around courage, wisdom and love. At the evening show on May 27, audiences will be given a 5G digital bracelet that will react to the performance as another new experiment.
"Someone said I'm crazy, that it will be as if everyone in the audience is using their cell phones," Liu says. "But I want to try it."
Publication Notes
Performance Notes
What: VALO Part 2: The Island (VALO 二部曲: 島嶼) When: May 27 at 2:30pm and 7:30pm, May 28 at 2:30pm Where: National Theater (國家戲劇院) 21-1, Zhongshan S Rd, Taipei City (台北市中山南路21-1號) Admission: Tickets range from NT$800 to NT$3,000 and can be purchased at tinyurl.com/yut47m59 or at convenience store kiosks On the Net: www.diabolo.tw
Comments will be moderated. Keep comments relevant to the article. Remarks containing abusive and obscene language, personal attacks of any kind or promotion will be removed and the user banned. Final decision will be at the discretion of the Taipei Times.