Notes from Central Taiwan: The KMT on the verge
The party has no interesting, forward-looking or progressive public policies, which means that an ugly, negative, stereotyped campaign may be in the offing
Chinese Nationalist Party (KMT) nomination electioneering swung into full force last week, with New Taipei City Mayor Hou You-yi (侯友宜) peppered with questions from reporters and opposition legislators, and Hon Hai Precision Industry Co founder Terry Gou (郭台銘) staging press conferences and a rally in Kaohsiung. Of course, there is no primary in the KMT this year, as KMT Chairman Eric Chu (朱立倫) said on March 22 that the party will do the choosing.
Both Hou and Gou attacked the ruling Democratic Progressive Party's (DPP) COVID-19 and vaccine policies. Western Kentucky University political scientist Timothy Rich wrote on Twitter that his survey data shows that KMT and Taiwan People's Party (TPP) support for DPP COVID measures "collapsed" between March and September of 2021.
Thus, these attacks are aimed at shoring up support among the KMT base. They are likely also aimed at the working-class informal sector, which some commentators have argued turned on the DPP in the last year's local elections because of the damage its businesses suffered from the nation's COVID policies.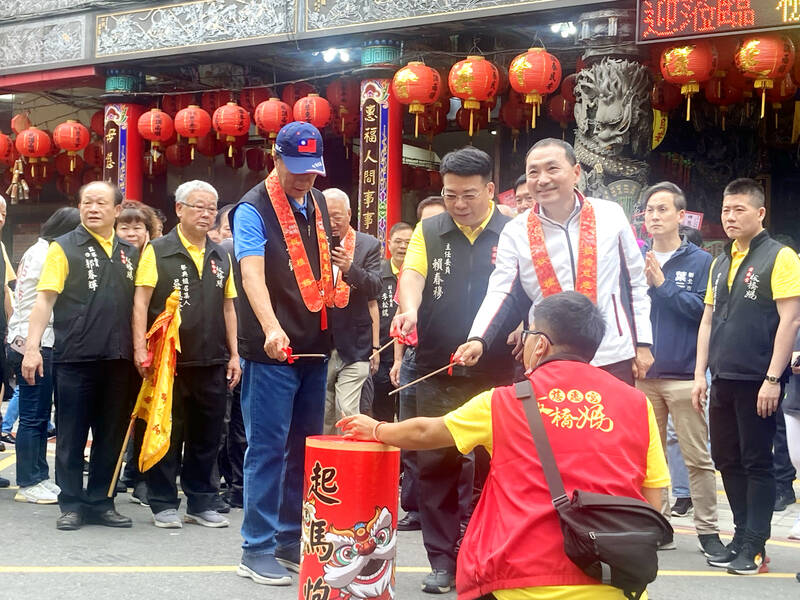 Hon Hai Precision Industry Co founder Terry Gou, in blue ROC cap, and New Taipei City Mayor Hou You-yi, in white jacket, are pictured together on Friday at Cihui Temple in New Taipei City's Banciao District.
Photo: Chueh Ching-lun, Taipei Times
THE POLICIES OF HOU AND GOU
Hou seems to be following the Ma Ying-jeou (馬英九) playbook of maintaining that the Republic of China (ROC) is the only China and his home, while making mainstream noises such as rejecting one country, two systems, and saying that Taiwan's fate must be left up to its 23 million people. Ma became the only anti-independence politician ever elected president by following that prescription.
Surprisingly for a non-politician, Gou has been the only candidate to offer something akin to policy proposals. Some of them are comical, such as his idea of building an army of 80,000 robots to defend Taiwan. Some are intriguing, including his proposal to build small modular nuclear reactors in every region.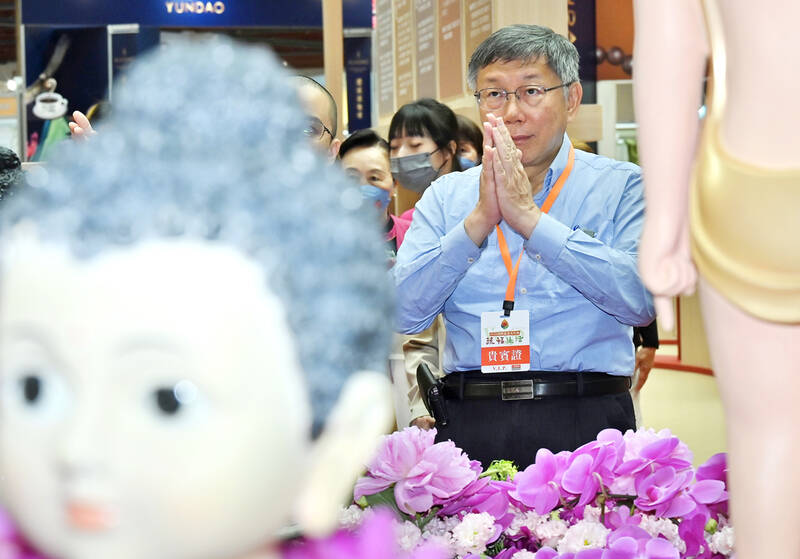 Taiwan People's Party Chairman Ko Wen-je prays while attending the opening of the 2023 International Vegetable Culture Festival on Friday last week.
Photo: Tu Chien-jung, Taipei Times
And some are plain disturbing, such as his claim last week that the Taiwan Garrison Command, which was responsible for carrying out political repression in the Martial Law era, should be revived, and saying that the government should be led by CEO-like leaders who can monitor themselves without legislative oversight.
Gou unintentionally put his would-be authoritarian finger on one of the major problems facing the KMT this election cycle: it has no interesting, forward-looking or progressive public policies. Hou, cannot say anything about DPP public policy because his own policies as mayor of the nation's largest city are hardly different, unique or striking.
If he raises questions about DPP policy or calls for the implementation of certain programs, people will immediately ask why he has not carried out such policies in New Taipei City. As I have remarked elsewhere, this does not bode well for the election campaign's ability to drive public policy discussion, much less meaningful change. It appears an ugly, negative, stereotyped campaign is in the offing.
The respective positions of Hou and Gou also shed light on what votes they are chasing. Hou is far more likely to be the candidate, and thus is trying to find language to appeal to the mainstream and to undecided voters. Gou, by contrast, appears to be taking the populist route pioneered by failed KMT presidential candidate and former Kaohsiung mayor Han Kuo-yu (韓國瑜).
The wildcard here isn't public policy, but the older deep blue pro-KMT voters. Han brought them out in droves. In 2016, deeply unpopular far right KMT presidential candidate Hung Hsiu-chu (洪秀柱) was replaced by Eric Chu, who was uninspiring as a candidate, and the KMT vote in traditionally KMT areas declined. In 2020, Han revitalized those voters, especially in traditional KMT strongholds.
Gou totally lacks the street cred of Han, who bragged he could eat night market food with any man and had for years worked in the rough and tumble world of vegetable markets. But unlike Hou, he shares the far-right Mainlander nationalist ethnic pedigree of Han. Gou is probably unelectable at the national level, but could strongly appeal to the right-wing KMT base, a base that remains suspicious of Hou because he is Taiwanese.
Note that as Hou becomes more public, his positions become less attractive. He has changed from a mavericky KMT mayor to a tepid potential candidate spouting KMT party doctrine. As a mayor he had an independent power base and could defy party authority; as candidate, he must bow to it. Many within the party are likely to remember his late and reluctant support for Han in 2020, and that he was strongly critical of Han for leaving his mayoral post to run for the presidency just after he was elected to it.
It is thus not surprising that since December Hou's poll numbers have more or less declined, a path Han also followed as the public became more aware of his far-right views (his poll numbers were falling long before the Hong Kong mess began). On one flank Ko Wen-je (柯文哲), chairman of the TPP who has already registered for his party's nomination process, gnaws away at Hou's light-blue voter base. On the other, Gou presents a rightist Mainlander threat. Hou has smartly maneuvered and carefully tempered his mainstream pitch, but sheer adroitness has limits: at some point, there must be substance.
INTERNAL CONTRADICTIONS
One of the deepest internal contradictions of the KMT as the political wing of a Leninist and colonialist party is the conflict between its need to maintain its position as the custodian of the purity of "Mainlander" identity and its attendant ideologies, and the compromises it must make to hold power in a state in which it is a minority ethnic group. Hou sprawls right across that fissure.
Ironically, it follows that Hou, the more mainstream candidate and the obvious nominee, could split the KMT. There has been much private speculation about this. One obvious split is if Gou runs as an independent when he loses the nomination. That would likely hand the election to the DPP's candidate, Vice President William Lai (賴清德).
Another, less obvious split could also be created by a Hou nomination: the deep blue base refuses to vote for a Taiwanese candidate because of its ethnic chauvinism. In a scenario in which Gou does not run for any position, that base may instead stay home and shrivel the KMT vote. In that case Hou could even place a narrow third in the polls behind the DPP's Lai and the TPP's Ko.
This might create pressure on the KMT to make a deal with Gou, especially since Gou has plenty of cash, which the party is short on.
In the coming election there are two voter bases whose stances are critical. One is younger voters, many of whom have been chased away by the DPP's suicidal, center-right, pro-big business policies. That group is now eyeing the TPP as an alternative, as perspicacious commentator Courtney Donovan Smith has been pointing out recently. The other is the rightist, racist, deep-blue base of the KMT.
It is much, much too soon to say how these groups will swing. Stay tuned, the fun is only beginning.
Notes from Central Taiwan is a column written by long-term resident Michael Turton, who provides incisive commentary informed by three decades of living in and writing about his adoptive country. The views expressed here are his own.
Comments will be moderated. Keep comments relevant to the article. Remarks containing abusive and obscene language, personal attacks of any kind or promotion will be removed and the user banned. Final decision will be at the discretion of the Taipei Times.