Bats, cheetahs and hippos unlock human genetic secrets
The Zoonomia project, which analyzed the genomes of 239 mammals, hammers home the fact that we all have much in common
Humans like to think we have a monopoly on understanding ourselves — that explanations for all our inner workings, including when things go awry, lie within our genetic code. We might like to think that, but we're wrong. Whether it's the diminutive bumblebee bat, the lightning-fast cheetah or even a lumbering hippo, mammals hold important clues to what makes us tick.
That's the message of a massive data release from a project called Zoonomia, in which some 100 scientists at dozens of institutions spent over a decade collecting, sequencing and analyzing the genomes of 239 mammals (and one human thrown in for comparison). The ambitious work makes clear that animals have a lot to teach us about the more mysterious parts of our own genomes.
The initial findings are a welcome reminder that no matter how improbable, all of us have things in common. And maybe it gives us yet another reason to prioritize preserving the earth for every living being.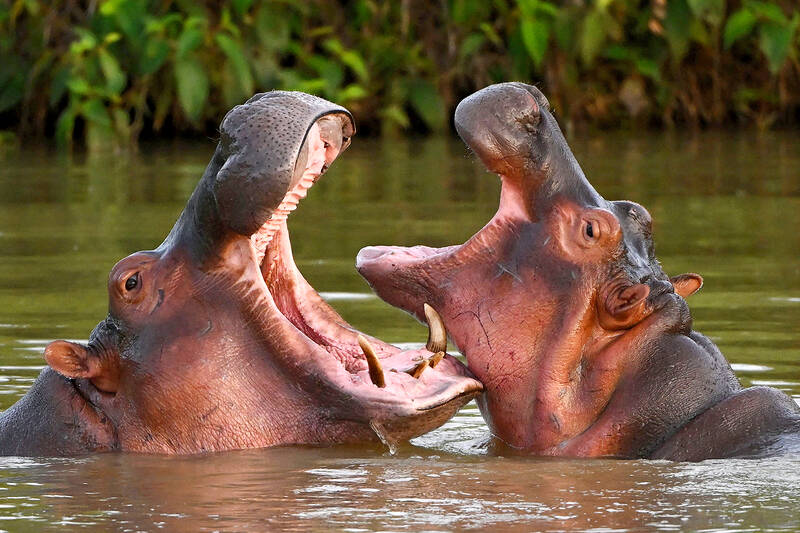 Hippos are seen in the wild in a lake near the Hacienda Napoles theme park in Doradal, Colombia.
Photo: AFP
To be fair, the project isn't only about understanding humans. The 11 papers released in the initial collection, published together in the prestigious journal Science, explore a wide range of topics. Researchers studied, for example, what gave the Alaskan sled dog Balto his speed and endurance; and how an animal's genome can provide clues about its risk of extinction. (There is also an ongoing effort to study the long tooth of a narwhal, which scientists assure me is a real mammal and not just some figment of a child's imagination.)
MUCH TO LEARN
But back to what it means for humans.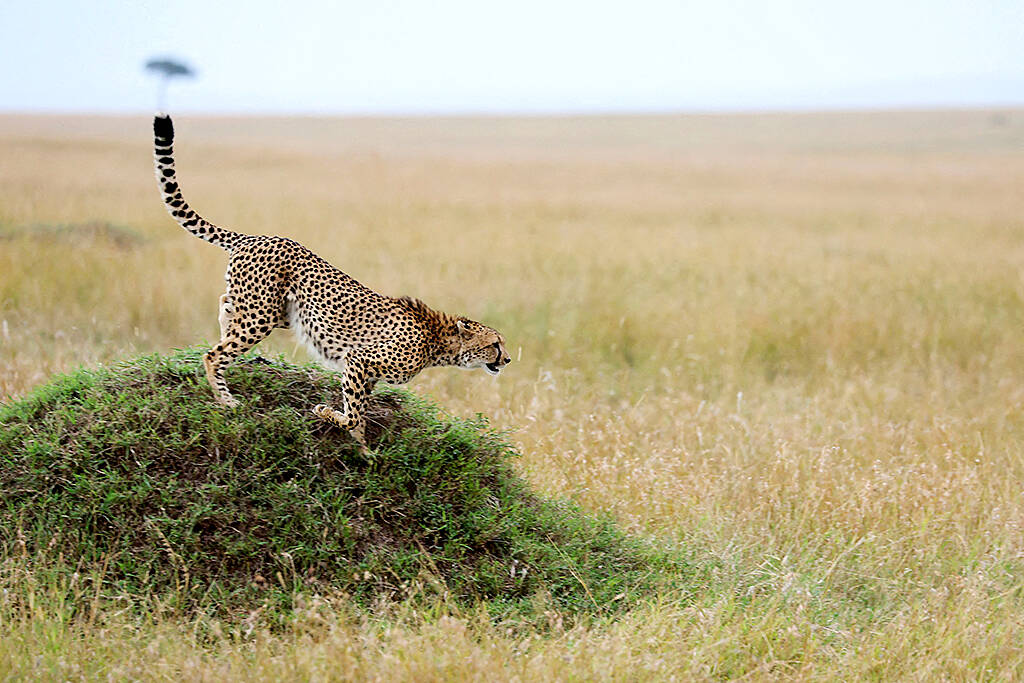 A cheetah runs off a mound in the Masai Mara National Park, Kenya.
Photo: Reuters
You might wonder why we have so much to learn from mammals. After all, we humans have sequenced millions of our own genomes, the expansive instructions for human development and functioning. Shouldn't that tell us all we need to know?
The problem is we've only just scratched the surface, with the lion's share of our genome still to be deciphered. We now have a pretty good understanding of the regions that encode for proteins, but that accounts for less than 2 percent of our DNA. It's like being able to read only a few words on a page full of text — we might understand some of them, but lack the context and clues to deciphering all the rest.
This new collection of mammal genomes can help us home in on some of the more mysterious parts of our DNA — in particular, the regions that orchestrate when, where and by how much a certain protein should be made. Imagine your cell as a piece of music, with a conductor signaling for the volume to be turned up on certain proteins, or gesturing for others to quiet down. Disease brings discord — say, the strings have gotten too loud — and a cell might proliferate out of control or send the wrong signals.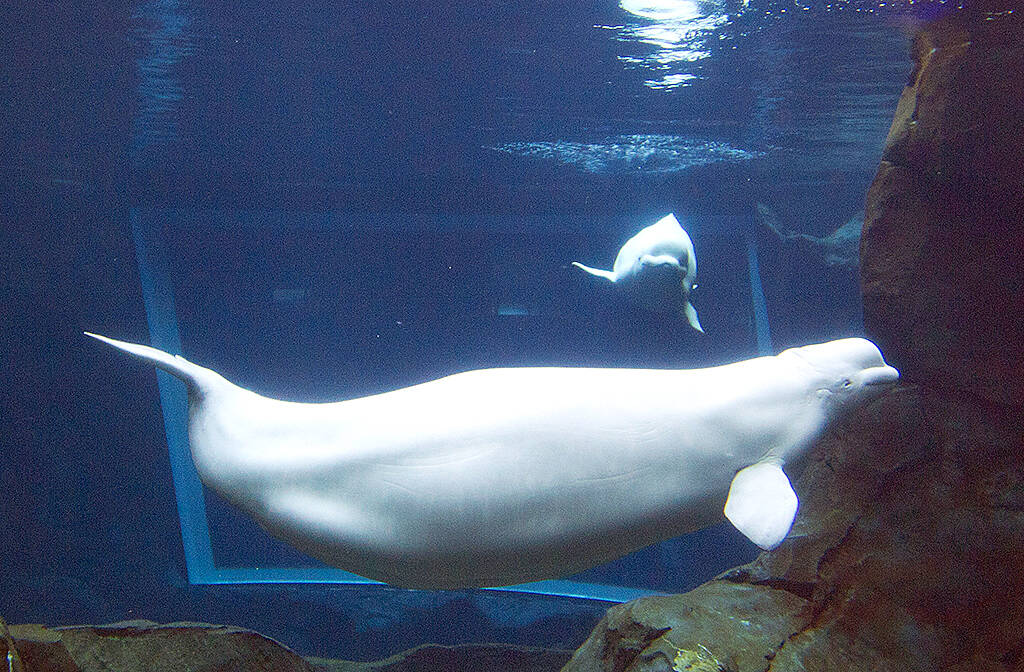 Pregnant beluga whale Maris swims in the Georgia Aquarium's tank in Atlanta. The Zoonomia Project is an international effort comparing the genetic blueprints of an array of animals, including this species, and some of the discoveries were shared in 11 papers published last week in the journal Science.
Photo: AP
We need animals' genomes to understand that part of our own genome because they have so much more history behind them. Over the last 100 million years, ever single letter in their codes of life should have changed many, many times. So when researchers encounter a stretch of letters or even a single letter that's stayed the same, it's like a giant neon arrow pointing to something that is essential for life. They can reasonably assume that those areas are responsible for critical functions, Kerstin Lindblad-Toh, the scientific director of vertebrate genome biology at the Broad Institute, and a leader of the Zoonomia project, says.
Humans, by comparison, only have about 200,000 years of existence under our belt. That means our genomes have undergone far fewer tweaks, making it much harder to look across a lot of them to decipher which areas might be important.
BETTER CONTEXT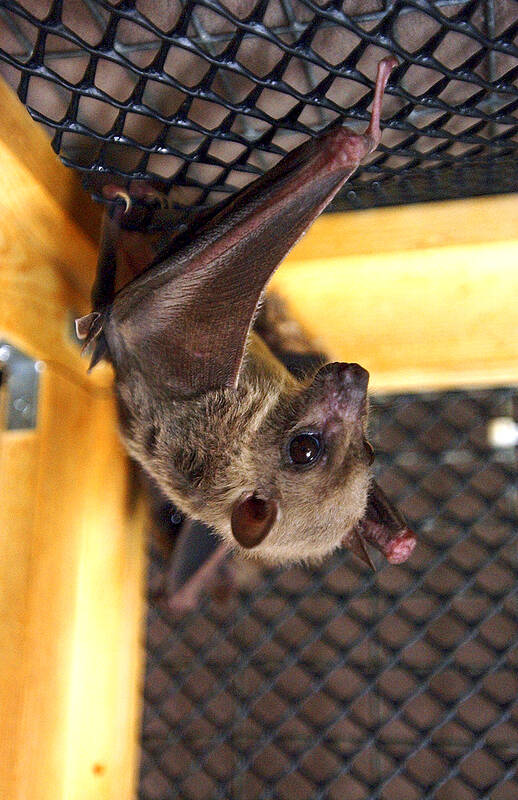 An Egyptian fruit bat hangs upside down in its cage in Winsted, Connecticut.
Photo: AP
In other words, our animal friends can put our own genomes into better context. To be clear, just because researchers have identified those key, common parts of the genome that haven't changed across species (also called "constrained regions"), doesn't mean we necessarily know their function. Still, they can be useful for understanding human disease.
That could be especially true in cancer. Oncologists sequence the DNA from a patient's tumor to look for mutations that could be causing cells to grow out of control. But that doesn't always lead to easy answers — sometimes, it just leads to a long list of mutations that may or may not be driving someone's cancer.
Zoonomia's massive mammalian dataset offers a way to significantly narrow down that group, perhaps from 100 to just 10, or even to one, Lindbald-Toh says.
"You basically have a blueprint of whether something is important or not," she says.
In one of the 11 Zoonomia papers, Lindbald-Toh and her colleagues used this concept to identify distinct genetic drivers for children versus adults with a type of brain cancer called medulloblastoma. They also showed that those tumors were likely to respond to specific cancer drugs, opening the door to using this new data to predict the best treatment course for patients. Lindbald-Toh now wants to repeat the exercise across many more kinds of tumors.
There are numerous other ways that this project can inform human health, disease, and potentially point to new ideas for medicines. The Zoonomia team offered a good example of how quickly the data could be used in the real world during COVID-19, when they were able to assess whether others species might be vulnerable to infection with the virus. Within weeks, their genome crunching showed that many were, with wildlife and endangered species at highest risk.
The strength of what can be learned from the project, and what can be learned about own health will only improve as more animals are added to the genomic zoo. Researchers are particularly keen to add more primates. Currently, only 43 are included, but they'd love to add some of the other 200 or so because they've been a particularly powerful guide to the most crucial parts of our genome.
Ideally, the genetic menagerie will eventually be broad enough to allow us to extract even more precise knowledge about ourselves — and thank mammals, of course, for the favor?
Comments will be moderated. Keep comments relevant to the article. Remarks containing abusive and obscene language, personal attacks of any kind or promotion will be removed and the user banned. Final decision will be at the discretion of the Taipei Times.