Notes from Central Taiwan: 2024 election: same as it ever was
The list of critical issues the DPP and KMT could run on in next year's election are endless, but count on the focus being China at the expense of everything else
Last week, the huge news broke that the Chinese Nationalist Party (KMT) would not host an open primary for its presidential nominee, but instead pick a candidate through a committee process. KMT Chairman Eric Chu (朱立倫) sent forth a few polite meaningless words about party unity in making the announcement.
There's great commentary on this momentous move, so I will say only that for those of you who think the KMT will "never be that dumb," I have three words for you: Hung Hsiu-chu (洪秀柱), the unelectable candidate the party chose for the 2016 presidential race.
Criticism of the Democratic Progressive Party (DPP) justifiably abounds, but it should be noted that whoever becomes the KMT candidate is going to lead a party whose policymaking is even less imaginative than the DPP's. Those interested in the popularity of the oft-mentioned potential KMT candidacy of New Taipei City Mayor Hou You-yi (侯友宜) should peruse the New Taipei City Web page, whose English home page URL is: foreigner.ntpc.gov.tw. The translations are as unprofessional as the URL name.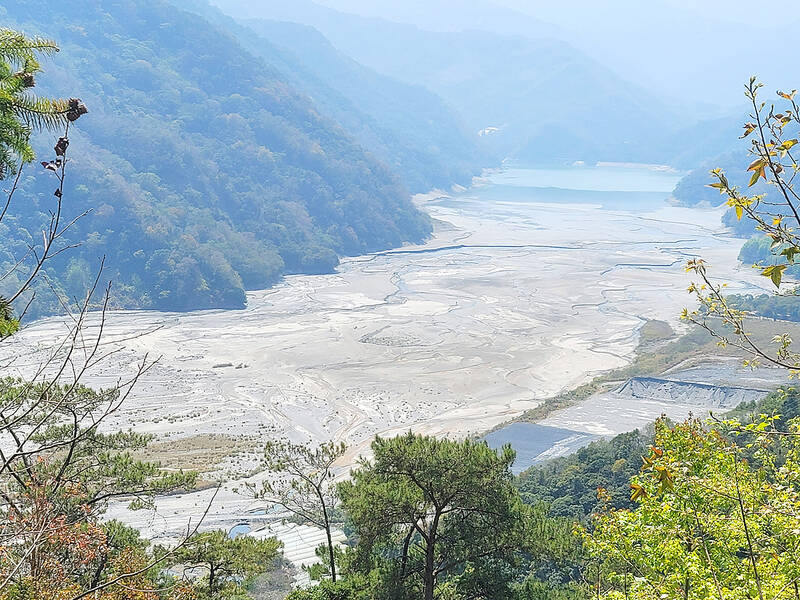 Nantou County's Wushe Reservoir was last week at 18 percent capacity, as one of Taiwan's worst droughts in 75 years continues.
Photo: Tung Chen-kuo, Taipei Times
Hou's policies are hardly different from any other city leader in Taiwan, indicating that his popularity is not based on dynamic transformation of the city, as with the DPP's Frank Hsieh (謝長廷) and Chen Chu (陳菊) in Kaohsiung, or Chen Wen-tsan (鄭文燦) in Taoyuan, but on his personal charisma and his oddball oppositional stances to mainstream KMT positions — a factor, along with his Taiwanese heritage, that also gets him in trouble with party insiders.
Indeed, it would be hard to find a KMT mayor who has had a positive transformational effect on the livability of their city and become nationally known for doing so. That is striking for a party that remains a power at the local level, indicative of what voters actually want from their local politicians.
The KMT's lack of policy imagination at the national level has long been plain, a crucial factor in its electoral defeats. This election, the party is calling its stale policy the "2D" strategy, pursuing national defense and cross-strait dialogue. A policy that's "same as it ever was."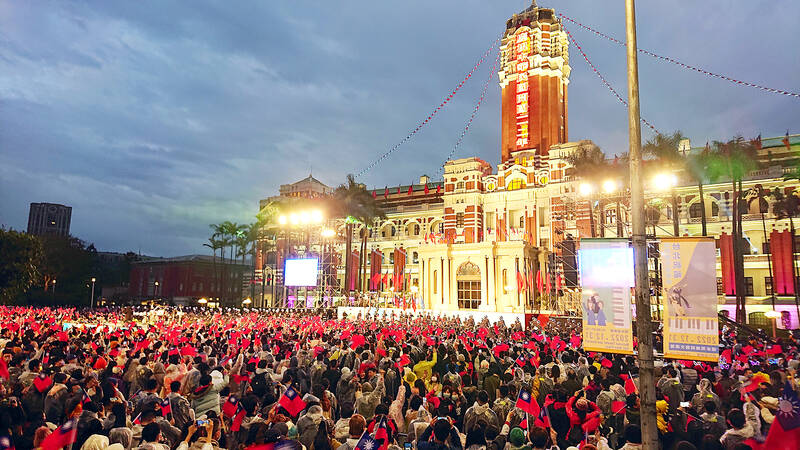 People gather in front of the Presidential Office to celebrate New Years. There are many issues — agricultural revitalization, affordable housing, livable cities, food security — that political parties could focus on in the leadup to next year's election.
Photo: Liao Chen-huei, Taipei Times
Chu, a major figure in the party for the past decade, is once again in charge of the party during an election. He performed so awfully as its chairman that during the 2016 election run-up some Taiwanese friends told me that he was a closeted anti-KMTer determined to wreck the party.
Recall that when Hung got the nomination for the 2016 election in July of 2015, there were internal revolts and several legislators walked out of the party or were removed. It will be interesting to see what happens if the nominee is not Hou, never mind if it is another pro-China traditionalist like Hung.
In 2016, the incoming DPP put forth its Forward Looking Infrastructure Development Program. It has already finalized William Lai (賴清德) as its presidential candidate. Hopefully Lai will propose something similarly big. With Taiwan facing a glut of social problems, one or two should be easy pickings.
Meanwhile, troubles continue to mount. Roy Ngerng (鄞義林), Singaporean transplant and potent force on income and living standards, produced another outstanding piece at the News Lens, this time on Taiwan's housing prices — world leading, but not in a good way.
"For apartments outside the city center," he wrote, "Taiwan's housing ranks as the 9th most expensive in the world out of 103 countries."
Ngerng observed that countries with homes as expensive as Taiwan's have much higher incomes.
Neither party has a bold plan to build the hundreds of thousands of social housing units Taiwan requires to bring down prices and house the next generation at affordable rates. Nor does it have a plan to make use of existing housing. It's a huge issue touching everyone's lives, waiting for a party to grab and run with it.
Meanwhile the local media last week quoted Taiwan Semiconductor Manufacturing Co (TSMC) founder Morris Chang (張忠謀): "When a piece of equipment breaks down at one o'clock in the morning, in the US it will be fixed at nine o'clock, the guy will come into work at eight, maybe... In Taiwan, however, it'll be fixed at 2 am."
TVBS reported that Taiwan's workers turned in the fourth highest total work hours in the world last year.
Still can't afford a home, though.
Chang and other TSMC officials noted unironically last week that the company suffers from a shortage of talent, something predicted for years. Taiwan is now reaping the karma of its broken immigration bureaucracy and its pathological work culture.
Changes there could be an important issue, if anyone in either party was willing to take on Taiwan's work culture.
Meanwhile, our labor issues were addressed in the usual manner, with the government announcing last week it was widening the scope of countries it would draw migrant workers from, with promises that migrant labor would be used in agriculture.
Taiwan was facing its worst drought in 75 years. The nuclear power plant closures imply tight electricity margins this summer, with temperatures jacked by human heating of the earth that in Taiwan is increasing the temperature around twice as fast as the global average, thanks to our urbanization.
Naturally, we are years behind in solar and geothermal application, the bitter fruit of years of wasted investment in nuclear power. A powerful issue, waiting for a party to grab it.
Not on the public radar is the urgent problem of Taiwan's high-level nuclear waste. One of the less well known reasons the Kuosheng Nuclear Power Plant in New Taipei City had to be shut down was that the tons of nuclear waste accumulated in the reactor meant it had to be shut down. A prominent figure in the early years of Taiwan's nuclear power industry told me recently that he thought Kuosheng had another 10-20 years of life in it, if the waste issue could be resolved.
A hot issue, one that one of the parties should grab, if only to keep it in front of the public.
Agricultural revitalization, livable cities, food security (no scandal in a while, so no one is paying attention to it): the list of critical issues the DPP and KMT could run on in 2024 is endless.
Grab one, guys. Everyone already knows your China stances.
Notes from Central Taiwan is a column written by long-term resident Michael Turton, who provides incisive commentary informed by three decades of living in and writing about his adoptive country. The views expressed here are his own.
Comments will be moderated. Keep comments relevant to the article. Remarks containing abusive and obscene language, personal attacks of any kind or promotion will be removed and the user banned. Final decision will be at the discretion of the Taipei Times.