The haunted urban legends of Taiwan
A new exhibition provides an interactive look into the evolution of Taiwanese folk tales and practices
I thought I was aware of most Taiwanese folk taboos, but somehow I missed the memo about not pointing at the moon. I don't know how many times I've done this and failed to pray immediately for forgiveness, but my ear hasn't been cut off by the moon's sharp knife yet.
However, this belief seems to have left a strong impression on visitors to the new Anatomy of a Rumor: Taiwan Urban Legends (流言解剖:台灣都市傳說文學展) exhibition at the Taiwan Literature Base (台灣文學基地), as evidenced by the messages on the wall where people share their personal favorites.
At least I know better than to pick up random objects lest they be possessed, though I wasn't aware of the QR codes. After scanning one from a bookmark hanging from a passageway leading to the exhibition, I get a message from a ghost that haunts the Japanese-era complex. Fortunately she's benevolent and just wants to help.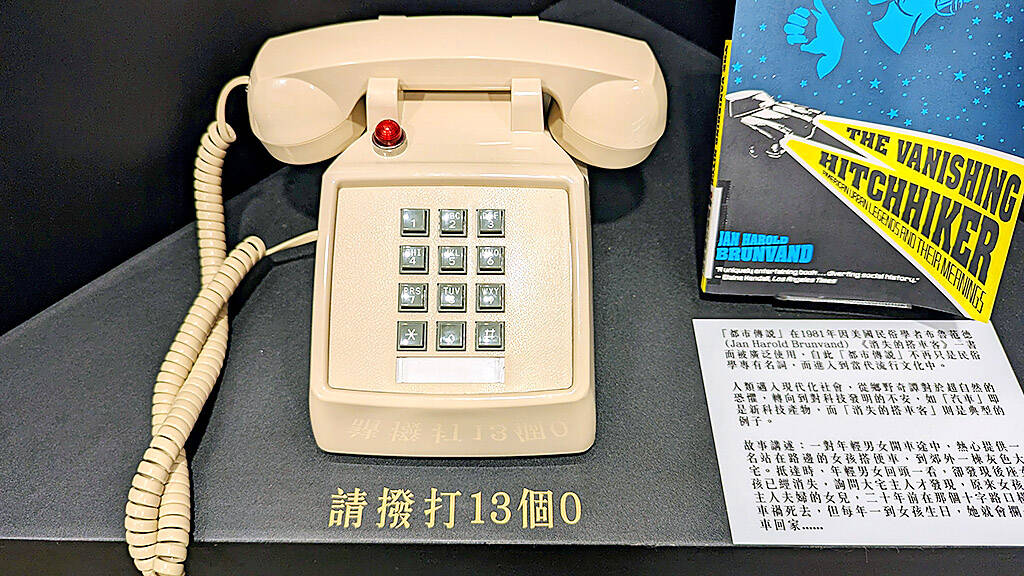 Dial zero 13 times at midnight to hear the sounds of hell.
Photo: Han Cheung, Taipei Times
After popular shows featuring the paranormal in 2018 and 2019, the National Museum of Taiwan Literature revisits the theme, albeit on a much smaller scale, by looking at widely-circulated urban legends and how they've spread and evolved over the years through various media.
These stories started becoming an integral part of pop culture with the boom of occult books and television shows in the 1990s, and gained further traction through the Internet, especially on the popular Professional Technology Temple (PTT) bulletin board system. In the past decade, they've become even more prominent as the focus of numerous box-office topping movies, starting from The Tag-Along (紅衣小女孩) in 2015.
The compact but informative and interactive show takes an hour to finish, and fortunately almost all the material — including the riddle visitors can solve to open a safe at the end — is translated into legible, if somewhat clunky, English.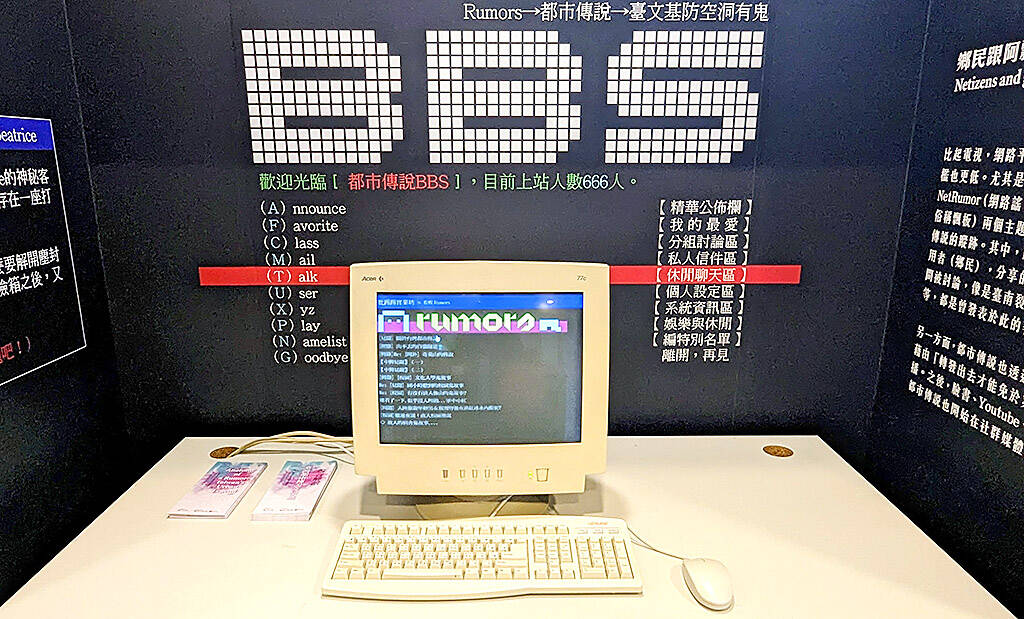 Online bulletin board systems hastened the spread of urban legends in the late 1990s and early 2000s.
Photo: Han Cheung, Taipei Times
The Chinese text is colloquial and draws from pop elements such as numeronyms (where sequences of numbers sound like certain words), and not all of it makes sense in English. But it doesn't affect the experience overall. Some of the QR codes take a bit of angling and adjusting to scan, so be patient.
The most enjoyable element is the hands-on displays, such as a push-button phone where you can dial "0" 13 times to connect to the netherworld. Countless schoolchildren have gathered around a phone and tried it at midnight to listen to the sounds of hell or to speak to dead relatives; how has this changed with the advent of cell phones?
There is also a ouija (碟仙) set to try, and a video game based on the legend of the haunted bridge at Taichung's Tunghai University (東海大學).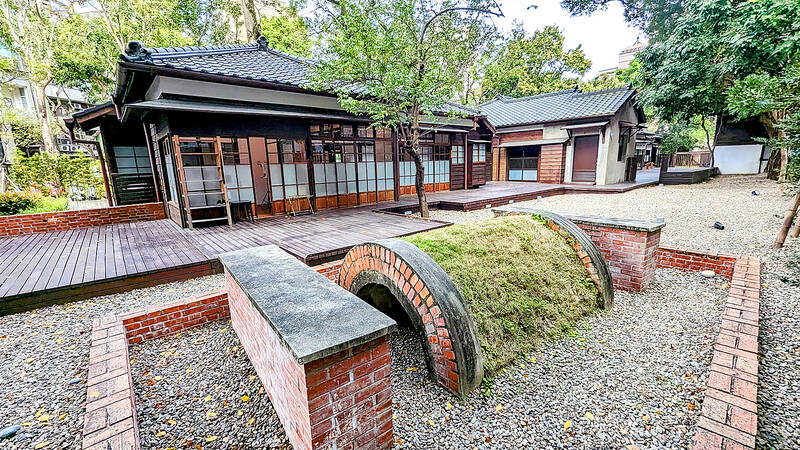 This shelter at the Taiwan Literature Base may be haunted.
Photo: Han Cheung, Taipei Times
School and military legends are also essential to Taiwan's occult, and it's interesting how each institution shares very similar tales.
Every school is said to be haunted by a female student who killed herself for love. Indeed, I recall a classmate — no joke — telling me that the bronze statue of Sun Yat-sen (孫逸仙) in the main hall of our school cries tears of blood at night. I also remember male teachers taking time out of class to tell us some of these spooky tales that apparently happen in every army camp.
Of course, this is still a literature museum and there's a selection of relevant books available to browse, including an English compendium on Western urban legends. The former Japanese dormitory that houses the exhibit is quite pleasant and cozy for sitting down and reading if you have the time.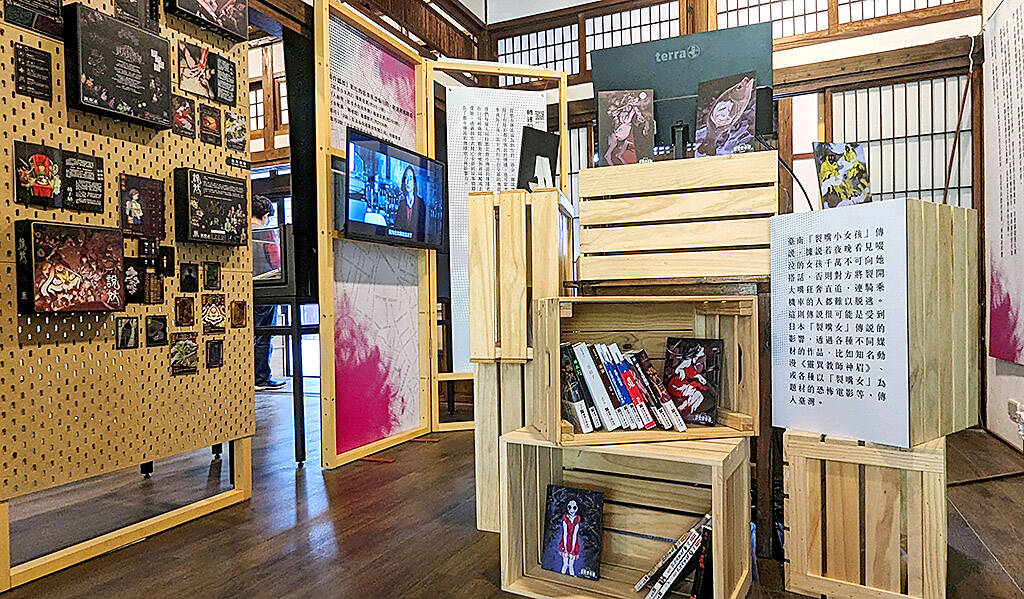 Various urban legends and folk superstitions are displayed at the Anatomy of a Rumor: Taiwan Urban Legend exhibition at the Taiwan Literature Base.
Photo: Han Cheung, Taipei Times
Comments will be moderated. Keep comments relevant to the article. Remarks containing abusive and obscene language, personal attacks of any kind or promotion will be removed and the user banned. Final decision will be at the discretion of the Taipei Times.