The Milf is back. Are you ready?
Shows such as 'Milf Manor' have pushed the reality TV format to the absolute brink. But what does the return of the Milf tell us about women and sexuality?
Milf Manor is the house that Freud built. Eight women aged between 40 and 60 arrived at this beachside villa in Mexico to film a dating show, somehow missing the twist: the lineup of young men they'd be in the villa with would include… their sons. The show premiered in the US last week, and I have screamed hoarsely through every video I can find, shouting, "I HATE IT I HATE IT OK ONE MORE CLIP I HATE IT!" into my arm.
You know how Big Brother and its fellow reality shows used to claim they were sociological experiments in order to obscure the fact they were actually fabulously exploitative telly? Well — this is the opposite. Milf Manor calls itself a dating show — a cross between Love Island and the porn history your spam folder warns you about — but, in fact, it really is that sociological experiment. Except, conducted by nihilistic, Frankenstein-ish, 10th-wave feminists obsessed with incest.
The contestants are all grimly aware of how disturbing the setup is. As their mothers strut before them, you can see flashes of recognition in the boys' eyes — these women who were once their home, confronting their sons with a whole new inner life. And the women, too, squinting to obscure the reality of the situation, of the world's rotation and the rude simplicity of heterosexual desire.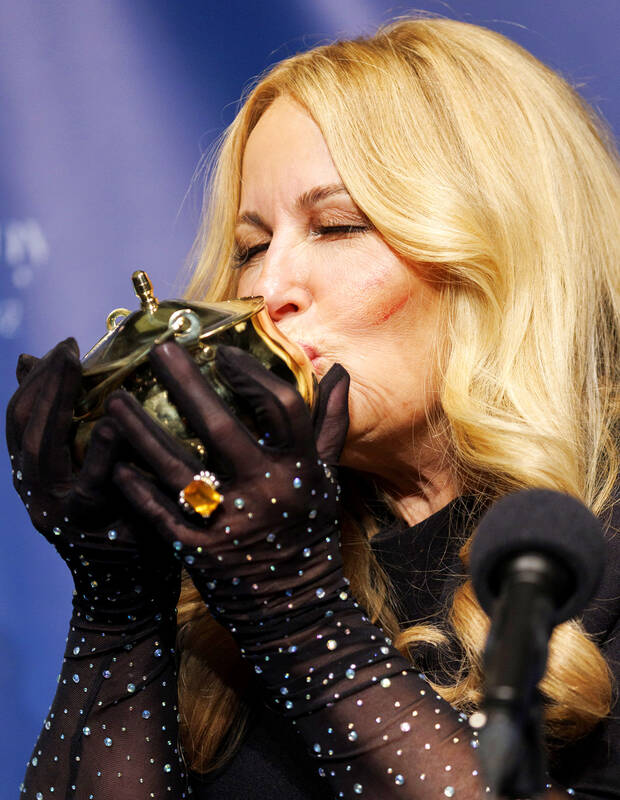 The original Milf Jennifer Coolidge first became famous as Stifler's mum in the American Pie films, luxuriously seducing a teenager.
Photo: EPA-EFE
They do their very best to smile through the horrors. Horrors that include a game where the women are blindfolded in front of the topless boys and, by fondling their chests, pick out their son using touch alone. The winning Milf gets to sleep in a room with their child and a hot tub. The losers… no hot tub.
I don't honestly know how they got through it. Even watching the videos feels indecent, even through eyes brought up on these Love Island landscapes, of flesh and water, and the clack of stilettos beside a pool. Even as someone whose ideas of contemporary sex have been formed and sanitized by the reality-show lens.
There's a scene where one woman goes paddleboarding with a boy who wants to suck "the acrylic off" her toes. Lying back on the board, she holds him in the air with her feet on his chest. She loves (she says later) "to do that with kids." I winced like someone had kicked me in the throat.
But, the good news: Milfs are back! Jennifer Coolidge walked so Milf Manor could run. Yes, Coolidge is newly beloved since The White Lotus as a camp cult heroine, but she first became famous as Stifler's mum in the American Pie films, the original Milf, luxuriously seducing a teenager. Perhaps Coolidge's renaissance has triggered something in the culture, aired a dormant Oedipal kink, or perhaps it never really went away. Either way, I welcome the chance to interrogate the Milf, this uncomfortable archetype, with its swagger and tan, and its sharp nails in our sons' hair.
On the one hand, marvelous liberation — a middle-aged woman leans into her sexuality, a sexuality inevitably bruised and misshapen after decades spent at the bottom of a pile of priorities, including the care of children it helped create. After divorce she rises again, asking now for exactly what she wants — no time for egos and relationships, there will be no "buying of dinner" here. She would like extreme pleasure, some light awe and then three episodes of Real Housewives alone in bed with a sheet-mask.
Good! Good for her, good for all the women who are no longer 22 and all the women whose only reward for raising kids is a massive gap in their CV and light incontinence.
There are, however, issues. One is the word, Milf — with its "I" it becomes the male gaze in acronym form. Another is that this fuckable mother must present herself as ageless, despite a key part of her apparent appeal being her age.
The Milf Manor mummies have evidently spent many hours and dollars modifying their bodies until they're very thin and very taut, like a shrine to lost youth. Of course, this is a reality show, so perhaps it's ridiculous to spend more than a second considering these heightened characters in any context but the screen. But they reflect the wider world, where value is based in beauty and beauty is based in youth and so on and so on until it seems the only way for a woman to work, have sex, exist, is by agreeing to perform that same beauty and then to call it empowerment.
I was hoping for a second twist in Milf Manor, after the son reveal. Perhaps a parallel Dilf house where eight sleazy dads eat meat and fight each other in front of their bikini-ed daughters. It's yet to emerge. I did, however, watch a scene where a son talks about his mother's wayward breasts and she counters with, "It didn't bother you when you were a baby sucking on them." "I needed the milk, Mom!" he says, to which she raises her eyebrows to the camera and smiles, "You were really thirsty…"
This show is obscene, these Milfs are either sick or the future, and sadly, I must continue to watch every single episode until I have conclusively come to a decision.
Comments will be moderated. Keep comments relevant to the article. Remarks containing abusive and obscene language, personal attacks of any kind or promotion will be removed and the user banned. Final decision will be at the discretion of the Taipei Times.