The Taiwanese life in comics
Foreign artists share their experiences in the just released graphic novel anthology, 'Visions of Taiwan'
One of Patty Hogan's more memorable moments in Taiwan was watching a kid quickly eat an entire rice triangle with seaweed at 7-Eleven. He then puked it up.
"It was such a metaphor for life, art, consumerism, religion, politics and everything we love, but it was also really funny," the American artist writes in her humorous piece "Walks and Talks" for the inaugural issue of Visions of Taiwan, an English-language comic anthology that celebrated its official release on Sunday.
Containing seven stories employing a wide range of graphic styles and voices, the focus of this black-and-white, 48-page issue is about the Taiwan experiences of the foreign creators — who hail from Malaysia, Canada, the US and South Africa. There are a few requisite "how I ended up in Taiwan" tales, but there are also stories on how to get your scooter's license.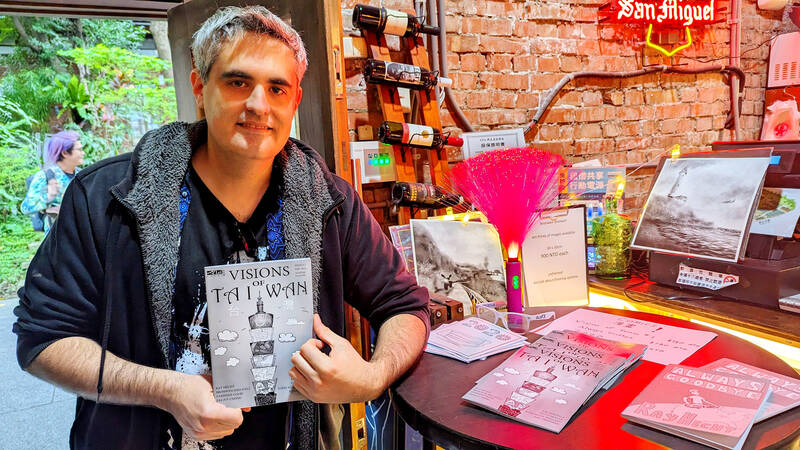 Ray Hecht, editor of Visions of Taiwan, holds up a copy of the anthology.
Photo: Han Cheung, Taipei Times
Although anthology editor Ray Hecht sees himself more of a writer, he's been experimenting with graphic novels in the past few years, drawing inspiration from the indie spirit of eccentric American cartoonist Robert Crumb and the punk zine aesthetic. He published in 2019 the autobiographical Always Goodbye, and last year began approaching artists he'd met to contribute personal narratives to what became Visions of Taiwan.
"There was a bit of a learning curve. Some people are just artists rather than storytellers and writers," Hecht says. "I really had to beg people to give me a short script first. You may have an image in your mind, but it doesn't translate to the page very well until you have experience [with comics]."
Hecht's contribution is about how he finally got his scooter license on the fourth attempt.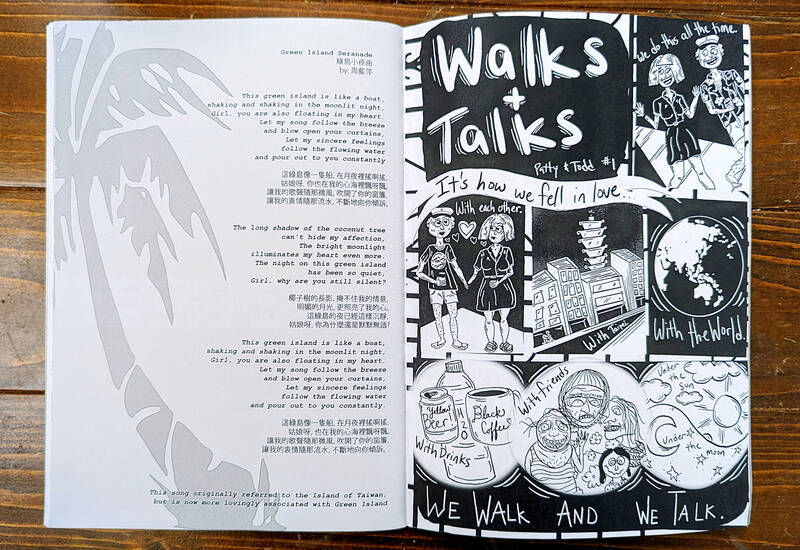 Bronwen Shelwell and Patty Hogan's art are featured in Visions of Taiwan.
Photo: Han Cheung, Taipei Times
"Every time I went there I learned a new rule," he says. "I kept failing and starting over until it consumed me, and it became my go-to story when people asked me what I've been up to lately," he says.
Bronwen Shelwell, an international school art teacher from South Africa, depicted a trip to Green Island in her piece, which was more of a series of digital paintings rather than a conventional comic. A colleague saw her finishing the piece at the office and told her about the classic song Green Island Serenade (綠島小夜曲), which is translated into English at the end of the story.
"I think it's a really nice first introduction on what Taiwan means to people," she says.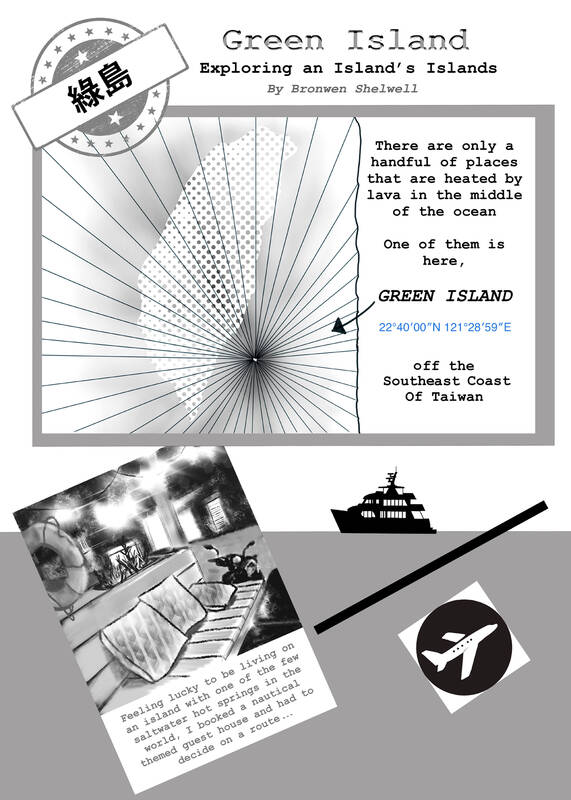 A page from Bronwen Shelwell's piece for Visions of Taiwan.
Photo courtesy of Bronwen Shelwell
This issue was a lot about people's various first experiences, but she hopes that they can delve deeper for the next one.
"What I love is that we all got stuck here due to COVID-19, so we all had to move past that first experience to a solid three years of living here and not going anywhere else," she says. "Otherwise, it's often a lot of new people arriving and telling that same story over and over, but now I think people have more to draw from."
Hecht wanted the second issue to feature fictional narratives, but many contributors have said that they prefer to stick to the autobiographical.
"It can be creative nonfiction where you tell a true story within the structure of a fictional narrative. As people get more experienced, we'll be able to do more," he says.
Taiwanese voices are welcome too, he says, as long as they're able to contribute in English. Hecht hopes to publish it twice a year.
So far, the book will be available at Vinyl Decision at Huashan 1914 Creative Park, Comic Trap (漫坑) in Ximending, the Red Room and through Amazon.
Comments will be moderated. Keep comments relevant to the article. Remarks containing abusive and obscene language, personal attacks of any kind or promotion will be removed and the user banned. Final decision will be at the discretion of the Taipei Times.