Environmental Impact Assessment: How to clean up clean energy's piles of waste
Wind turbine blades have a significant carbon footprint, a problem that can be resolved in Taiwan by emulating the innovative and progressive practices of Northern Europe
When photos of what was quickly dubbed "a turbine blade graveyard" in the US state of Wyoming appeared in BBC and Bloomberg news reports in early 2020, the reaction of some wind-energy skeptics verged on the gleeful.
They argued that — in addition to onshore wind turbines being noisy eyesores, and offshore turbines threatening marine ecosystems and migrating birds — the wind-energy industry was creating a mountain of waste.
The images from Wyoming appeared to be evidence that, when turbine blades reach the end of their lives, after 20 or 25 years' of use, the only course of action is to cut them up and bury them.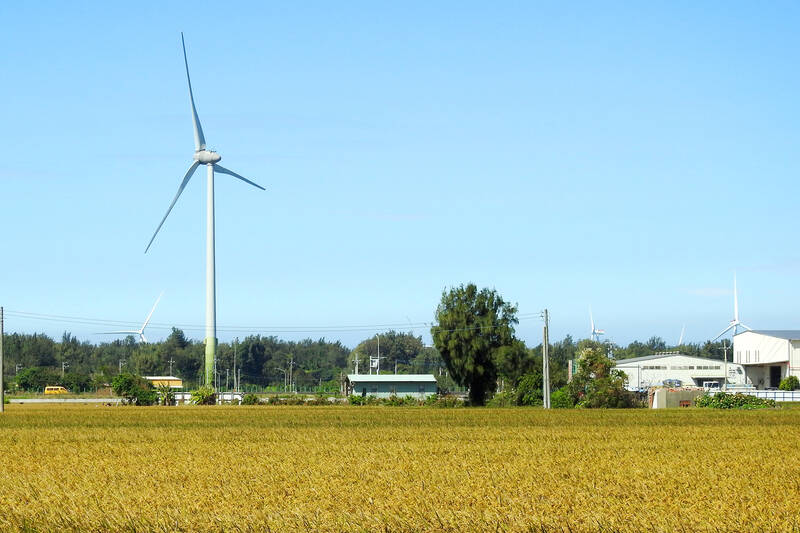 Most of Taiwan's wind turbines, including these in Miaoli County, are close to the island's west coast, between Hsinchu in the north and Yunlin in the south.
Photo: Steven Crook
'UNRESOLVED PROBLEM'
Because they need to be strong yet light, turbine blades are made of composites that incorporate fiber-reinforced polymers and filling materials like balsa wood or PVC foam. The Web site of Germany's Fraunhofer Research Institution for Materials Recycling and Resource Strategies sums up one consequence: "The recycling of these composite materials, and in particular the separation of the components without forfeiting the desirable properties, is still an unresolved problem."
Even though most of its windfarms are just a few years old, Taiwan is already having to dispose of worn-out or failed blades. On Mar. 15 last year, ETtoday reported that, so far, crushing and then burying has been the main method of disposal.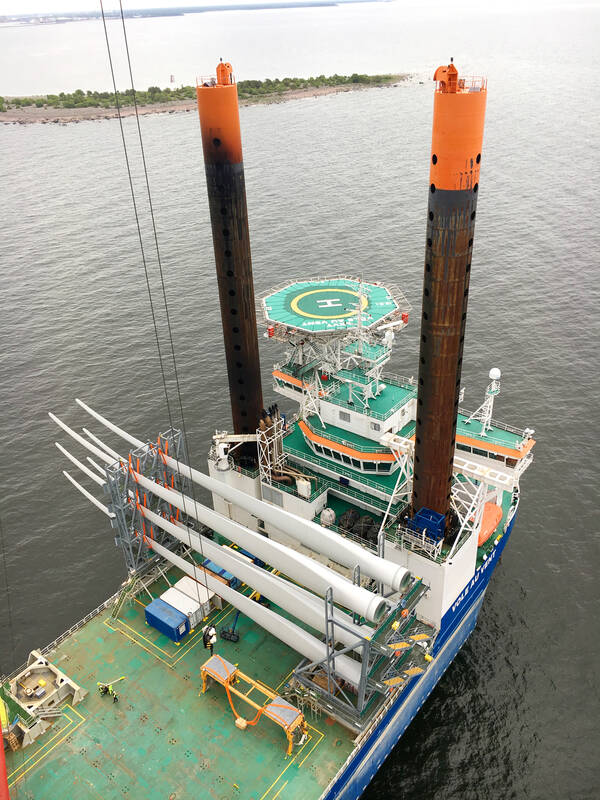 A ship off Finland's coast transports wind turbine blades in this file photo.
Photo courtesy of Taiwan Marine Heavy Industry
Over the coming decade, ETtoday pointed out, Taiwan alone will have to do something with approximately 900 decommissioned blades, and renewable energy entrepreneur Manuel Zehr doubts the country will find a good solution that satisfies the government's local-content requirements.
While several European nations, within and outside the EU, have established a legal basis for decommissioning early-generation turbines, the blades remain a challenge due to their different material layers, which only can be separated manually, Zehr says.
"Taiwan already has a labor shortage, and limited space in which 60m to 100m-long turbine towers and blades can be dismantled," says Zehr, the general manager of Formosan Business Support Co Ltd.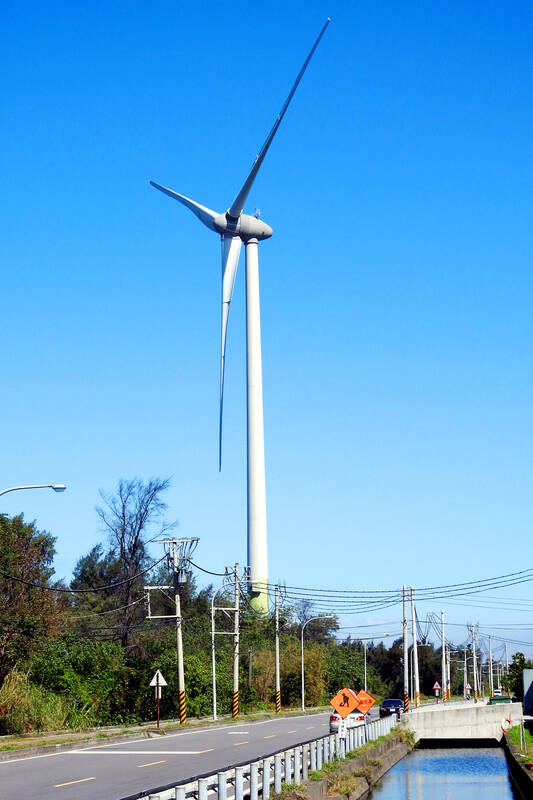 An onshore wind turbine near the coast in Miaoli County's Jhunan Township.
Photo: Steven Crook
According to Zehr, decommissioning and the circular economy has become a profitable business in Europe, which is working in cooperation with energy partners in Africa. In Taiwan, he laments, "policy simply doesn't share this vision. The three leading parties have absorbed candidates, issues and votes from environmentalist parties, without legislating their agendas."
Zehr urges the authorities to change their emphasis on local content to an approach based on regional shared goals.
"Turbines from the 1990s are full of profitable, in-demand materials, but Taiwan has to find partners willing to share their labor and their space. We shouldn't be physically limited to the island of Taiwan," he says.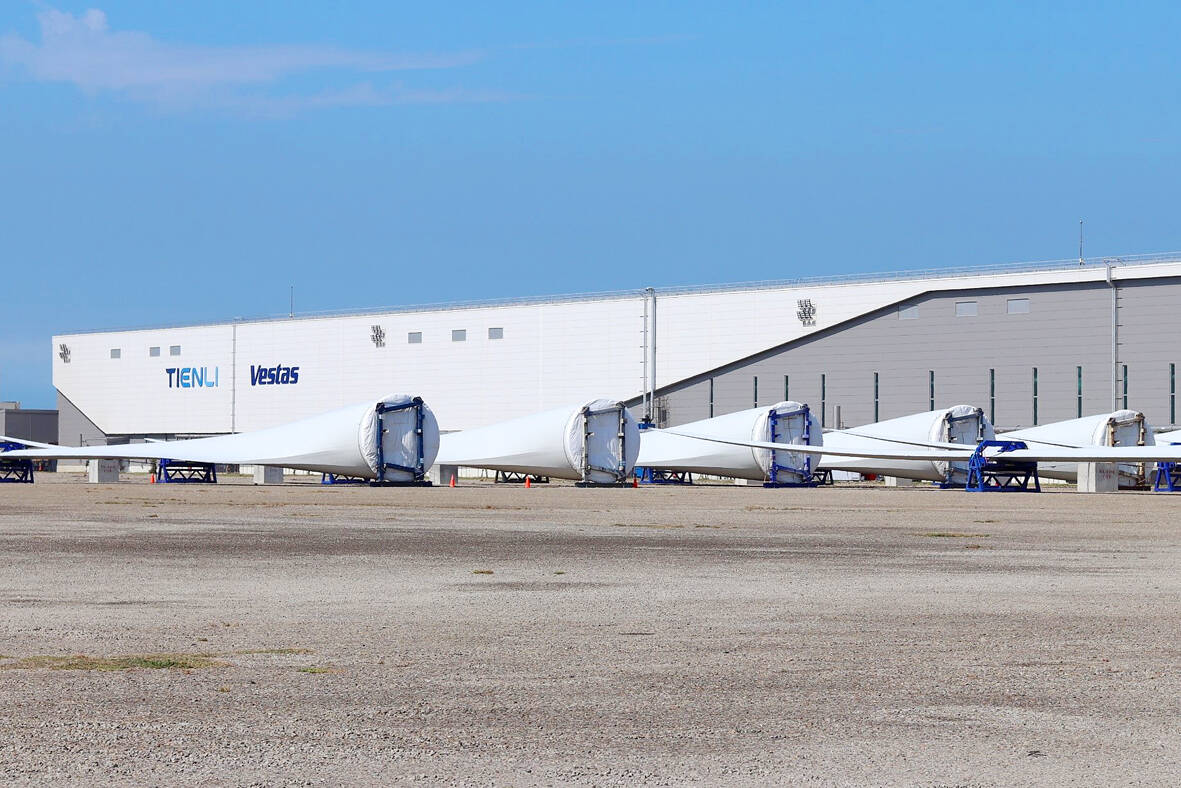 Wind turbines under construction at Tien Li Offshore Wind Technology's facility in Taichung.
Photo courtesy of Tien Li Offshore Wind Technology & Vestas
In April last year, Vestas — a Danish multinational that describes itself as "the energy industry's global partner on sustainable energy solutions" — announced that its local partner, Tien Li Offshore Wind Technology, had completed its first 85m-long turbine blade. The former company's press release touted this a localization triumph. There was no mention of either recycling or disposal.
On Jul. 8 last year, Swancor, a Taiwanese maker of specialist chemicals, revealed that it's working with Spain-based Siemens Gamesa Renewable Energy to create turbine blades which, after decommissioning, can be broken down into reusable resins and glass fibers.
Swancor's Web site says that "the recycling process does not produce waste solvents and waste gas, and has a low carbon footprint," but doesn't predict when this technology might ripen. And, of course, the world will still be left with the problem of already-installed blades.
Experience outside Taiwan shows that, if retired blades are mechanically shredded, the resulting granules can be used as a combustible or sand substitute by cement companies, or incinerated in a waste-to-energy (WtE) plant. (Air pollution from state-of-the-art WtE plants has "minimal public health impacts," according to the UN Environment Program.)
NORTHERN EUROPE LEADS THE WAY
In Northern Europe, small-scale projects are exploring the possibility of turning old blades into skis, snowboards, bicycle sheds and fencing material — and it's to Northern Europe that Taiwan should look when searching for progressive practices, says Kim Asher, a Taichung-based wind-energy veteran.
"In most situations, if you want the gold standards for environmental regulations policies and activities, look to the Baltic, Northern Europe, and Scandinavia. The Baltic benefits from some of the most environmentally conscious stewardship on the planet," says the Briton, who's been in the industry for more than 15 years.
Some of the practices implemented in that part of the world, such as legislating for much cleaner fuel on the ships that build and maintain offshore wind farms, "ultimately also have great economic benefits, and Taiwan can learn a lot from looking in that direction," she says.
"Taiwan is not excelling in environmental terms… yet," Asher says. "However, I strongly believe it has all of the ingredients to excel."
Asher says that she is currently working on a concept that could tie all the loose ends together and help Taiwan become a world leader in green energy.
"Over the last few years I've been here, I've seen things improving. Some of the weaker players with less suitable management styles have moved out of the sector, and those remaining are starting to get some good traction," she says.
It's often pointed out that, while wind turbines don't produce carbon dioxide when they're operating, the manufacture and installation of turbines has a significant carbon footprint. Such emissions are always a concern for the wind-energy industry, Asher says, because a larger footprint means higher energy costs.
"The process of making production less energy-intensive aligns with environmental concerns, especially as more green energy becomes available to fuel the expansion of green energy production. It becomes a virtuous circle. The impact of the expansion of green energy production should be understood to be a paradigm shift that works over decades, not overnight," she says.
Asked how offshore wind farms affect marine life and birds, Asher replies: "I don't specialize in environmental impact assessments, but as someone with thousands of days working on ships in offshore construction, and being a specialist in subsea operations, I can tell you that almost every subsea structure I've seen, from the Norwegian Sea to the South China Sea, becomes an artificial reef that expands habitats for marine life."
The wind industry, she says, "goes to great lengths to assess, monitor and adapt in response to environmental impacts."
Without offshore construction, there'd be much less funding for ocean ecology research, she says.
"It's a certainty that we cannot continue to throw billions of tonnes of fossil fuels through the fires of industry," says Asher. "Climate change is already biting, and we need to understand that change is inevitable. As a species, we need enormous amounts of energy to sustain our standards of living, and we need to adapt the mix of technologies that can deliver this. Wind is definitely a part of that."
She challenges those who say otherwise to consider how much energy they use, and to come up with strategies to mitigate their own impacts.
"If they can do better, I'm sure industry will listen, as we're living through a time where energy is all about innovation," she says.
Steven Crook, the author or co-author of four books about Taiwan, has been following environmental issues since he arrived in the country in 1991. He drives a hybrid and carries his own chopsticks. The views expressed here are his own.
Comments will be moderated. Keep comments relevant to the article. Remarks containing abusive and obscene language, personal attacks of any kind or promotion will be removed and the user banned. Final decision will be at the discretion of the Taipei Times.