Taiwan in Time: Remembering the 'Big Beard'
Taiwan expert J. Bruce Jacobs, who got his nickname when the press tied him to the 1980 Lin family murders, died last Sunday
Dec. 2 to Dec 8
In March 1980, almost everyone in Taiwan knew about the foreign "big beard" (大鬍子) whom the major newspapers just couldn't stop talking about. He was allegedly involved somehow with a brutal incident that rocked society — the murders of former politician and activist Lin I-hsiung's (林義雄) mother and twin daughters on Feb. 28, 1980.
This "big beard" was J. Bruce Jacobs, an American-born Australian academic who first came to Taiwan in 1965 as a postgraduate student, going on to become a renowned expert in Taiwan studies. After the murders, Jacobs was placed under police protection and barred from leaving the country for three months in an absurd debacle that he details in his his 2016 book, The Kaohsiung Incident in Taiwan and Memoirs of a Foreign Big Beard. The book is dedicated to the victims, with whom Jacobs was friendly with.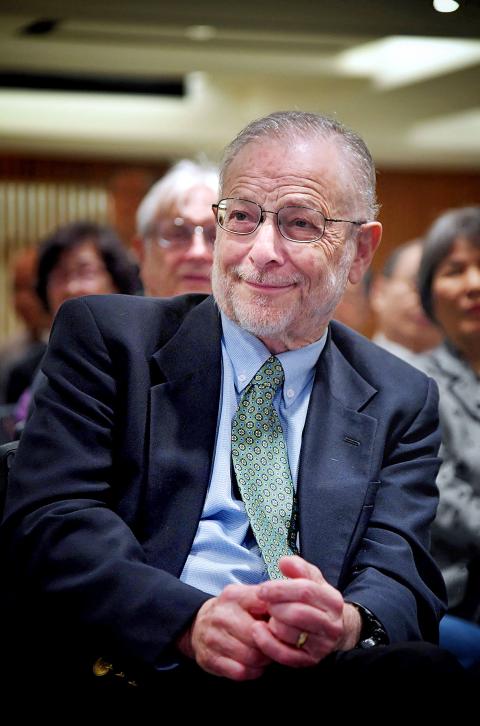 J. Bruce Jacobs attends a public event during his final visit to Taiwan in November of last year.
Photo: CNA
Jacobs was put on a government blacklist and couldn't return to Taiwan until 1992; he made his final visit in November last year when the Ministry of Foreign Affairs awarded him with the Order of Brilliant Star with Grand Cordon for his contributions to democratization and human rights in Taiwan.
Jacobs died in Melbourne last Sunday at the age of 76. The Lin family murders remain unsolved.
FRIEND OF THE OPPOSITION
This photo of the "Big Beard" appeared in the United Daily News on March 3, 1980.
Photo courtesy of National Central Library
According to his book, Jacobs was interested in totalitarian regimes during college and planned to become a Soviet specialist. He signed up for an Oriental Civilizations class thinking, "I should know something about Asia and be done with it," but soon became fascinated with China.
When he graduated in 1965, the Cultural Revolution had just begun and traveling to China was impossible. So like most academics interested in that country, Jacobs headed to Taiwan. He studied Chinese for a year in Taipei, and later returned to conduct a field study of local politics in rural Taiwan, where he grew used to "swearing rather automatically" in Hoklo (also known as Taiwanese) like the best of them.
As Jacobs rose up in the academic ladder, he kept returning to Taiwan. In 1979, he was hoping to meet with the newly appointed Government Information Office director-general James Soong (宋楚瑜). Soong was busy, and meanwhile he became friends with many dangwai (黨外, "outside the party") politicians opposing the authoritarian Chinese Nationalist Party (KMT), including Lin.

United Daily News was the first newspaper to call J. Bruce Jacobs "Big Beard" in headlines printed on March 1 and March 2, 1980.
Photo courtesy of National Central Library
The dangwai politicians were angry at the government. While they were allowed to run in elections since 1969, the KMT suspended all electoral activities in 1978 in response to the US cutting relations with Taiwan. Lin was one of the core members of the dangwai magazine Formosa (美麗島), and the magazine's headquarters were located above his home.
When Jacobs returned a year later, many of these friends, including Lin, were in jail over the Kaohsiung Incident, during which the military police clashed with democracy protesters during a rally organized by Formosa. He spent time with the families of the imprisoned, often visiting Lin's house with other Dangwai members and playing with his daughters.
BANNED FROM TAIWAN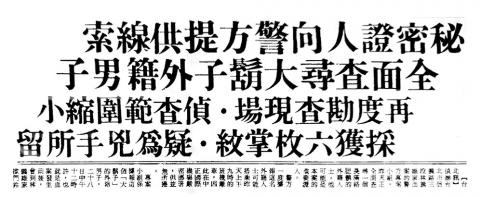 United Daily News was the first newspaper to call J. Bruce Jacobs "Big Beard" in headlines printed on March 1 and March 2, 1980.
Photo courtesy of National Central Library
Jacobs found out about the murders that evening at the hospital where Lin's wife and surviving daughter were staying. The next day, the United Daily News became the first outlet to call him "big beard" in the page 3 headline, "Secret witness gives police clue, full-scale search for big-bearded foreign male." Jacobs writes that he had visited the Lin house the previous day around 6pm and nobody answered the door. The article claimed that he visited around noon, shortly before the murders happened.
The next day's headline was "Police monitor big beard around the clock," revealing that he had a PhD from Columbia University — essentially giving away his identity. Insisting that he had nothing to do with the murders, Jacobs agreed to be placed under 24-hour police protection. But the police continued to question him, the newspapers continued to update on the big beard's alleged involvement, and he learned that he was barred from leaving Taiwan as an important witness to the case. He spent most of his time in a room in the Grand Hotel, or in court.
The bizarre and convoluted details of the next three months can be found in Jacobs' book. Finally, on May 21, he was allowed to leave Taiwan after late national policy adviser Tao Pai-chuan (陶百川) brought the issue up to then-president Chiang Ching-kuo (蔣經國). Once he was free from the grasp of Taiwan's security agents, Jacobs "broke down and cried."
Jacobs stayed away from Taiwan for the next 12 years. By 1992, he was teaching at Monash University in Australia and served as a member of the Australian-Chinese Council. Taiwan's representative to Australia, Francias Lee (李宗儒), had been trying to get Jacobs to the country for years; he finally succeeded in securing a visa in June 1992 after telling the authorities Jacobs had become "too important to ignore."
Taiwan was a very different place by then, and Jacobs noted the advances in democratization and the "surge of Taiwanese consciousness sweeping the island." But the police were still following him around. This happened again during a visit in 1993, and his subsequent visa requests were often denied. After Jacobs brought up the issue when he met then-president Lee Teng-hui (李登輝) in 1995, he was able to obtain visas with no issue. In 1996, Jacobs observed Taiwan's first direct presidential elections.
However, Jacobs still noticed that he would be stuck at the immigration desk for at least half an hour every time he entered Taiwan. This continued until Chen Shui-bian (陳水扁) became president in 2000 — he was pretty much free to come and go without hassle after that.
Taiwan in Time, a column about Taiwan's history that is published every Sunday, spotlights important or interesting events around the nation that have anniversaries this week.
Comments will be moderated. Keep comments relevant to the article. Remarks containing abusive and obscene language, personal attacks of any kind or promotion will be removed and the user banned. Final decision will be at the discretion of the Taipei Times.