The Gender Brief: Political daughter
The prominence of Han Bing, daughter of Kaohsiung mayor-elect Han Kuo-yu, during the recent nine-in-one elections tells us much about the place of women in Taiwanese politics
Han Kuo-yu's (韓國瑜) rapid rise to become the Chinese Nationalist Party's (KMT) mayor-elect of Kaohsiung has been rivaled by only one other figure — his daughter, Han Bing (韓冰).
The public has an insatiable appetite for the 23-year-old Han, whose telegenic looks and charm led observers to dub her a "lethal weapon" for her father's campaign. Her star power proved so alluring that she was even trusted with solo appearances on the campaign trail, attracting a media scrum during her visit to Rueifong Night Market (瑞豐夜市) in Kaohsiung's Zuoying District (左營) to canvas for votes on Nov. 22.
But Han's popularity as a quintessential "beauty with brains" actually reveals deep-set problems in how women are treated and perceived.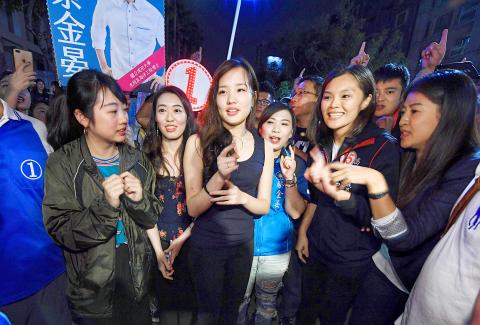 Han Bing, center, flanked by supporters of her father Han Kuo-yu, drew a crowd last month when she visited Rueifong Night Market in Kaohsiung.
Photo: CNA
BALLOT BEAUTIES
A lot of the attention given to Han has been directed at her looks. Headlines tout Han's modeling photos, praise her likeness to actress and sex symbol Shu Qi (舒淇) and fixate on her appearances in tight-fitting or skin-baring clothes. Disturbingly, many photos were taken from her private social media accounts and redistributed for the nation's ogling.
This is not new. Women of all stripes, whether seasoned politicians or teenage students, have long been considered fair game for physical descriptions — and even rankings. This practice is rampant on mainstream media, variety shows and online fora.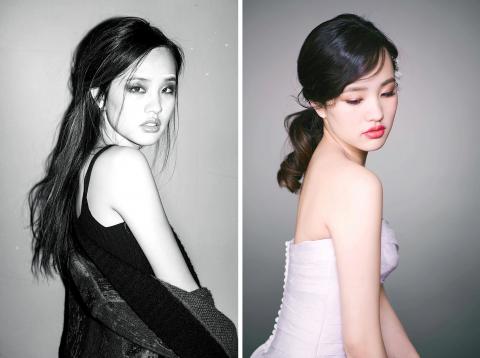 Han Bing's modeling headshots have become media fodder, part of a pattern of discussing women's bodies in public.
Photos: CNA
Reducing women to their physical attributes is repugnant. Even more troubling, many use this as an excuse to discount women's intelligence and ability to lead public affairs. It reinforces the message, especially to young girls, that a woman's worth lies in how pleasing her appearance is, rather than the quality of her values, thoughts and actions.
MAIDENS AND MONSTERS
Han has also captured the public's imagination by embodying all the most (seemingly) benevolent, positive stereotypes of womanhood. She is lauded for being a young woman who somehow manages to be beautiful, poised, intelligent and friendly all at the same time.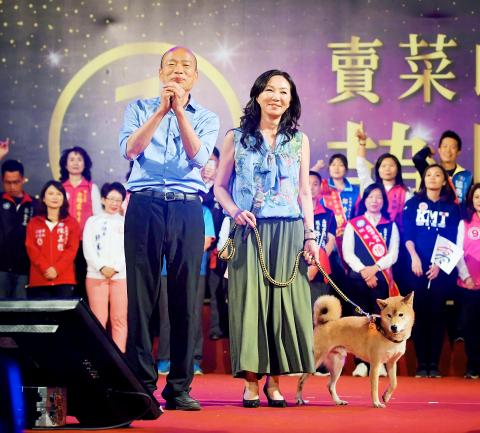 Kaohsiung mayor-elect Han Kuo-yu is joined by his wife Li Chia-fen at his victory rally last month.
Photo: CNA
But by placing her on a pedestal, we risk dragging other women through the mud.
In a Facebook post, political scientist Hu Yu-wei (胡幼偉) wrote that Han's persona of "elegance and warm femininity" (高雅暖女) was unprecedented in Taiwan's political scene. Her refined image contrasted starkly with the Democratic Progressive Party's unruly image of "ferocity, aggression and harshness" (殺氣重、鬥性強、刻薄寡恩). Hu claimed that this alone improved public perception of the KMT.
Party politics aside, what Hu identifies is a familiar dichotomy between what society deems to be desirable and undesirable behavior by women.
While embracing Han's unwavering smile and gentle demeanor, we should be aware of how we treat women unlike her, who bare their teeth and are not afraid to offend. Otherwise, in glorifying one female archetype, we reject other ways of being female and put unbearable pressure on women to ensure that only their most polished selves are ever seen in public.
UPGRADE HIM
In the past year, Han Kuo-yu has made a series of public remarks that discriminate against, objectify and ridicule women. Some choice takes: "for men, the world is their oyster; for women, the home is their entire world;" "a mature woman is like a bowl of soup — drink quickly once it's cooked, otherwise it will burn" and to a group of female supporters, "if investment into Kaohsiung provides 1,000 jobs, I will give you a kiss, and if it provides 10,000 jobs, I will repay you with my body and sleep with you for a night."
Han Kuo-yu was criticized for these comments, but brushed them off as jokes. His daughter's presence in his campaign was useful in that regard, as it helped to absolve him of accusations of sexism. This relied on the very flawed assumption that a man capable of raising such an outstanding and filial daughter could not actually be a misogynist.
Han Bing has comported herself impressively throughout the election, and her achievements speak for themselves. It is a shame to see her used as sexual gratification, a narrow feminine ideal or a smokescreen for sexism. If Taiwan really wants our women to shine, we will need to learn to treat them right.
WOMEN MAKE STRIDES AT THE LOCAL LEVEL
According to figures released by the Central Election Commission, female representation rose at almost every level of local government after the Nov. 24 elections. Among city mayors and county commissioners, a historic high of seven out of 22 positions went to women, up from the previous two. Women also made gains among grassroots leaders, including councilors at all levels. Among borough wardens, female representation rose from 13.95 percent to 16.61 percent, equivalent to 191 more representatives.
The LGBTQ community has been celebrating a breakthrough as the first two openly LGBTQ city councilors were elected to office. Miao Po-ya (苗博雅) of the Social Democratic Party and Lin Ying-meng (林穎孟) of the New Power Party won their races in Taipei.
Unfortunately, it doesn't look like the two will share much common ground. During an interview on Monday, Lin called on Miao to take responsibility for the defeat of referendum question 14 on amending the Civil Code to protect same-sex marriage, which Miao had proposed. As of press time, Miao had yet to respond.
FILM FESTIVAL
After an island-wide tour, Women Make Waves Film Festival (台灣國際女性影展) is back in Taipei for its last screenings of the year. Registration is free for today's four screenings of short films. If you're in Taoyuan, the festival's 25th anniversary retrospective exhibition is having its last weekend at the Taoyuan Arts Cinema II (桃園光影文化館). For more information, visit: www.wmw.org.tw.
The Gender Brief is a weekly column focusing on gender and sexuality-related stories from the previous week's news.
Comments will be moderated. Keep comments relevant to the article. Remarks containing abusive and obscene language, personal attacks of any kind or promotion will be removed and the user banned. Final decision will be at the discretion of the Taipei Times.