Art exhibition listings
The sixth edition of Art Kaohsiung (高雄藝術博覽會) kicks off today at Pier-2 Art Center and City Suites Hotel. Organized by the Kaohsiung City Government Bureau of Cultural Affairs and Modern Art Association of Kaohsiung, the event positions itself as "an International art fair… attract[ing] collectors from around the world to reveal the potential of Southern Taiwan." This year, over 60 local and international galleries are participating. They include newcomer Askeri Gallery from Moscow, which is featuring the work of Moscow native Pavel Polanski, whose paintings are characterized by gray canvases occasionally punctured by vibrant hues. Gallery Moryta from Fukuoka is returning with monochromatic prints by Kouki Tsuritani, a Japanese print-maker who combines the aesthetics of traditional Japanese ukiyo-e (woodblock art) with Western printmaking techniques. Strongholds of the local art scene will be showing at the fair, including Soka Art Center and Galerie Grand Siecle. The fair will also include three curated exhibitions focusing on southern Taiwanese art, photography, virtual reality and video art. For more information, visit: www.art-kaohsiung.com.
■ Pier-2 Art Center (駁二藝術特區), 1 Dayong Rd, Kaohsiung City (高雄市大勇路1號), tel: (02) 2772-5950. Open today and Saturday from 11am to 7pm and Sunday from 11am to 6pm
■ Until Dec. 2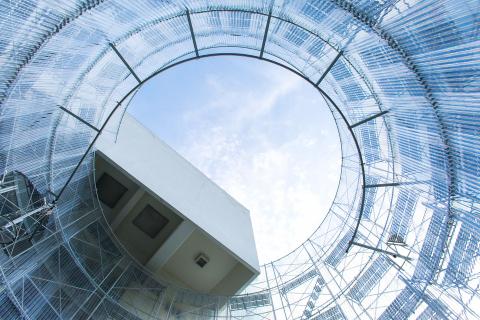 Serendipity Studio + Kuan-Wei Chen Architects, Mist Encounter (2017).
Photo courtesy of Taipei Fine Art Museum
Inside X-site 2014–2018 (X-site創作解密) is a retrospective of the Taipei Fine Art Museum's outdoor landscape installation program X-site. Launched in 2014, X-site is an annual commission of architectural projects for the museum's outdoor plaza. Over the past five years, the program has received over 150 submissions by open call. This show features the winning projects across five years of the program, as well as 26 submissions handpicked by curators Huang Wei-jung (黃威融) and Wang Shi-fang (王士芳). The creative minds behind the submissions are invited to "share the moment of inspiration behind their projects in handwritten manuscripts." Running concurrently is a program of talks and events published on the museum's Web site: www.tfam.museum.
■ Taipei Fine Arts Museum (台北市立美術館), 181 Zhongshan N Rd Sec 3, Taipei City (台北市中山北路三段181號), tel: (02) 2595-7656. Open Tuesdays to Sundays from 9:30am to 5:30pm and until 8:30pm on Saturdays
■ Until March 31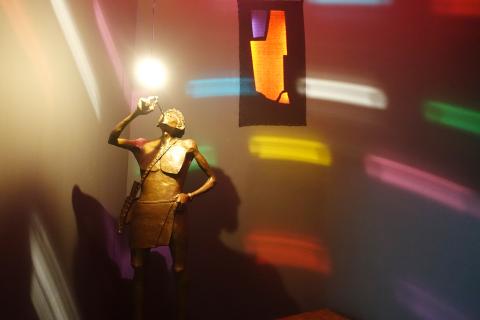 Sakuliu, Lighting the Tobacco (2015).
Photo courtesy of Museum of Contemporary Art Taipei
The Museum of Contemporary Art is showing an exhibition of indigenous art titled Micawor — 2018 Pulima Art Festival (翻動Micawor — 2018 Pulima藝術節). Micawor is an Amis word for turning over fertile soil, taken here as a metaphor for "embod[ying] the indigenous cultural spirit and progress of contemporary art." The show examines indigenous mythologies, histories and heritage through the lens of contemporary art — a medium that the curators imagine "help[s] to cultivate a new vision for the world." Exhibition highlights include Paiwan artist Sakuliu's Lighting the Tobacco, a sculpture and light installation that speaks to the artist's childhood in the 1960s and 70s, during which electricity was introduced to his village. According to the Museum, the work expresses Sakuliu's "reflections on the fundamental transformation of life and culture that followed those changes in his hometown." Australian weaver Glenda Nicholls' installation, A Woman's Rite of Passage, speaks to her background as an Aboriginal descendant of the Waddi Waddi, Yorta Yorta and Ngarrindjeri. The work uses soft materials such as jute, emu feathers, possum skin and wool, embellished with coins, silver chains and beads. The festival also includes a program of performances, films, seminars, talks and workshops. Details are on the museum Web site: www.mocataipei.org.tw.
■ Museum of Contemporary Art (台北當代藝術館), 39 Changan W Rd, Taipei City (台北市長安西路39號), tel: (02) 2559-6615. Open Tuesdays to Sundays from 10am to 6pm
■ Until Jan. 13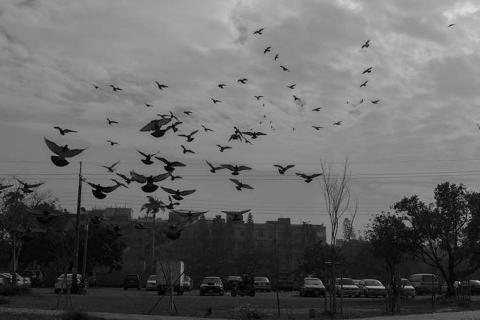 Lee Li-chung, Look Homeward, Angel Wild Pigeons Looking for Food on the Parking Lot (2017).
Photo courtesy of Powen Gallery
Structure and Variation (結構與變奏:日本當代雕塑展) is a group exhibition of Japanese contemporary sculpture. The show includes six artists that work with a wide spectrum of materials, including wood, paper, metal and bronze. Kishio Suga is a well-known sculptor and installation artist who is a key member of the Mono-ha, an art movement that flourished in the 1960s and 70s with experiments combining industrial and natural materials. Differentiation and Gathering is a minimalist assemblage of wood parts that beautifully resonates with its title. Sakuma Asuka works with layers of newspaper to create large, organic forms with flowing contours. Perceiving his art as a natural result of his labor, he writes: "I believe that what finally takes shape from the accumulation of things I use in my everyday life is living proof to my existence." Tsukiyama Yuki is a Kobe-based artist whose works accentuate the essence of materials. The Village of Promise is a wooden sculptural installation that suggests the potential warmth and utility embodied in cut wood.
■ Donna Art & Consulting (多納藝術), 7F, 112 Keelung Rd Sec 2, Taipei City (台北市基隆路二段112號7樓), tel: (02) 7746-7463. Open Mondays to Saturdays from 11am to 7pm
■ Until Dec. 29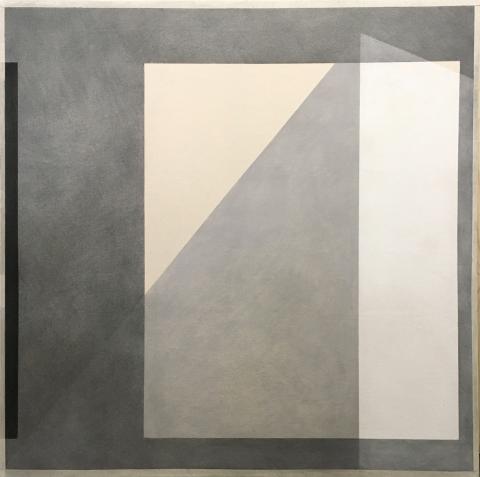 Cheng Hung, In the Old Studio of Kwai Chung (2018).
Photo courtesy of a.m. space
Lee Li-Chung (李立中) is an award-winning, Tainan-based artist known particularly for his photographic installation La Mer, which according to Powen Gallery, reconstructs "the emotion and sensibility of life" through the metaphor of the sea. The gallery and artist, who first collaborated in 2016, teamed up again this year for a solo exhibition, Look Homeward, Angel (天使望鄉). The show draws from the autobiography of American novelist Thomas Wolfe, who describes a young man that thinks dearly of his distant hometown every sleepless night. The Dark #01 is a photograph that depicts a dimly lit bedroom with an unmade bed, evoking a sense of absence. Look Homeward, Angel — Asia's First Water and Land Amusement Park is a photograph that seems to be taken from a vehicle speeding down a highway, capturing a moment of reflection by an urban dweller.
■ Powen Gallery (紅野畫廊), 11, Ln 164, Songjiang Rd, Taipei (臺北市松江路164巷11號), tel: (02) 2523-6009. Open Tuesdays to Sundays from 10am to 7pm
■ Until Dec. 16
Tsukiyama Yuki, Village of Promise (2016).
Photo courtesy of Donna Art & Consulting
Comments will be moderated. Keep comments relevant to the article. Remarks containing abusive and obscene language, personal attacks of any kind or promotion will be removed and the user banned. Final decision will be at the discretion of the Taipei Times.