Highways and Byways: A road built for trainspotting
Taking Pingtung County Road 147-1 by bicycle
According to one dictionary, idee fixe is "a clinical and literary term for a persistent preoccupation or delusional idea that dominates a person's mind."
Whenever an idee fixe grips me, it's often a result of gazing at maps. This, I find, is a relaxing yet inspiring way to pass the time. I wonder: What if I could hike this mountain? What if I could cycle along that roadway?
Pingtung County Road 147-1 (屏147-1) is just such a place. It has been on my mind since I drove through part of it en route to Kayoufong Waterfall (卡悠峰瀑布), an excursion I described in my Oct. 5 column.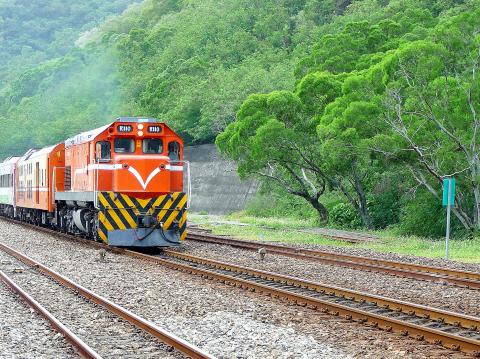 A train heading for Taitung passes Fangye Signal Station.
Photo: Steven Crook
From experience, I know that road maps of Taiwan can be deceptive. Some show strips of tarmac that now lie beneath landslides, or which were never built — like the section of Provincial Highway 18 that would have cut through Yushan National Park (玉山國家公園). It pays to be skeptical, especially when you're looking at a part of Pingtung that was hard-hit by typhoons over the last two years.
But this time, I wasn't depending on maps alone. Road 147-1 shadows the South Link Line (南迴鐵路), the railroad connecting southwest Taiwan with Taitung. It seemed logical that authorities would keep the road open for track maintenance.
ROUGH PATCHES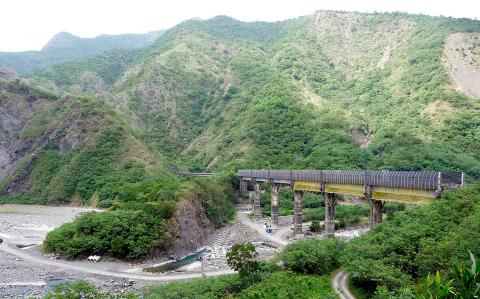 One of the 158 bridges on the South Link Line railroad.
Photo: Steven Crook
I began cycling southward from Fangliao (枋寮) in Pingtung, quickly reaching the intersection in Fangshan (枋山) and turning onto Road 147-1. Whereas the South Link cuts a fairly straight line through the hills north of Fangshan Creek (枋山溪), the 147-1 follows each meander of the waterway.
I reckoned the 147-1 wouldn't be especially steep, since the highest point on the South Link is a mere 175m above sea level and maps didn't show the road climbing above the railroad at any point.
While that proved accurate, I encountered a different and entirely unforeseen problem. From time to time, gusts of wind so strong that I feared I'd be blown off my bicycle came blasting down the valley. On three temporary steel bridges, I had to dismount and push.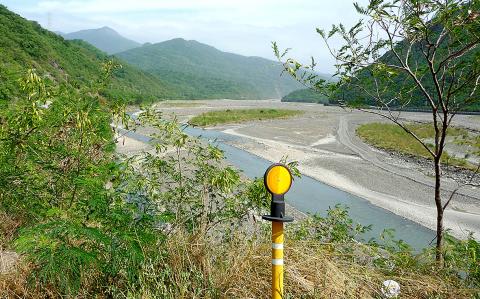 Near the Taiwan Strait, Fangshan Creek flows through a broad valley.
Photo: Steven Crook
The existence of several such bridges suggests that substantial sections of the original road have been swept into Fangshan Creek. The instability of the surrounding hills is obvious. At one photo stop, I heard the disconcerting patter of gravel falling down the slope behind me. The bridges make for flat but not particularly smooth riding, and the surface of the actual road varies from decent to bone-shakingly rough.
MELON-CHOLY THOUGHTS
Every 10 minutes or so, I encountered a motorcycle or a small truck. At several spots, I flew through clouds of dragonflies. In addition to quite a few squashed frogs, rats and snakes on the road, there was a depressing amount of garbage. On the way back, I picked up 14 aluminum and steel cans.
Some of the trash surely comes from the farmers, who during the dry season cultivate watermelons on the floodplain. It's amazing that such rocky terrain — even after it's been smoothed out by bulldozers — can produce any kind of cash crop. To retain what soil there is, farmers lay down acres of black plastic sheeting. How much of this plastic ends up being washed into the ocean? That is something I don't want to think about.
Having seen the earthworks, trucking in of workers and fertilizer and transport of watermelons to the markets, I'm now curious as to the total ecological footprint of each watermelon enjoyed by urban consumers.
TRAINSPOTTING
However, I wasn't cycling up 147-1 to look at watermelon plantations. I wanted to get photos of trains chugging along the South Link. The first place I stopped for this was precisely 10km from the Provincial Highway 1 turnoff.
For several years, Fangye Signal Station (枋野號誌站) was a conventional station where some Kaohsiung–Taitung services stopped for passengers to board and disembark. But so few passengers used it that Taiwan Railways Administration (TRA) eventually downgraded it to a signal station.
Within 10 minutes of arriving at the station, an express train approached from the west, then disappeared into one of the South Link's 36 tunnels. I freewheeled back to 147-1, and right away was stopped at a Forestry Bureau checkpoint. The sentry told me I didn't have to sign in or show any ID. I guess I didn't look like a tree rustler.
A few minutes later, a concrete bridge took me across a tributary of Fangshan Creek. Before following 147-1 farther inland, I headed up a steep side road in the hope of sighting more trains.
That was where I found a perfect spot to take photos. I'd see any train as soon as it emerged from the tunnel on the other side, and have several seconds to snap away as it crossed the valley. But 20 minutes and zero trains later, I gave up waiting.
Three kilometers on — 13.9km from the Highway 1 turnoff, according to my fitness tracking app — I ran out of road to travel. Even though Google Maps shows 147-1 continuing a little beyond the Central Signal Station (中央號誌站), in reality it goes no farther than the western mouth of the longest tunnel on the South Link.
I chatted to a couple of TRA employees, took pictures of a westbound express train as it emerged from the 8.07km-long Central Tunnel (中央隧道) and gazed at the ford that seemed to be the only onward option.
According to the site supervisor, the rough track on the other side of the river goes "very far" into the mountains. So I've been thinking: When can I come back equipped for an overnight stay?
Steven Crook has been writing about travel, culture and business in Taiwan since 1996. Having recently co-authored A Culinary History of Taipei: Beyond Pork and Ponlai, he is now updating Taiwan: The Bradt Travel Guide.
Comments will be moderated. Keep comments relevant to the article. Remarks containing abusive and obscene language, personal attacks of any kind or promotion will be removed and the user banned. Final decision will be at the discretion of the Taipei Times.