Art exhibition listings
The 11th Taipei Biennial opens this weekend with a show that brings issues of climate change and environmental conservation into the fore. Co-curated by Italian Francesco Manacorda and Wu Mali (吳瑪利), Post-Nature—A Museum as an Ecosystem (後自然:美術館作為一個生態系統) includes 41 artists from 19 countries who are engaged in a number of knowledge fields including science, sociology, urban planning, activism, theory and non-governmental organization. From different perspectives, they examine "a multitude of planetary ecologies, economies and societal structures, and bring to light the different modes of connectivity upon which they rely," writes the museum in a press release. The show not only presents ecological issues in an art museum context, it also proposes that humans should consider natural living systems as an ideal social model. "Natural ecosystems exist on the basis of symbiosis, reciprocal working and collaboration, in order to maintain a balance. Human activity may be well-advised to follow nature's example, as global environmental problems become increasingly turbulent and complex," writes the museum. The show is accompanied by a series of workshops, events and research, beginning with performance of 17 local sound artists inside a lingzhi mushroom installation created by Mycelium Network Society. For more information, visit: www.taipeibiennial.org
■ Taipei Fine Arts Museum (台北市立美術館 TFAM), 181, Zhongshan N Rd Sec 3, Taipei (台北市中山北路三段181號), tel: (02) 2595-7656. Open Tuesdays to Sundays from 9:30am to 5:30pm and until 8:30pm on Saturdays
■ Until March 10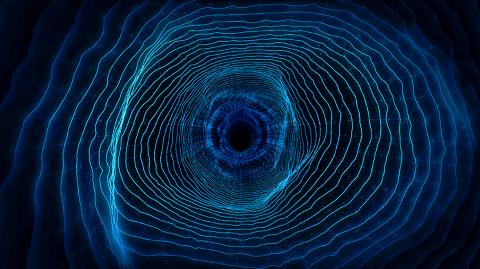 Chen Yin-ju, Tunnel (2018).
Photo Courtesy of Chi-wen Gallery
Project Fulfill Art Space presents Earthly Delights (人間樂園), a solo exhibition by distinguished Vietnamese-American artist Dinh Q Le. The title of the show references a 15th Century triptych, The Garden of Earthly Delights, by Dutch artist Hieronymus Bosch. "Painted over 500 years ago, historians are divided on [its] interpretation... ranging from a moral warning to worldly temptations, to a celebration of sexual joy and life's pleasures," writes the gallery in a press release. Extending from these suggested meanings, the show examines the development of Vietnam's sexual culture, particularly through the context of online pornography. While the Internet in Vietnam is censored in many areas, pornography is not among the blocked content, says the artist. The arrival of the Internet in Vietnam and the abundance of online porn has greatly changed the Vietnamese view of sexuality. The show features new works from his photo weaving series, in which photographic images are interwoven to create layered and repetitive montages that "alter perceptions of historical events and our collective memory," writes the gallery. Le's assemblage technique is inspired by traditional Vietnamese grass mat weaving, which exudes a sense of craft and altered perception. A central piece on display will be a large photo scroll that is 50 meters long.
■ Project Fulfill Art Space (就在藝術空間), 2, Alley 45, Ln 147, Xinyi Rd Sec 3, Taipei City (台北市信義路三段147巷45弄2號), tel: (02) 2707-6942. Open Tuesdays to Sundays from 1pm to 6pm
■ Until Dec. 21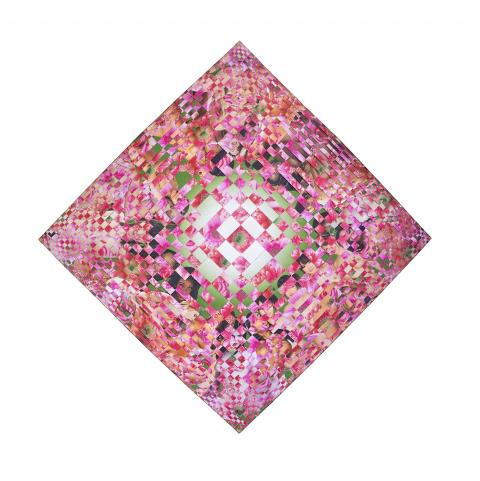 Dinh Q Le, Untitled 1, Earthly Delights Series (2018).
Photo Courtesy of Project Fulfill Art Space
Anne X Ama — Girls under Fire in WWII (安妮與阿嬤相遇:看見女孩的力量) is a collaborative exhibition between The Ama Museum, an institution dedicated to comfort women during Japanese rule, and the Anne Frank House, the former residence and present museum of Jewish wartime writer Anne Frank. Both museums are dedicated to the remembrance of women who suffered during World War II and seek to increase awareness of their life stories. The show features Frank's diary, memorabilia and a recreation of the secret annex in which she and her family hid during the war. Her diary was published by her father in 1947 and has since been translated into over 70 languages. "At age 13, Anne wrote in her diary the incredible story of their lives in hiding, the emotions she experienced through her rite of passage as a teenage girl, her young and inexperienced romance and her thoughts on war, discrimination and the fate of women," reads the exhibition preface. By sharing the story of Anne Frank, the Ama Museum hopes to encourage visitors to reflect on the atrocities of war. "How can we prevent the misfortune of Anne and the Amas from happening again?" asks the museum.
■ Ama Museum (婦女救援基金會附設阿嬤家—和平與女性人權館), 256, Dihua St, Sec 1, Taipei City (台北市迪化街一段256號), tel: (02) 2553 7133. Open Tuesdays to Sundays from 10am to 5pm
■ Until Dec. 30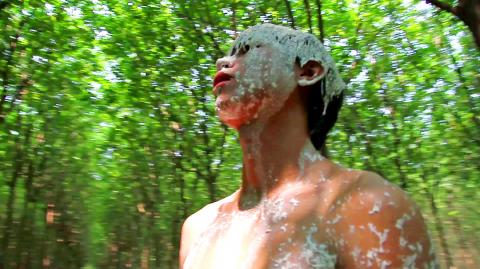 Khvay Samnang, Rubber Man (2014-15).
Photo Courtesy of the artist
Dust to Dust: of Myths and Men (塵念塵:神話與人間) is a group exhibition of three Luxembourg-based artists who in the spring participated in a short residency program in Taiwan. For this show, the artists have been invited back to Taiwan to present their final work based on projects they have began during their program. Their projects involve physical and mental recordings of their encounters, as well as the relationship between the socio-political and ancient mythologies and philosophies. Karolina Markiewicz and Pascal Piron is an artist duo that creates films, plays, VR projects, experimental photography and paintings that examine the human condition and the nature of images. Marco Godinho is a Portuguese-born artist who creates installations, videos, drawings and collaborative projects inspired by notions of exile, memory and geography. His practice is influenced by his experiences of multiculturalism while living a nomadic lifestyle. The opening of the show is accompanied by a free tattoo session of Godinho's Forever Immigrant by Taiwanese tattoo artist Ku Yung-chi (顧詠琪). Following the tattoo session, the curator will be performing an original piece entitled Away from that line, in toward the earth. For more information, visit: vtartsalon.com.
■ VT Art Salon (非常廟藝文空間), B1, 47 Yitong St, Taipei City (台北市伊通街47號B1), tel: (02) 2516-1060. Open Tuesdays to Thursdays from 1:30pm to 9pm, and Fridays and Saturdays from 1:30pm to 10pm
■ Until Dec. 29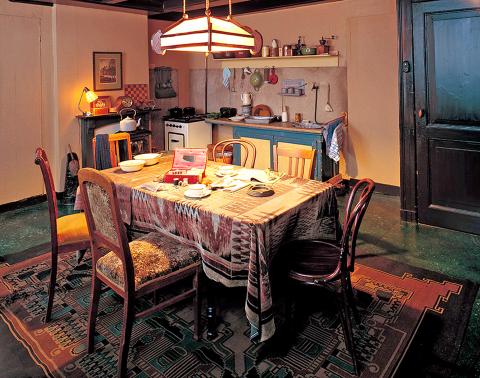 Exhibition view of Anne X Ama –Girls under Fire in WWII.
Photo Courtesy of The Ama Museum
Currently on view at Chi-wen Gallery is a solo exhibition, Notes on Psychedelics II: inside a Memorable Fancy (致幻記 II:刻幻象), by Taiwanese artist Chen Yin-ju (陳瀅如). Chen is known for her video installation and drawings that engage with her personal experiences and studies of occultism and pseudo-science. The show presents her latest work, Notes on Psychedelics II: Inside a Memorable Fancy, which includes a looped video of a drumming shaman, two animated videos of abstract, vibrational tunnels and a number of drawings that deal with consciousness and the soul. The drawings are slightly warped and suspended in the air as if frozen in motion.
■ Chi-Wen Gallery (其玟畫廊), 32, Lane 2, Zhongshan N Rd Sec 6, Taipei City (台北市中山北路六段2巷32號), tel: (02) 2837-0237. Open Tuesdays to Saturdays from 1pm to 6pm.
■ Until Dec. 15
Comments will be moderated. Keep comments relevant to the article. Remarks containing abusive and obscene language, personal attacks of any kind or promotion will be removed and the user banned. Final decision will be at the discretion of the Taipei Times.