Book review: Over the moon for Taiwan
Stephanie Huffman and Joshua Samuel Brown have written an incisive book about their travels around Taiwan
Formosa Moon is a charming, chatty yet incisive book describing a journey around Taiwan. Starting from Portland, Oregon, the two writers, who pen alternating pages, are Joshua Samuel Brown — who has known Taiwan since 1994 and has written extensively about it — and Stephanie Huffman, who was visiting for the first time.
Describing themselves nicely as "two middle-aged pagan flower children," they launch themselves into their project by staying at a friend's house in Taipei. Huffman doesn't much appreciate the Shilin Night Market, but warms to the Ximending (西門町) commercial district and the area round the Red House Theater (西門紅樓). They go to New Taipei City's Wulai District (烏來), then up to Tamsui District (淡水) for a birthday celebration, but Brown opts out of yet another visit to the National Palace Museum, feeling he's already queued up to see the Jadeite Cabbage with Insects (翠玉白菜) once too often.
Brown does, however, accept an invitation for a stay at Taipei's Grand Hyatt, and the massage they each receive there proves exceptional. "Thou shalt not accept freebies," was apparently the number one command he received when writing for Lonely Planet, but this prohibition didn't apply, he says elsewhere, to this trip.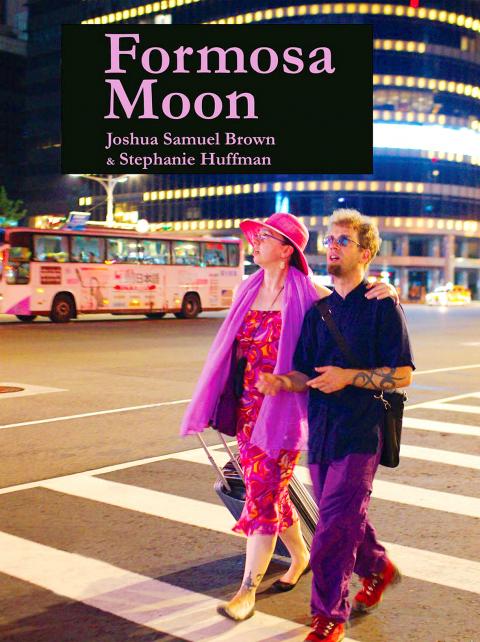 Formosa Moon By Joshua Samuel Brown and Stephanie Huffman
After that they're on their way. A visit to Keelung to see the Fairy Cave (仙洞巖) is followed up by a visit to the Cave of Buddha's Hand (礁溪) in Yilan's Jiaosi (礁溪). Then it's down to Hualien and the Taroko Gorge, at which point Brown warns readers not under any circumstances to follow a certain route from the road down to the river.
Green Island follows, and they seem to be the only passengers not to get sick on the rough trip over to the latter. Once there, they are duly disdainful of the kitsch mock-ups of life in prison, and awe-inspired by the island's spectacular, if slightly intimidating, coastline.
This is an appropriate point at which to praise the astounding photos in this book — one of the Green Island cliffs is especially wonderful. These photos are plentiful, and each one is well-chosen, colorful and vividly reproduced. There are scenes of natural beauty, but mostly they're of man-made items that typify the Taiwanese love of the idiosyncratic. Together, they exemplify many of the things that make Taiwan so uniquely attractive.
Snorkeling and visiting one of the earth's few salt-water hot springs come next. Then it's on to the Taitung coast to watch surfers, visit Dulan's Sugar Factory, now an arts center, and admire carved sculptures made from driftwood. More about this was eloquently described in Scott Ezel's fine book, A Far Corner [reviewed in the Taipei Times on April 16, 2015]. A trip in a hot-air balloon forms a climax to this section. These can apparently be enjoyed for NT$9,000 from a company called Sky Rainbow.
Bypassing both Kenting and Kaohsiung for the moment, they proceed to Tainan where they have their unexpectedly blunt fortunes told (they must never marry each other) and experience some puppetry. Then, hearing that an apartment they'd been promised in Taipei was now ready, they take a break from the road and examine the rest of Taiwan's west coast from their new Taipei base.
Smangus, a difficult-to-access, community-run Aboriginal village in Hsinchu County, receives their attention next, then hand puppets in Yunlin and a funeral encountered by chance at Sun Moon Lake.
Taichung, where they visit a hotel and coffee shop with a scuba-diving pool attached, follows. Before that Brown relates his experiences in the city in 1994 — Taichung was the first place in Taiwan where he lived, working as a teacher.
Back in Taipei, they make a bee-line for the Core Pacific Living Mall in Songshan District (松山), a building Brown had never believed could be constructed when he proof-read the plans back in the 1990s. The photos are once again stunning, and show how in Taiwan a fantastic reality can equal almost anything the mind can imagine.
This is an outstanding book. With its baseball tournaments and High Speed Railway, Taiwan could be assumed to be simply a monument to things American, with an international modernity added on. But this is far from the case, and Formosa Moon time and again shows why.
Taiwan has a love for kitsch, and the affluence to turn it into reality. It's the guardian of all forms of Chinese tradition without ever failing to make them up-to-date and intensely colorful. And it has an amiability and hospitality, especially directed at Westerners, that is hard to match anywhere else in the world.
This book reflects all these things and, what's even more remarkable, it does so through encounters with individuals rather than officials. Even an attempt to present a gift from Oregon to Kaohsiung's mayor fails (she was out of town), but the ordinary people more than make up for it.
They go to Kaohsiung from Taipei by train, thus in a indirect way completing their national tour. Huffman suffers a gluten-allergy, so it's left to Brown (himself to fall prey later to gout) to point to Kaohsiung having 2,400 people per square mile in contrast to Taipei's 26,000 as being the key to the second city's exceptional orderliness and quiet.
The two end their travels on positive notes. Brown is headed for a full-time job, his first in 10 years (putting out the online journal of My Taiwan Tour), while Huffman is accepted for post-graduate study at a university.
At one point Brown makes an extraordinary assertion. After seeing a crippled Kaohsiung man being given a free massage by a blind masseur, apparently a daily occurrence, he says that acts of kindness are so common in Taiwan as to appear nothing out of the ordinary. What greater compliment to this extraordinary place could there possibly be than that?
There will be a launch party for this fine book on Oct. 27, from 5pm to 9pm, at Red Room, Taiwan Air Force Innovation Base (TAF 空總創新基地), 177, Sec 1, Jianguo S Rd, Taipei City (台北市建國南路一段177號). As well as readings, there will be "live reenactments," food, drinks and puppetry. Entrance is free. Note, by the way, that this is not the Red House in Ximending.
Publication Notes
Publication Notes
FORMOSA MOON By Joshua Samuel Brown and Stephanie Huffman 336 pages Things Asian Press Paperback: US
Comments will be moderated. Keep comments relevant to the article. Remarks containing abusive and obscene language, personal attacks of any kind or promotion will be removed and the user banned. Final decision will be at the discretion of the Taipei Times.