Begrudging service
Apathetic toward the military and averse to service, young Taiwanese question the idea of national defense as duty, complicating plans for an all-volunteer force
Chou Chien-yu (周建宇) was looking forward to enlisting in the military. Buoyed by a love of Taiwan, Chou saw his mandatory four-month military service as a noble civic duty, one he was eager to fulfill. Since retiring from the Republic of China (ROC) Army in May, though, Chou has made a striking about-face.
"My time in the army was a complete waste," Chou says. "I wish I could get those four months back."
Chou says that apart from rudimentary instruction in marksmanship, the bulk of his time consisted of cleaning the barracks and other odd jobs.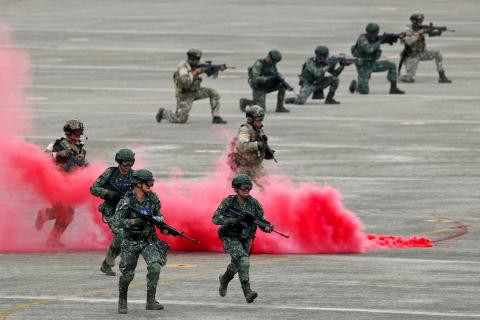 Soldiers last month perform strategic maneuvers in Taiwan's 34th annual Han Kuang military exercise in Taichung.
Photo: EPA-EFE
"Every day was spent sweeping floors or washing toilets. By the end of my first month, I couldn't wait to leave," Chou says. "I thought I could contribute something to Taiwan. But I was wrong."
For young men like Chou, the experience is all too familiar. Born into a democratic society with robust civil liberties, they question both the purpose and efficacy of conscription. Their natural aversion to the military is buttressed by the impractical training and lack of resources they encounter while serving. And as the government transitions to an all-volunteer force, such disregard for national defense poses a challenge to recruiting able and willing soldiers.
RELUCTANT TO SERVE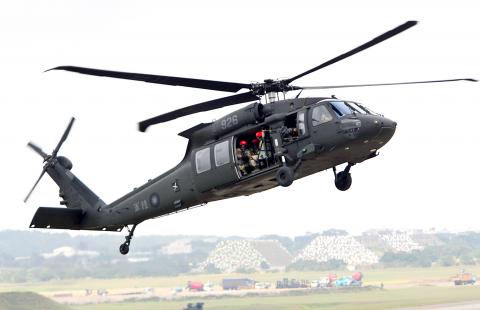 A Black Hawk helicopter last month takes flight during a drill simulating an invasion by China's People's Liberation Army.
Photo: Reuters
Unappreciative of the role the armed forces play in securing Taiwan's national defense, youth see little point to the military. They sense no threat to their freedoms, and believe that conscription's benefit to society is not worth the cost to their personal liberty.
Lin Chi-yi (林其億) finished his service with the ROC Marine Corps in April. He says that China need not use force to "defeat Taiwan."
"What use are Marines against China's economic power? How are our tanks and planes supposed to fight their renminbi?" he asks.
Cheng Da-ching (鄭大慶), who recently finished serving in the ROC Marine Corps, also doubts the risk of armed conflict.
"I think it's unlikely that we will go to war. If there's no real enemy to fight against, I don't know why military training is necessary," Cheng says.
Chinese threats of military action remain far removed from his daily concerns. But the disruptions his enlistment entailed were decidedly concrete. Cheng says that he had to put his "life on hold" after being assigned to serve in Kaohsiung, leaving his fiance, family and friends behind in Taipei.
To Cheng, the trade-off was laughable.
"Everything came to a standstill. And for what, a few months of service? It was ridiculous," Cheng says.
INEFFECTIVE SYSTEM
Recent conscripts also say that they lack the preparation and experience to defend Taiwan against an attack. Low morale, antiquated equipment and unrealistic training reinforce their perception that national service is a fruitless endeavor.
Chou's assessment is blunt: "Nothing I learned would be helpful in a war." He spent weeks learning bayonet charges and basic martial arts, which "look cool but could not win a war."
"If the enemy bombs our cities or storms our shores, what are we going to do — stab them with our knives?"
Lin is similarly wary of how well Taiwan's current system prepares its soldiers. He says that unlike South Korea or Singapore, where men undergo two-year stints of compulsory service, Taiwan requires men to serve only four months, too short a period to be effective.
"What are we supposed to learn in four months? How to salute properly? We might as well not serve at all," Lin says.
In 2011, Taiwan introduced regulations to end conscription and move toward an all-volunteer force. Under those rules, males born after Jan. 1, 1994 need to receive just four months of training. An ROC Marine Corps drill instructor surnamed Chiu (邱) points to this shortened time frame when describing why so many recruits find their experience unproductive.
Chiu says that four months is an insufficient amount of time to properly train a soldier, forcing him to "focus on basics" such as marching procedure or facing movements. Small wonder that conscripts complain of chronic boredom, he says. "Who wants to practice standing at attention for hours on end?" Chiu asks.
For another drill instructor surnamed Chen (陳), there is little motivation to produce qualified soldiers.
"Why should we give these young men the newest technology or in-depth training when they will leave so soon? They wouldn't absorb it, and it would be a waste," Chen says.
When asked for comment, a spokeswoman for the Ministry of National Defense declined to speak on the record.
ALL-VOLUNTEER FORCE CHALLENGES
Lauren Dickey, a researcher at King's College London who focuses on cross-strait relations, says in an e-mail that a lack of respect for Taiwan's armed forces will prove a major obstacle to the country's ongoing transition to an all-volunteer force. If younger Taiwanese do not feel an urgency to fight for the freedoms they have, there is scant incentive to join the military, she says.
A report published early this year by the Control Yuan thrusts the problem into sharp relief. According to the report, by January of this year the military had enlisted 160,700 volunteers, 14,000 short of the estimated 175,000 troops required to adequately defend the country.
Dickey says that Taiwan's defense strategy has focused largely on deterring adversaries by "increasing the costs of an attack." A further decrease in the number of service members, however, would seriously curtail the country's ability to do so.
Chen Kuo-ming (陳國銘), a military expert and editor-in-chief of Defence International magazine, says that maintaining the requisite number of soldiers has been a challenge since former President Ma Ying-jeou (馬英九) introduced plans to shift to an all-volunteer force. Unfortunately, Chen says, the issue has continued to beset the government under President Tsai Ing-wen (蔡英文), which has repeatedly postponed ending conscription due to poor recruitment figures.
"The present four-month training program makes it difficult to truly prepare conscripts for their duties," Chen Kuo-ming says.
This makes completing the transition to an all-volunteer force ever more pressing, he says, adding that the government needs to demonstrate leadership in boosting public respect for the military and improving recruitment efforts.
Dickey agrees. Though the path to a sustainable all-volunteer force may not be straightforward, she says, one thing is clear:
"National defense has to matter to Taiwanese of all ages."
Comments will be moderated. Keep comments relevant to the article. Remarks containing abusive and obscene language, personal attacks of any kind or promotion will be removed and the user banned. Final decision will be at the discretion of the Taipei Times.