Never too late to learn: organization educates migrant workers
One-Forty provides skills training to Southeast Asian migrant workers and facilitates intercultural understanding
Suwarto, an Indonesian migrant worker, missed home. He missed listening to his children chatter about their school days and visiting his aging father every week.
Suwarto ran a factory in Indonesia producing school uniforms. But a sudden steep increase in the price of cloth put him deeply in debt. To pay it off, he closed his factory and set off for a new country, Taiwan, for three years.
"I've was thinking, it'll take a long time to pay off my debt because the factory where I work has no overtime," he said.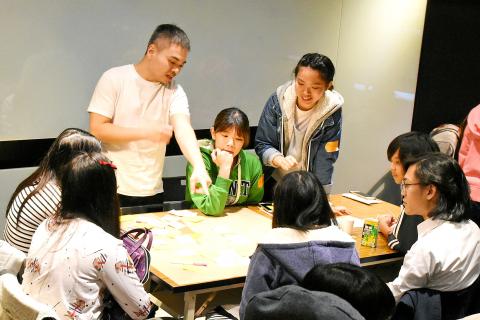 Taiwanese students discuss migrant issues on Open Sunday, an event held by One-Forty, an NGO, to give Taiwanese an opportunity to learn about the experiences of Southeast Asian migrants.
Photo: Lin Pei-yu
After he received training from the non-governmental organization One-Forty, Suwarto acquired the Mandarin skills he needed to negotiate a raise with his boss, speeding his return to his family.
About 600,000 Southeast Asian migrants work in Taiwan, primarily in the domestic caregiving, manufacturing and fishing industries. Unable to find lucrative jobs in their home countries, they go abroad in hopes of earning enough to support their families, as well as open small businesses upon their return. While in Taiwan, some endure poor working conditions, social isolation and negative stereotypes. When they go back to their home countries, failed businesses or low pay may again force them to leave, creating a vicious cycle.
Taking its name from the fraction of the Taiwanese population that consists of Southeast Asian migrant workers — one out of 40 — One-Forty is a nonprofit founded in 2015 to break this cycle by providing skills training to workers and facilitating intercultural understanding.
"We want the public to see the stories of migrant workers, and help them to learn some useful knowledge and skills during their time in Taiwan," 28-year-old co-founder Kevin Chen (陳凱翔) said.
One-Forty is currently the only non-governmental organization in Taiwan focused on providing classes for Southeast Asian migrant workers. These classes include in-person and offline courses — collectively known as "One-Forty School" — on subjects such as computer skills, financial management, Mandarin and makeup application.
With new language skills, the workers not only gain the ability to participate more fully in Taiwanese society and communicate with their employers, but also can spread awareness about their hardships and culture.
BRIDGING CULTURAL DIVIDES
Besides its educational platforms, One-Forty attempts to break negative stereotypes Taiwanese people hold toward migrant workers. At its monthly Open Sunday event, the organization hosts picnics, cooking sessions, day trips to Southeast Asian communities in Taipei and other activities.
For Wang Yio-en (王佑恩), a college student studying Indonesian who had often wandered Taipei Main Station to chat with Indonesian migrants, Open Sunday provided an opportunity to more systematically familiarize himself with Southeast Asian culture.
At a day trip to a predominantly Filipino district on Zhongshan North Road (中山北路), he talked to Filipino migrants in front of St Christopher's Church (聖多福天主堂), and purchased Filipino food at Jin Won Won Department Store (金萬萬百貨) under the guidance of One-Forty volunteers.
"I hadn't interacted with Philippine migrant workers before" Wang said, adding that he was happy at having the opportunity to do so.
Others are less sanguine over whether the organization's efforts can change minds or hearts. Wang Yi-ting (王苡婷), 21, also an Open Sunday participant, questioned the event's effectiveness at broadening the perspectives of the Taiwanese public.
"[One-Forty's] main exposure is on social media, so they can [only] attract people that are originally interested in the topic," Wang Yi-ting said.
BRIGHTER FUTURES ON THE HORIZON
Beyond their current projects, One-Forty aims to apply its strategies elsewhere in Asia and partner with other NGOs. It recently gained authorization to use a financial textbook published by an NGO in Hong Kong.
"There are lots of migrant workers in Hong Kong, Singapore, Japan and South Korea. We will connect the whole area, find organizations similar to One-Forty, and do some joint campaign," Chen said.
With a more international reach, One-Forty can assist more migrant workers like Suwarto, who has returned to Indonesia with the skills to set up a successful business. Suwarto now operates a factory for T-shirts and screen printing in his hometown of Demak, Central Java. Sometimes, he misses the One-Forty teachers. But most of the time, he thinks about hiring 1,000 employees, cooperating with local brands and earning the high school diploma he never completed.
"I used to be depressed because of the loss of my first business. There was also the fear of trying to open a business again [for fear of failure].. After One-Forty ... I am eager to do business again."
Comments will be moderated. Keep comments relevant to the article. Remarks containing abusive and obscene language, personal attacks of any kind or promotion will be removed and the user banned. Final decision will be at the discretion of the Taipei Times.