Art exhibition listings
After a year hiatus, Taipei's Digital Art Center reopens this month with a new management team that promises to "bring a brand new start to the landscape of the digital art industry." As part of a series of events that celebrate the center's second coming, an inaugural exhibition about the use of home appliances in artistic practices will be on view next month. The Romance of Home Appliance brings together 11 Taiwanese artists who work in various mediums, including sound, performance, installation, video and new media art. The show questions the idea of lifetime warranty and the inevitable process of malfunction, misuse, inconvenience and abandonment that each home product undergoes throughout its lifetime. Tsai Yu-ting's (蔡玉廷) Make-believe (2018) involves a series of plastic mold casts of Taiwanese 80's home appliances. The work reflects upon the relationship between domestic products and family life and how their histories are intertwined. Peng Yi-hsuan's (彭奕軒) The Death of Light (2016) is an expansive field of mosquito lamps placed in an orderly grid fashion. The lamps radiate a neon blue light that would be familiar to any household in Taiwan. Kuo Yi-chen's (郭奕臣) Full HD TV-Buddha is an installation of machine dialogue that pays homage to the work of Korean media art pioneer Nam Jun Paik. A series of workshops, talks and performances are scheduled throughout the exhibition period. The performance of Liu Fang-yi (劉芳一), Zhang Ke-yang (張可揚) and Hsieh Feng-chen (謝奉珍) will take place on July 6. For more information, visit the center's Web site: dac.taipei.
■ Digital Art Center (台北數位藝術中心), 180, Fuhua Rd, Taipei City (台北市福華路180號), tel: (02) 7736-0708. Open Tuesdays to Sundays from 10am to 6pm
■ Until Aug. 4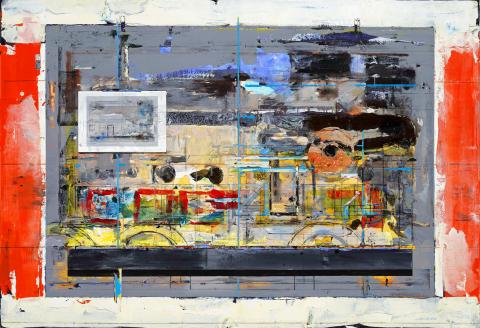 Chen Chien-Jung, Aircraft 17 (2017).
Photo Courtesy of Project Fulfill Art Space
Soundwatch is an experimental audio art studio founded in 2011 by sound artists Wang Fu-jui (王福瑞) and Lu Yi (盧藝). The studio was created to represent the collaborative efforts of the two artists, who also maintain their own separate art practices. Wang is a pioneer of sound art who has played a prominent role since the 1990s in shaping Taiwan's sound art scene. He is known for founding NOISE, Taiwan's first experimental music label and magazine. Lu Yi is a sound artist with a background in art education; her practice involves live sound performances, workshops and new media installations. Digilog opens a collaborative exhibition tomorrow by the duo, Soundwatch X SoundObject Exhibition. The exhibition showcases a number of handmade electronic objects that combine sound art and noise aesthetics. Lu Yi's Little Sonic is a series of glowing alien creatures that each embody a sound control chip. The project is an extension of her regular engagement with children workshops. Wang's Tape Loop is a looped tape that creates a meditative sound. In addition to the objects on view, an updated pamphlet of the studio's work and mission is available at the gallery.
■ Digilog (Digilog聲響工作室), 2F, 2-1, Alley 2, Ln 244, Roosevelt Rd Sec 3, Taipei City (台北市羅斯福路三段244巷2弄2-1號2樓), tel: (02) 2363-8171. Open Mondays to Saturdays from 1:30pm to 7:30pm
■ Until Sept 1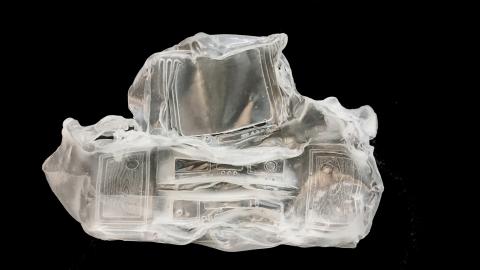 Tsai Yu-ting, Make-believe (2018).
Photo Courtesy of Digital Art Center
Project Fulfill Art Space presents Defection from Definition, a solo exhibition by Taiwanese painter Chen Chien-jung (陳建榮). Growing up at a time when toy models were popular, Chen developed an interest in their instruction manuals, rather than the toys themselves. In this context, Chen's work consistently explores the potential of two-dimensional representation of three-dimensional objects. What is the correlation between the real and the imaginary, the abstract and the concrete? The artist, through painting, consistently works through such questions that concern "the meaning behind the existence of painting," writes the gallery. Chen's current show features new developments in his well-known series Landscape and Aircraft. His paintings draw heavily from technical drawings and architectural plans; the functional renditions of order and precision are abstracted into poignant impressions of color fields, shapes and lines. Aircraft 17 is an abstract landscape of industrial order framed within a thick border of white and red. Landscape 131 is a less abstracted interpretation of systematic order that encourages questions of rational planning of living spaces.
■ Project Fulfill Art Space (就在藝術空間), 2, Alley 45, Ln 147, Xinyi Rd Sec 3, Taipei City (台北市信義路三段147巷45弄2號), tel: (02) 2707-6942. Open Tuesdays to Sundays from 1pm to 6pm
■ Until July 21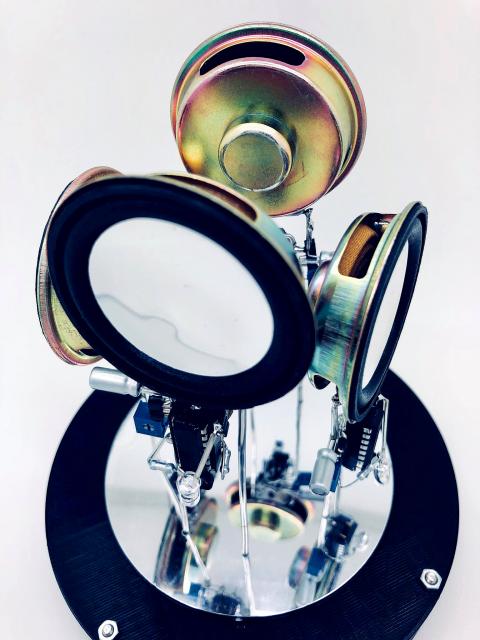 Lu Yi, Object, Sound, Plant (2018).
Photo Courtesy of the artist
Donna Art & Consulting is a Taipei-based art consultancy that holds regular art shows and educational events concerning art appreciation and investment. Composing Equator features 22 works by eight artists from the Philippines and Indonesia. The show takes on a complex layering of references from literature — particularly the Bible — and the field of economics, which ties together a collective reflection of people and family. Yunizar is an established Indonesian artist who primarily works with acrylic and pencil to explore the realm of texture, color, stroke and rhythm. His three untitled works of acrylic on canvas depict imaginative representations of human figures that seem to speak of a space of the subconscious. Eddy Susanto is an award-winning Indonesian artist whose work reflects upon the negotiation between the global and the local, and the importance of understanding between different cultures. Javanese Cultural Contradiction of Adam Smith relates Scottish economist and philosopher Adam Smith's writing in The Wealth of Nations to the economy of food markets in Indonesia. Miguel Paulo Borja is a Filipino visual artist whose work retains deep influences of impressionism and surrealism. His nine, thickly caked and aggressively painted human portraits capture a dynamic flow of abstraction, form and tension.
■ Donna Art & Consulting (多納藝術), 7F, 112, Keelung Rd Sec 2, Taipei City (台北市基隆路二段112號7樓), tel: (02) 2577-5601. Open Mondays to Saturdays from 11am to 7pm
■ Until July 28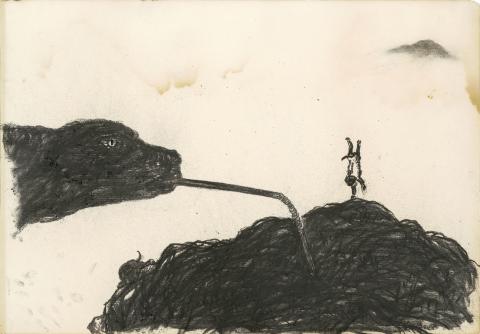 Su Wong-shen, Suck (2018).
Photo Courtesy of Eslite Gallery
A cross-generational exhibition of six Taiwanese artists at Eslite Gallery will end on Sunday. The show, Su Wong-shen with His Young Friends, features veteran artist Su Wong-shen (蘇旺伸) and five younger colleagues who represent the generation born in the 80s and early 90s. Su is a painter whose work is fueled by his deep feelings for Taiwan. His works trace an ongoing reflection on art, life, society and culture. In this exhibition, Su presents new charcoal drawings on paper that depart from his usual method of composition. Suck is a monochromatic drawing that depicts a black dog connected to an abstract cluster thread by a bent straw. Cheung Ngan-leong (張銀亮) is a printmaker and painter who often draws from his experience of travel and sojourn in different cities. Through her work, she expresses a special sensitivity to architectural environments and cultural and psychological processes in urban spaces. Huang Hua-chen (黃華真) is a painter who is interested in the study of emotional dynamics in human relationships and the potential of freedom and individuality in this context.
■ Eslite Gallery (誠品畫廊), 5F, 11 Songgao Rd, Taipei City (台北市松高路11號5樓), tel: (02) 8789-3388. Open Tuesdays to Sundays from 11am to 7pm
■ Until Sunday
Comments will be moderated. Keep comments relevant to the article. Remarks containing abusive and obscene language, personal attacks of any kind or promotion will be removed and the user banned. Final decision will be at the discretion of the Taipei Times.