To the land of free speech
Founded by a Chinese activist, the 1905 Hong Kong Human Rights Film Festival has expanded to Taiwan for its second edition this year as there are few opportunities for growth in Hong Kong due to tightening government control and self-censorship
Last month, the New York Times reported that Chinese activist Li Dan (李丹) had "relocated" his 1905 Hong Kong Human Rights Film Festival to Taiwan, with a smaller satellite festival in its original location.
Looking at the schedule, however, perhaps Li has changed his mind. The festival will indeed take place concurrently in both locations, but there are still significantly more offerings in Hong Kong than in Taiwan.
"It's more like an expansion, because we can't give up on Hong Kong," Li says, noting that Taiwan's freedom of speech allows for more opportunities for funding and exchanges. The festival will continue in Hong Kong, he says, to maintain his original purpose of exposing people there and China to human rights issues.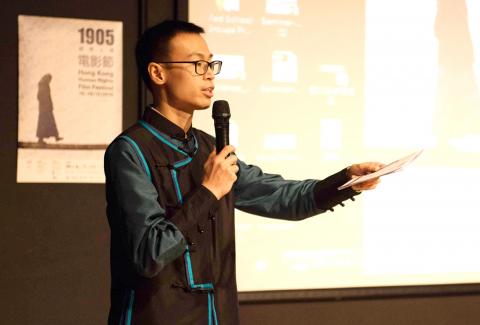 Li Dan, Chinese activist and founder of of the 1905 Human Rights Film Festival, speaks at last year's event in Hong Kong.
Photo courtesy of 1905 Human Rights Film Festival
In collaboration with the Formosa Festival of International Filmmakers (福爾摩沙國際電影節) and the Taiwan International Queer Film Festival (台灣國際酷兒影展), the renamed 1905 Human Rights Film Festival kicks off its Taiwan program on Saturday with 15 feature and documentary productions, shown mostly at smaller venues such as coffee shops, bookstores and universities.
ACTIVISM
Li has long been on the frontlines of Chinese activism, starting from his involvement in HIV prevention in 2003, for which he won the Reebok Human Rights Award in 2006 for non-violent activists under 30 years. In recent years, he's turned his focus toward cultural activities, such as opening a bookstore in Hong Kong and establishing the China Women's Film Festival.
Grab and Run (2017).
Photo courtesy of 1905 Human
"You might think that you've made a significant difference as an activist fighting directly against the government. But when you count the number of people involved in human rights in China, both back then and today, there's just a few thousand at most. For real change, we need strong civic participation. How do we get the public involved?" Li says.
Li says that although the festival pushes the envelope, it's difficult to shut down a film festival. However, there's no way that a human rights program would be allowed in China. And with Beijing tightening its control over Hong Kong, Li felt that opportunities for growth would be limited.
"It's not to the point in Hong Kong where we can't talk about anything, but it's tough as far as seeking resources," he says.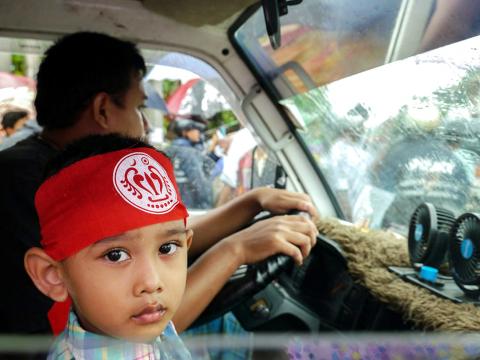 Sittwe (2017).
Photo courtesy of 1905 Human Rights Film Festival
SELF-CENSORSHIP
Li says he could seek funding from foreign embassies in China, but their Hong Kong counterparts have a much smaller budget for such activities. Hong Kong corporations that want to stay on China's good side will avoid the festival due to its association with human rights, which greatly reduces the number of potential investors.
Even filmmakers are reluctant to participate or help out in fear of repercussions by the Chinese government, Li says.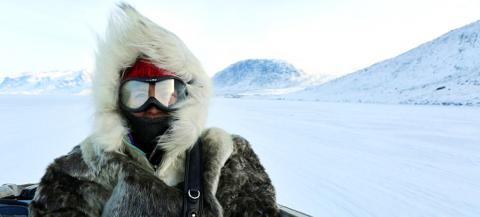 Angry Inuk (2016).
Photo courtesy of 1905 Human Rights Film Festival
"People often think that we're spies [coming from China]," he adds. "They think it's strange that we're able to put together such a film festival in Hong Kong without the government interfering. But we know how to find the cracks in the steel plate where we can operate."
Li says the key is to keep a low profile, to remain outside of the "top 10."
"Also, insist that you're not doing anything new. When they question me, I just tell them, hey, Hong Kong already has the [Hong Kong Human Rights Documentary Film Festival]," he says.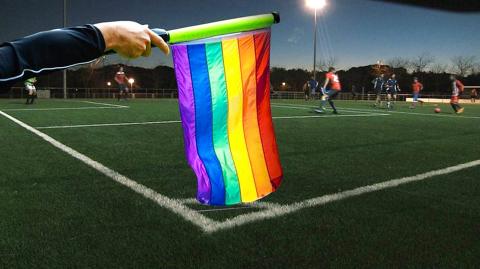 Fuera de Juego (2017).
Photo courtesy of 1905 Human Rights Film Festival
The main goal in establishing a presence in Taiwan, in addition to resources, is to establish a platform where filmmakers from the region and beyond can freely interact and exchange ideas.
"Taiwan already has a lot of film festivals, we don't need to join in on the fun," Li says. "We are looking for a long-term base where we can have workshops, collaborations, discussions, seminars, bring international filmmakers here and Taiwanese overseas."
Publication Notes
Event Notes
What: 1905 International Human Rights Film Festival When: Tomorrow to May 27, Taiwan program begins Saturday Details: For complete details on movies screened and location of screenings, go to the festival Web site Admission: Free, available through the festival Web site On the Net:www.1905hrff.net (Chinese and English)
Comments will be moderated. Keep comments relevant to the article. Remarks containing abusive and obscene language, personal attacks of any kind or promotion will be removed and the user banned. Final decision will be at the discretion of the Taipei Times.