Magnus Renfrew launches new Taipei art fair
The founder of what is today Art Basel Hong Kong, teams up with UBS to produce an internationally engaging art fair for Taipei
Over the past few months, there has been much buzz around town about a possible new art fair in Taipei. Yesterday, the rumors were laid to rest by veteran art fair director Magnus Renfrew at a press conference held at Humble House in downtown Taipei. In partnership with the financial services company UBS Group AG, Renfrew and his team jointly announced the unveiling of Taipei Dangdai (台北當代), an art fair that will debut in January of next year at the Nangang Exhibition Center.
Renfrew, the fair's director, is a seasoned player in the Asian art market and former director of Hong Kong's first international art fair, Art HK, which was acquired by Art Basel in 2011, and continued his directorship of the fair until 2014.
The veteran art director sees great potential in Taiwan's art market.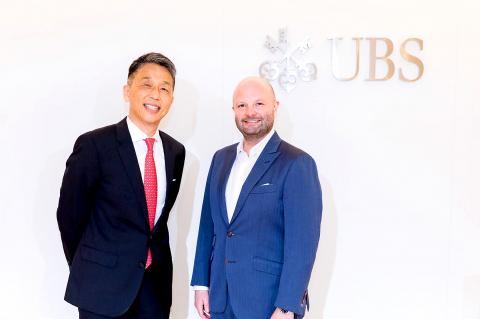 Dennis Chen, the head of UBS Taiwan, left, and Magnus Renfrew, the co-founder and director of Taipei Dangdai, at a press conference on Tuesday announcing Taipei's latest art fair.
Photo Courtesy of Taipei Dangdai
"Taipei has ... a long established gallery scene, a extensive community of collectors, a vibrant cultural scene and the pure fact that Taipei is great place to visit," Renfrew says.
While Art Basel Hong Kong has established itself as the international art fair in the Asian region, Dangdai will be defined differently by garnering its strength from a more regional market niche.
"There is a big gap between Art Basel Hong Kong and other fairs in the region, in terms of quality and how they are progressing. It's necessary to have other fairs that have real quality and don't necessarily aspire to be the global fair for the region," Renfrew told Artnews.
The first edition of Taipei Dangdai will bring together 80 galleries from Taiwan, Asia and the rest of the world. The show will present a range of established and young galleries in four exhibition sectors, including a main gallery sector for leading galleries; a young arts sector for galleries of 8 years or less; a solo sector for single artist presentations; and a affordable art section for artworks valued at US$8,000 or less.
A series of talks will take place during the fair to build greater connection between art and other fields of knowledge including archaeology, urban planning, science and technology. Further details will be released this autumn.
Renfrew envisions Taipei Dangdai as a quality regional art fair that "adheres to global standards of practice in terms of selectivity."
To ensure an objective selection process and avoid domestic politics, the fair has put together a selection committee of non-Taiwanese art professionals who have extensive knowledge of the Asian art market. The committee will be in charge of selecting participating galleries for the fair.
"We wanted to find gallerists with a strong understanding of Asia, and the ability to put the work of Asia in a global context," Renfrew says.
Dennis Chen (陳允懋), head of UBS Taiwan, says Taipei Dangdai should elevate Taipei's already burgeoning art market.
"Taipei Dangdai ... has immense potential for the development of the local art market and Taipei's cultural ecology. The growth in the number of art collectors in Taiwan over the past 10 years has been matched by the quality of local connoisseurship," Chen says.
In addition to financial sponsorship, UBS will be contributing to the fair program with a series of engaging activities for their clients, employees and the public. They are also planning educational events catered to a younger audience.
Comments will be moderated. Keep comments relevant to the article. Remarks containing abusive and obscene language, personal attacks of any kind or promotion will be removed and the user banned. Final decision will be at the discretion of the Taipei Times.