Art exhibition listings
Chang Jui-fong (張睿峰) is a master of juci (鋦瓷), a Chinese traditional method of ceramic restoration that involves hinging broken ceramic pieces together with metal plates and clips. The craft dates as far back as the Song Dynasty and appears in a street scene of the celebrated Chinese painting Stroll Along the River During the Spring and Autumn Festival. Juci requires great patience, focus and meticulousness; the process involves seamlessly piecing ceramic parts together, drilling fine holes on each fragment and securing them with custom-made metal clips. These metal stitches are sometimes designed to form auspicious patterns that suggest elements of nature such as clouds, fish, flowers and plants. Traditionally there are two types of juci, a utilitarian method of restoring daily objects with iron stitches, and the finer-level artistry of repairing valuable ceramics with iron, copper, silver or gold clips. The works on view at Chang's exhibition, The Chinese Art of Juci — Chang Jui-fong Restoration Exhibition (中華鋦瓷藝術 — 張睿峰鋦瓷修復展), include restored cups, wine vessels, teapots and other objects from the artist's own collection, as well as a few pieces on loan. Chang will offer two full-day juci workshops on Feb. 10 and 11, from 9am to 5pm. Contact the gallery for details.
■ Garden City Bookstore (田園城市生活風格書店) 6, Ln 72, Zhongshan N Rd Sec 2, Taipei City (台北市中山北路二段72巷6號), tel: (02) 2531-9081. Opens Daily 10am to 7pm, Thursdays to Saturdays until 8pm
■ Until Feb. 25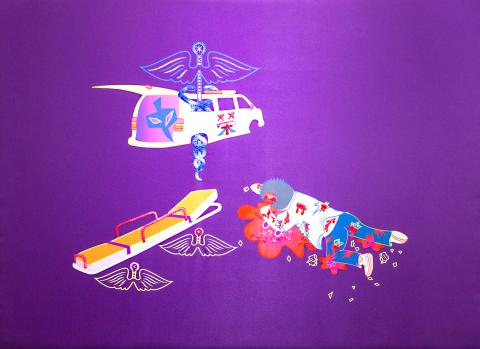 Huang Yu-chen, Safe Landing (2017).
Photo courtesy of the Artist
INF is an independent fashion label with a rebellious edge; their showroom at the Taipei Expo Park on average hosts one event per month in which the label collaborates with various art forms for experimental exchange. For the first two weeks of this month, INF will be hosting My Own Space, an exhibition of 10 original fashion illustrations by young Taiwanese artist Brian Hsu (徐丹寒). Using markers and color pencil, Hsu creates portraits of anonymous characters wearing a selection of INF clothing. His mostly black and white illustrations are characterized by strong, elegant contours and subtle shades of penciled in gray that make up a distinct Gothic style. The clothes that the illustrations depict are also on view and available for visitors to try on at the showroom. This collaboration between fine illustration and fashion creates greater potential for imagination in both fields, says INF designer Kuo Wei (郭瑋). INF's fashion line promotes a spirit of individuality, confidence and dissidence that hopes to appeal to both the subculture and mainstream audiences. Be sure to dress in black and white for their opening party tomorrow at 1pm.
■ INF, Room 13, 1F, Maji Square, 1, Yumen St, Taipei City (台北市玉門街1號Maji市集1樓 13室), tel: (02) 2599 8981. Open Mondays to Sundays from 1pm to 9pm
■ Until Feb. 13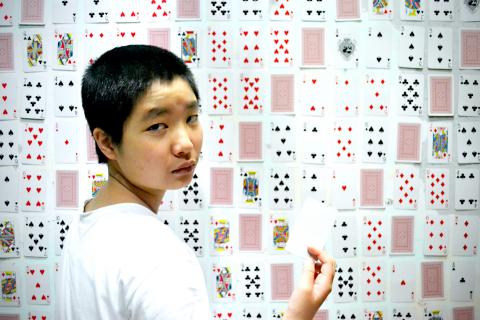 Luo Qi, Blank Card (2017).
Photo Courtesy of Taipei Media School
Huang Yu-chen (黃于真) is a young Taiwanese artist who uses the art of embroidery and print to create original two dimensional assemblages. Huang studied under a French Haute Couture embroiderer in 2013 and established her own Taipei-based embroidery design studio in 2015, which offers personal lessons as well as custom-made designs. In her solo exhibition, Weaving Memory (編故事), Huang presents a series of narratives printed and stitched on silk. These scenes refer to specific memories of the past and reflections on the present that the artist processes through art making. Heat Up, for example, depicts a playful scene of naked cartoon dolls dwelling in a turbulent landscape of giant Taiwanese beers cans, a steaming rice cooker and a larger-than-life arm being bitten by a group of free floating mouth creatures. This sinister mood continues in Safe Landing, which shows a bleeding man, face down on the ground with his right arm reaching for a nearby wheel-less ambulance. Superimposed over the vehicle is a large caduceus, a symbol for medicine and healthcare. While these ominous images seem to speak of rather dark moments of anxiety and struggle, Huang's vibrantly colorful compositions and flat cartoon drawing style express a sweet and innocent tone through which she processes weighted memories.
■ To dear Alternative Gallery (小路上), 7, Ln 77, Roosevelt Rd Sec 2, Taipei City (台北市羅斯福路二段77巷7號), tel: (02) 2363-7768. Open Tuesdays to Sundays from 1pm to 8pm
■ Until Feb. 6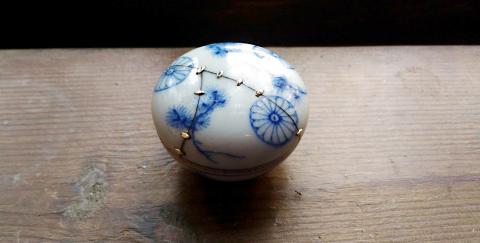 Teaware restored by Chang Jui-fong.
Photo Courtesy of Garden City Bookstore
Kyoko Nakamura is a Japanese illustrator and manga artist. She often draws inspiration from religion and myth to weave rich pictorial narratives that combine cultural elements from the Showa period (late 19th century to early 20th century) and the present. In her solo exhibition, Dreaming of Foxes (空想懷狐), Nakamura presents a series of original illustrations and a short manga publication that has been translated into Chinese. She uses acrylic and pen-on-paper to create busy scenarios of city life in which a recurring female character poses idyllically with her dolls and animal friends. The stylish, slender woman is always depicted with her eyes looking away from the viewer, as if aware of being watched in her idiosyncratic world. In one drawing, she lays reclining inside a transparent toy box full of pendants and other memorabilia; in another, the woman kneels on a blue platform as she tends to a pair of animal friends in a busy street covered with multiple layers of neon shop signs. The artist will hold a book-signing event on March 3 at 2pm.
■ Mangasick, B1, 2, Alley 10, Ln 244, Roosevelt Rd Sec 3, Taipei City (台北市羅斯福路3段244巷10弄2號B1), tel: (02) 2369-9969. Open Thursdays to Tuesdays from 2pm to 10pm
■ Until March 6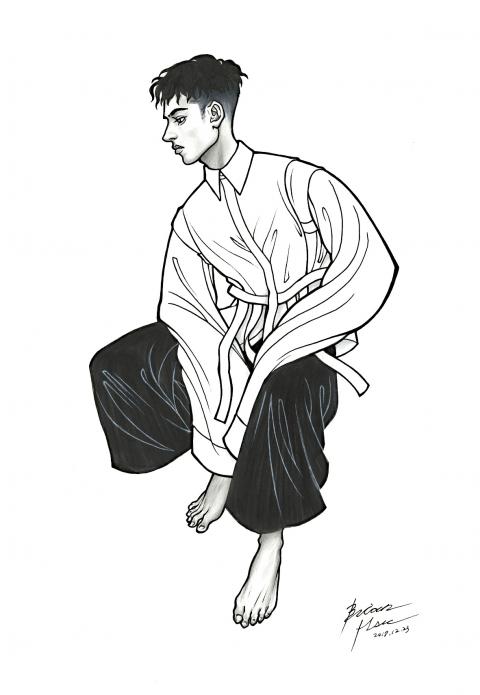 Brian Hsu, 1 (2017).
Photo Courtesy of inf
Treasure Hill Artist Village is currently hosting Taipei Media School 2018 Student Exhibition, a survey of 50 art projects developed by high school students at Taipei Media School (TMS). TMS is a government-funded experimental institute specializing in the fields of music, show production, visual arts and art administration. For this year's annual exhibition, the students work around the theme of public, in the sense of collective effort, togetherness and mutual inspiration. The exhibition is divided into five categories, including music, photography, free media, video and events. Many of the projects utilize the skills and knowledge developed during the course of the program, including electronic music compositions, vocal training, filmmaking and curatorial studies. In Liu Zi-yu's (劉子瑜) installation, Doll Dreams (洋娃娃之夢), ruggedly cut fabric pieces, plastic dolls and hand written notes are assembled as a crafty assemblage that extends from one the wall onto the floor.
■ Treasure Hill (寶藏巖國際藝術村) 2, Alley 14, Ln 230, Tingzhou Rd Sec 3, Taipei City (汀州路3段230巷14弄2號), tel: (02) 2364-5313. Open Tuesdays to Sundays from 11am to 10pm
■ Until Feb. 25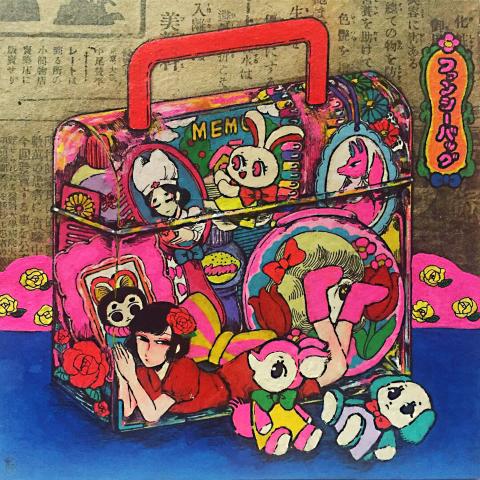 An illustration by Kyoko Nakamura, who will hold a book signing event at Taipei's Mangasick Gallery on March 3.
Photo Courtesy of Mangasick
Comments will be moderated. Keep comments relevant to the article. Remarks containing abusive and obscene language, personal attacks of any kind or promotion will be removed and the user banned. Final decision will be at the discretion of the Taipei Times.