Southbound learning
National Taiwan University's new Southeast Asia-focused online course portal aims to becomes a knowledge platform for the region, but it is still experiencing growing pains
Last month, National Taiwan University (NTU) opened an online course portal specifically targeting Southeast Asia offering dozens of courses, hundreds of video tutorials and thousands of lectures on topics ranging from machine learning to marketing, all free of charge.
However, Ngoi Qi Ying, an overseas Chinese student from Malaysia says that without local language subtitles (the courses are currently all in Chinese), the portal will be of limited value to those wanting to access quality Taiwanese education.
Created by NTU's Center for Learning Development in partnership with the Taipei Economic and Cultural Office in Thailand, team leader Chien Shiuh-shen (簡旭伸) hails the project as a critical step for NTU in becoming a knowledge platform in Southeast Asia.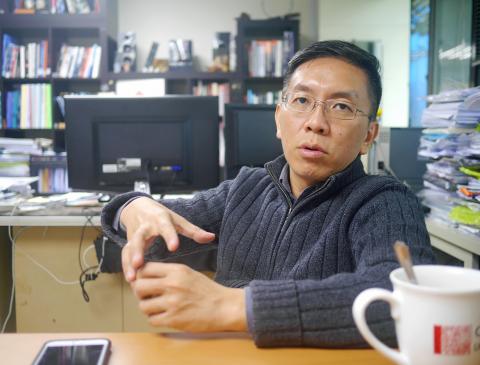 Chien Shiuh-shen speculates on the future direction of the university's ASEAN-NTU online course portal in his office at National Taiwan University's Department of Geography on Dec. 13, saying the initiative is in its early phases of development.
Photo: Liam Gibson
The portal is structured into four curriculum streams: information technology, business management, humanities in history and Asia Pacific studies. Students can enroll in Massive Online Open Courses, or MOOCs, which are a type of e-learning course made available on the Internet to large numbers of people without charge, or simply access the video tutorials and lectures.
Chien says it is the center's core mission to make higher education resources public, for use by citizens of the global community regardless of where they live or what time they can study.
"As we are a very good university in the region, it is incumbent upon us to share this expert knowledge," he says.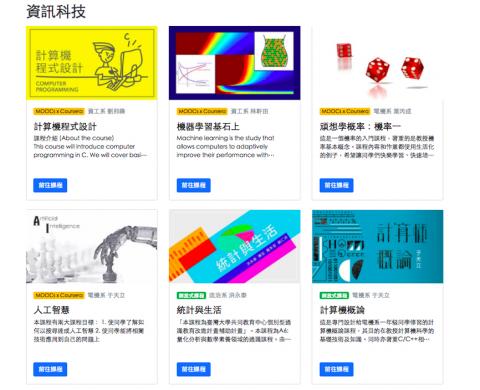 This image shows a selection of the information technology Massive Open Online Courses on offer through the ASEAN — NTU open course portal.
Photo: Liam Gibson
Ngoi, who has been studying life science at NTU for three years, says she thinks the project is a positive development. But what Malaysians really need is content in their national language.
"Malaysia is a multicultural country," she says. "Malay, the national language, is the primary language spoken among Malays, Chinese and Indians alike."
"If the courses are taught in Chinese, the other ethnic groups won't be able to understand and won't benefit," she says.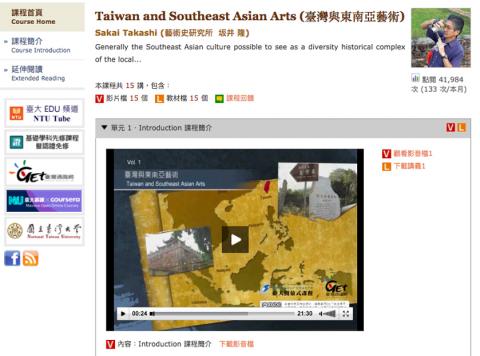 This image shows the a frame from the first video tutorial for one of the portal's flagship series, Taiwan and Southeast Asian Art. Taught by Professor Sakai Takashi, one of only a few art history researchers who specialize in the field in Taiwan, the video course explores the artistic links between Taiwan and the region.
Photo: Liam Gibson
Ngoi says adding subtitles to the videos in local languages would help overcome the issue.
Chien says the center is currently expanding its range of English-language courses, as English is the most commonly spoken language throughout the region. He adds that after sufficient English-language content is added, the center will start on Southeast Asian local languages.
However, there is a broader challenge facing the portal — which is spreading the word. Yong Yu Wei, a Malaysian-Chinese student studying at National Taiwan Normal University, says that while the portal sounds like a great resource, most people probably won't know about it.
Indeed, none of the four Southeast Asian students interviewed for this report had heard of the portal.
Based on the Web site data, the portal has had nearly 1,000 visitors since launching last month on Nov. 24, around 300 from outside of Taiwan and 100 from Thailand alone.
Chien says that while these figures are encouraging, more work needs to be done to raise awareness about the resource and that the center is currently contacting both NTU student groups and organizations across the region to do this.
Comments will be moderated. Keep comments relevant to the article. Remarks containing abusive and obscene language, personal attacks of any kind or promotion will be removed and the user banned. Final decision will be at the discretion of the Taipei Times.