The 72-hour Austronesian connection
Renowned Maori singer Moana Maniapoto spent three days in the mountains of Hsinchu last week working on and recording a song with Atayal artist Inka Mbing about their respective endangered languages
Inka Mbing pauses her soft humming and asks Moana Maniapoto to join in the singing.
"I need to work with a live person," the Aboriginal Atayal artist says after being asked to sing over a recording. "When our voices resonate, that results in an endless outpour of energy that can make the impossible possible. It can lead to new surprises."
Moana nods and they both start singing softly to the music while facing the same direction, not looking at each other. Suddenly, Inka Mbing lets loose, exploding with a tremendous voice as if she were channeling all her ancestral spirits.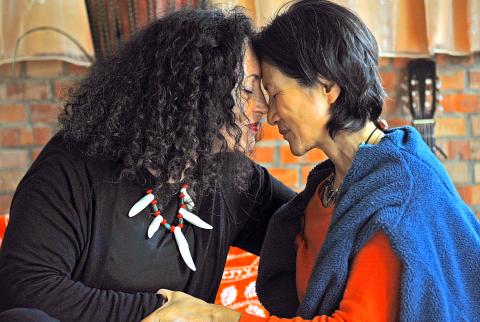 Moana Maniapoto, left, gives Inka Mbing a hongi, a traditional Maori greeting where one presses his or her forehead and nose against that of the recipient.
Photo: Han Cheung, Taipei Times
Slowly, the words and imagery start to manifest: "Listen, listen, this is the language that has been passed on for generations … Just as we are constantly breathing, we will make sure our words continue on for eternity."
It was a whirlwind of a trip for Moana, a New Zealand native whose Maori ancestors are said to have originated in Taiwan.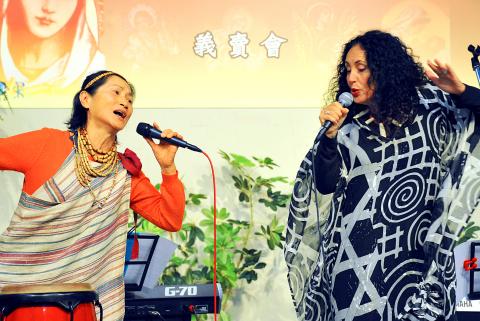 Inka Mbing, left, and Moana Maniapoto perform this past Sunday at Kuangchi Public Service in Taipei.
Photo: Han Cheung, Taipei Times
Communicating through a translator in English and Chinese, the two indigenous women spent three days in the mountains of Hsinchu's Jianshi Township (尖石), cobbling together a new song with the help of Moana's producer and electronic musician Paddy Free. By the end of the third day, Inka Mbing was ready to head to Taipei and perform the resulting piece, Toku Reo ("my language" in Maori), in Atayal and Maori, both of which belong to the Austronesian language family.
"I do a lot of improvisation so each time it might come out differently," Inka Mbing says. "I don't think we should practice too much otherwise it'll disrupt the flow."
Moana agrees. The two proceed to put on a successful "world premiere" of the song this past Sunday during an auction for Father Barry Martinson's stained glass paintings, which he has sold in the past to help the Aboriginal community which he served.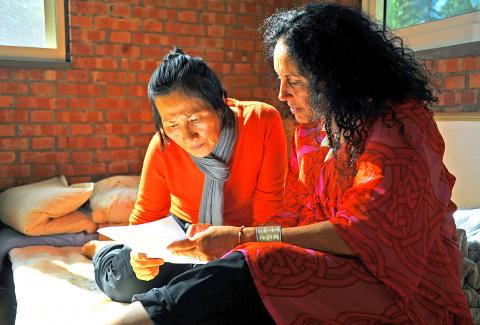 Inka Mbing, left, and Moana Maniapoto look over lyrics for the song, Toku Reo.
Photo: Han Cheung, Taipei Times
REVIVE OUR LANGUAGE
Toku Reo will appear on Moana's latest album, Ono, which means "six" in Maori. The concept entails collaborating with six indigenous female artists in countries that Moana and her band has performed in before. The songs are all based on ancient Maori incantations reworked by Scotty Morrison, who Moana describes as the "best Maori speaker of his generation" and appears on several tracks.
"I record some of my parts, and we create space to let her do whatever she wants — as long as it is in her language," Moana says.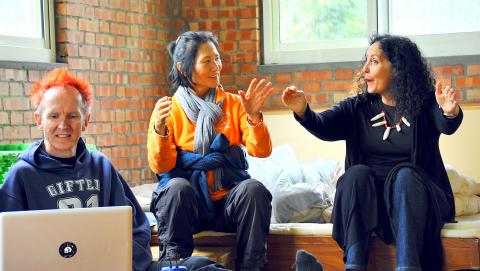 Paddy Free, left, works the beats while Moana Maniapoto, right, shows Inka Mbing the gestures she uses while performing.
Photo: Han Cheung, Taipei Times
While Moana knew indigenous singers in Finland, Canada, Australia and Scotland, it took a "great search" with many parties coming together to find Inka Mbing and convince her to take part in the project.
"I really wanted someone from Taiwan because of our special relationship," she says. "I also know that we share similar experiences in terms of loss of language and colonization. But it's challenging. We might meet, she might look at me and be like, 'I don't know about you.' But I always have the confidence that if we sit down and talk we'll find something in common."
Inka Mbing, 64, had mostly retired from the spotlight after a fruitful career where she defied the tribal taboo of women not being allowed to sing ancient melodies. Nowadays, she mostly keeps to herself in her yoga studio deep in the mountains on a journey of spiritual discovery and coexisting with the land.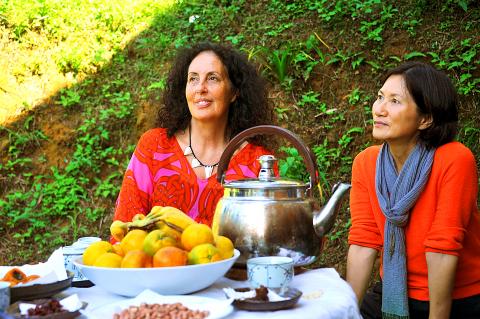 Moana Maniapoto, left, and Inka Mbing share breakfast just ouside Inka Mbing's yoga studio and home in Hsinchu County.
Photo: Han Cheung, Taipei Times
Out of several songs Moana provided, Inka Mbing chose Toku Reo, which tells the myth of how the Maori gods created language and prays for the gods to allow the endangered language to flourish once more. It's fitting, since Ink Mbing spent much of her life trying to keep her Atayal language alive.
The 56-year-old Moana, who was inducted into the New Zealand Music Hall of Fame last year, took her time getting to know Inka Mbing first as the two shared their experiences and thoughts about their respective cultures.
Moana gets emotional when she talks about how her father's generation was punished in school for speaking Maori, and how her generation had to fight to keep it from dying out. Inka speaks about her people being colonized twice by the Japanese and Chinese and how the first song she learned was a Japanese song her father sang while tending the garden. She also spoke of how they would get beaten in school for speaking Atayal. She originally performed Chinese folk songs for a living before finding that she was much more comfortable using her mother tongue.
"I want to express in my part of the song that we are here in Taiwan doing the same thing as you," Inka Mbing says. "We've all suffered political and cultural damage. But like you, we're working hard. Let's move forward together."
ELECTRONIC CONCERNS
It's the third day and Inka Mbing still has reservations about the project due to the modern electronic elements in Moana's music.
"I've never worked with electronic music before and it's something I am instinctively against," she says. "But then I thought, maybe this could be an exercise for me. Some things in modern society I just have to accept, as long as I hold my ground and don't get blown off course."
The two disagree with the way traditional music should be performed, with Moana fusing traditional and modern to appeal to a larger and younger audience while Inka Mbing thinks that doing so will dilute the music's original elements.
"I'm concerned that if you put too much modern influences into traditional music, the next generation will think that the modern elements are our traditional culture," she says.
Moana says she was nervous that Inka Mbing's concerns would cause the collaboration to fall apart.
"I knew that the kind of music that we do, it's a bit of a freak out for people who come from the traditional world. I knew that it might work or it might not," she says.
But Inka Mbing started relaxing after hearing Moana's voice.
"Even though she used electronic music, I could tell that her voice had stayed close to her culture," she says. "I could feel her passion for her traditions. We're both indigenous people who share the same fate, and that already brings us half way to understanding other. I did not need to be on guard."
On the final day in the mountains, Inka Mbing tears up when talking about the experience, upon which Moana gives her a traditional Maori greeting called the hongi where she presses her forehead and nose against Inka Mbing's.
"I thank the ancestral spirits for arranging this encounter. I don't have anything to thank Moana with, so I will use my voice," Inka Mbing says as she falls silent before bursting into song.
Comments will be moderated. Keep comments relevant to the article. Remarks containing abusive and obscene language, personal attacks of any kind or promotion will be removed and the user banned. Final decision will be at the discretion of the Taipei Times.