Taiwan in Time: Nine years lost to 'Popeye'
Writer Bo Yang almost spent his whole life stuck on Green Island over a comic strip translation, but fortunately Amnesty International and the US government intervened
Sept. 25 to Oct. 1
Bo Yang (柏楊) languished on Green Island even though he had completed his sentence. He was treated well, given a nominal position with freedom to move around the prisoner camp, but the officers had strict orders to keep him from returning to Taiwan.
Thinking he would be stuck on Green Island forever, Bo Yang still couldn't believe it when he landed in Taitung in March 1977, more than a year after he was due to be released. He tentatively asked the accompanying officers if he could go off on his own to buy a pair of new shoes.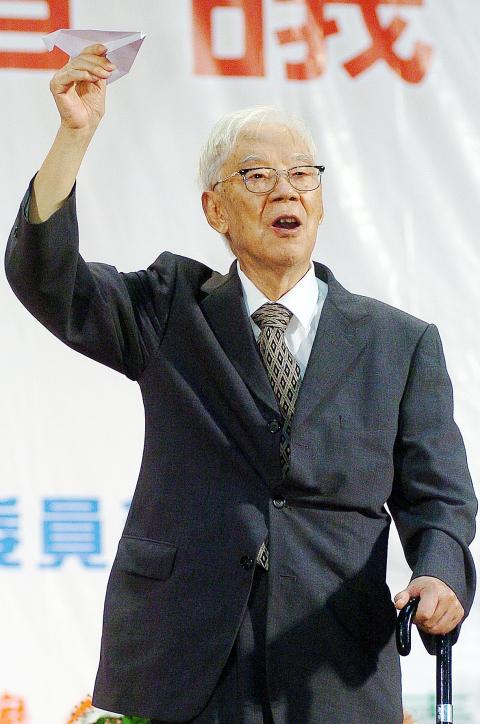 Bo Yang attends the 2004 Youth National Affairs Conference in Taipei.
Photo: Yeh Chih-ming, Taipei Times
"Of course," the officer replied. "You are free. You can go anywhere you want."
THE POPEYE INCIDENT
The late writer, whose real name was Kuo Yi-tung (郭衣洞), ran afoul of the Chinese Nationalist Party (KMT) in 1968 for his translation of a Popeye cartoon in the China Daily News (中華日報).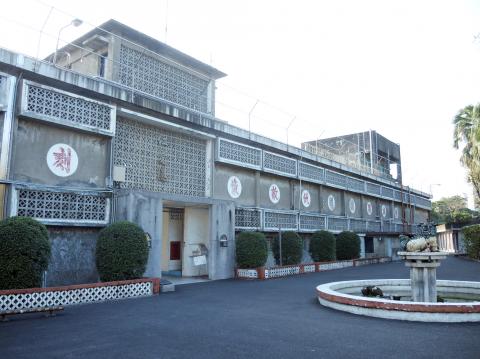 Bo Yang was imprisoned in the Jingmei Detention Center.
Photo: Weng Yu-huang, Taipei Times
"There's nothing political about Popeye," Bo Yang writes in his memoir. "But in that particular strip, Popeye and his son ended up on a small island where they ran for president."
Popeye began his campaign speech with "Fellows…" which Bo Yang translated to "Soldiers and compatriots of our country (全國軍民同胞們)," which was a phrase then-president Chiang Kai-shek (蔣介石) often used to begin his public speeches.
"I had no ill intent," Bo Yang says.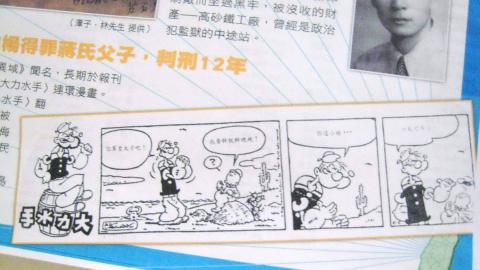 A copy of the Popeye comic that got Bo Yang in trouble.
Photo: Weng Yu-huang, Taipei Times
The authorities soon accused him of trying to undermine government authority, and he was taken away on March 4, 1968.
"They promised that I would be back by dawn, but it was 10 years," he writes. "When I returned, the house was no longer mine and my wife had become someone else's. My daughter was still my daughter, but she had turned into a different lady."
Bo Yang was tortured until he admitted to once joining the Communists, crafting an elaborate story of his time in China.
This arrangement of Boyang's manuscript and other possessions was provided by Yuan-Liou Publishing Company.
Photo courtesy of CNA
"My only thought was how to avoid being beaten," he writes. "I protected my head to prevent a concussion. I needed my mind to be sound so that if I made it out alive, I could rattle the skeletons out of the Chiang family closet."
He was sentenced to 12 years for being a communist spy and "attacking the country's central leadership."
RIFT WITH CHIANG
Bo Yang was once an admirer of Chiang, having joined the KMT at the age of 18 while it was still based in China and following him to Taiwan after the Chinese Civil War.
Still in jail when Chiang died in 1975, Bo Yang had harsh words in his memoir, stating that over 37 years, he went from "extreme adulation" to questioning Chiang's behavior to completely losing confidence in him.
"As the highest-level military leader of an entire country, Chiang lost 10 million square meters of land and abandoned billions of people who adored him and obeyed his rule to a ruthless enemy called the 'communist bandits,'" Bo Yang wrote. "He ran away and blamed everything on others. Not only did he not have to face justice, he put numerous people on trial to prove his brilliance. That's just disgusting."
Indeed, it may have been trivial to arrest Bo Yang for a comic translation, but in fact it was the culmination of his "questioning" of the Chiang regime in Taiwan.
As a columnist for the Independent Evening Post (自立晚報), Bo Yang spared no ink in criticizing Chiang's policies and police conduct.
"You need to stop writing … Chiang Ching-kuo (蔣經國) is becoming impatient," an official once told him. But Bo Yang did not relent.
And his serial novel Foreign Land (異域), about KMT soldiers stranded in Southeast Asia, further painted the party in a bad light. It's obvious that the KMT wanted to get rid of him for a long time, and the Popeye translation was the perfect excuse.
HOUSE ARREST
After Chiang's death, his son and future president Chiang Ching-kuo shortened all political prisoner sentences by one-third — meaning that Bo Yang would be set free in a year.
However, that didn't happen. Under prison orders, Bo Yang had requested the government to help him find a job after his sentence. Upon his release, he was assigned a staff position at a prisoner camp on Green Island. When asked if he could return to Taipei to see his daughter first, the request was denied.
"We've received orders to give you absolute freedom within the camp, but you are not allowed to leave the island," the commander told Bo Yang.
"This was house arrest. Besides eating, I had absolutely nothing to do. The most frightening thing about house arrest is that there were no terms of imprisonment. Soon, my case would be forgotten, and I would be forgotten by the world. This is when I realized exactly how dark and vile the Chiangs were, and the extent of their abuse of power," he writes.
"Until today, I really don't know why Chiang Ching-kuo hated me to such a degree."
FREEDOM AT LAST
Cut off from the rest of the world, Bo Yang did not know that many groups were calling for his release. This was the era of former US President Jimmy Carter's "human rights diplomacy," and soon the US embassy started investigating Bo Yang's whereabouts.
"This organization I had never heard of before called Amnesty International launched a worldwide campaign, and letters about my case poured into Taiwan," Bo Yang said.
The saga came to a head when Lester Wolff, a US congressman and author of the Taiwan Relations Act, visited Taipei and questioned the KMT about Bo Yang's case.
On April 1, 1977, 382 days after his sentence ended, Bo Yang was set free.
Being in prison had not dampened his spirit, and on Sept. 24, 1984 Bo Yang made waves for making a speech at the University of Iowa titled "The Ugly Chinaman," in which he blasted Chinese culture as dirty, noisy, divisive, obsequious and vainglorious. The series of speeches was later made into his most well-known book of the same name.
In 1994, his odyssey came full circle when he became the founding chairman of Amnesty International's Taiwan branch.
Taiwan in Time, a column about Taiwan's history that is published every Sunday, spotlights important or interesting events around the nation that have anniversaries this week.
Comments will be moderated. Keep comments relevant to the article. Remarks containing abusive and obscene language, personal attacks of any kind or promotion will be removed and the user banned. Final decision will be at the discretion of the Taipei Times.