Coffee shops skip Wi-Fi to encourage customers to actually talk
At HotBlack Coffee, a cafe in downtown Toronto, you can get walnut butter squares, lemon poppy seed muffins, biscotti and, of course, coffee.
But one thing you can't get there: Wi-Fi.
Jimson Bienenstock, the president of HotBlack, said the shop opened last year without Wi-Fi with the express intent of getting customers to — gasp! — talk to one another instead of burying their faces in laptops.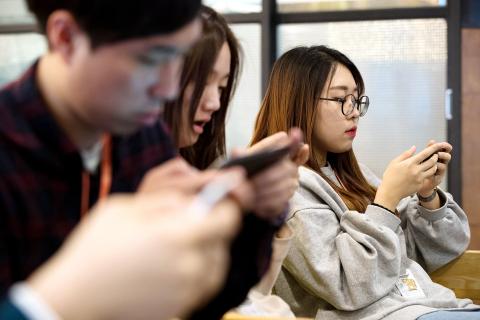 Employees play mobile games on smartphones last month in a cafeteria in Seoul, South Korea.
Photo: Bloomberg
"It's about creating a social vibe," he said. "We're a vehicle for human interaction, otherwise it's just a commodity."
At many coffee outlets, workers set up makeshift offices and rely on the stores' Wi-Fi, which has come to be considered a given — if not a right.
While HotBlack is not the first cafe to withhold Wi-Fi from the public, industry experts said such shops are in the minority and risk alienating customers.
Bienenstock said he has traveled extensively, including 15 years of living in Europe, and found that the practice of setting up a temporary workplace in a cafe was largely confined to North America. He said he did not see his approach as revolutionary but as a response to society's deep immersion into all things digital that leads people to seldom communicate face to face.
Customers initially were aghast at the decision.
"What do you mean you don't have Wi-Fi?" was a common refrain, he said, adding that the camps are divided between those who love it and those who loathe it. (Only four of 28 reviews on Yelp noted the shop's lack of Wi-Fi.)
HotBlack, which has seating for 58, gained the recent attention of the Canadian news media for its counterintuitive approach, with an article in The Globe and Mail and an interview with the Canadian Broadcasting Corp.
While the business does rely on volume, Bienenstock said the lack of Wi-Fi was not meant to get customers to linger less. He said he measured success by the din of his shop.
"You'd have a hell of a time concentrating in our place because there's so much noise," he said. "There's so many people talking to each other."
To promote conviviality, other shops have adopted a no-Wi-Fi policy and gone a step further: doing away with some comfy furniture and narrowing counters to make them less accommodating for laptops.
Caroline Bell, co-owner of Cafe Grumpy, said it offers Wi-Fi only at its Greenpoint, Brooklyn, location, which has a larger space for customers who want to work, she wrote in an e-mail. The cafe does not offer Wi-Fi at its seven other New York City locations.
Alex Susskind, an associate professor of food and beverage management at the School of Hotel Administration at Cornell University, said he saw the lack of Wi-Fi as a detriment. Customers develop a "habituated expectation" and would be surprised not to have it.
"That kind of bucks the trend of what most people go to coffeehouses for," he said.
A 2015 thesis by Rose Pozos about the "urban sociability" of coffee shops posited that sitting alone with a laptop in a cafe was not necessarily anti-social.
"People still chose to go there instead of being alone at home or work," wrote Pozos, who was a student at Swarthmore College in Swarthmore, Pennsylvania, at the time of her thesis. "This indicates that there is a social reason for people to go to coffee shops that does not involve direct interaction with others."
In an e-mail, she added that other businesses, such as the Blue Bottle Coffee, are known for lacking Wi-Fi, but that does not stop people from coming with laptops. To really get people to stop, some coffee shops enforce laptop-free zones, she wrote.
Jordan Michelman, a founder of Sprudge Media Network, which writes about coffee news and culture, said in an e-mail that some customers simply rely on unlimited data plans for their electronic devices.
Cutting off Wi-Fi has not been a trend among chain-operated coffee outlets, such as Starbucks, he wrote, adding that HotBlack was "certainly in the minority."
"I think a lot of shops think of offering Wi-Fi as being somewhere between offering nice soap in the restroom or offering a kid's play place," he wrote. "It's not quite an essential amenity or legally required to open, but it's nice, it makes customers happy, and makes your space feel more like their space."
Comments will be moderated. Keep comments relevant to the article. Remarks containing abusive and obscene language, personal attacks of any kind or promotion will be removed and the user banned. Final decision will be at the discretion of the Taipei Times.