AiMMing for love
The dating app AiMatchMaker caters to singles looking to find partners with shared 'Chinese values,' though what these values are remains elusive
"You're looking for the…wine shop?" The security guard at a residential building asks when I show him the address I had scribbled down on a Post It note.
"Yes, the…wine shop."
Of course, we both know that we're talking about the matchmaking service that doubles as a wine shop.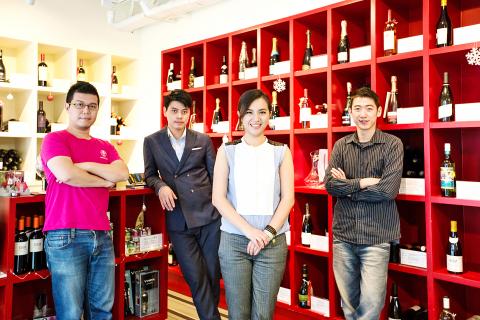 Tilaine Wang, center right, was a sommelier before launching AiMatchMaker, a matchmaking app that caters to people of Chinese descent. Today, her office doubles as a wine shop and matchmaking service.
Photo courtesy of AiMatchMaker
When Tilaine Wang (王亭嵐) launched AiMatchMaker in 2015, her idea was to make the service as discrete as possible.
With headquarters in Taipei that provides dating services for premium clients, AiMatchMaker (AiMM) also runs an app that currently has users from 42 countries. As their Facebook page states, they cater to "singles of Chinese descent, language and/or culture around the world."
The description might have some like myself puzzled but Wang explains that their service is similar to JDate for Jewish singles — to connect people with a similar background, though some might identify with it more strongly than others. She adds that people who use dating apps tend to use more than one at a time, and that they are simply providing people with another option.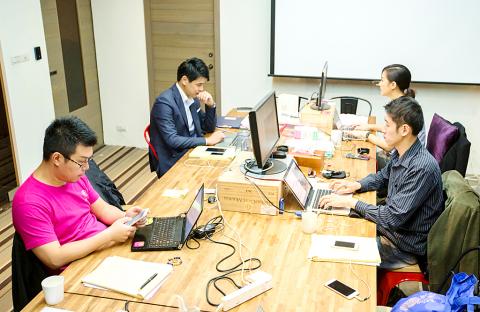 Matchmakers at work at the AiMatchMaker office in Taipei.
Photo courtesy of AiMatchMaker
For those who are used to a quick and easy sign-up process for apps like Tinder or Bumble, AiMM might seem more complex. After creating a profile and filling up a questionnaire, one of the in-house matchmakers in their Taipei headquarters manually approves the user's profile and users are delivered three matches a day. While Wang and the other matchmakers used to handpick the matches, they now use an algorithm.
"AiMM is for people who share Chinese, or more broadly speaking, Asian values," Wang says.
Currently, their users hail from a wide demographic, spanning Taiwanese and Chinese, including expats, Asian Americans and Caucasians who were raised in or have lived in Taiwan or Asia for years.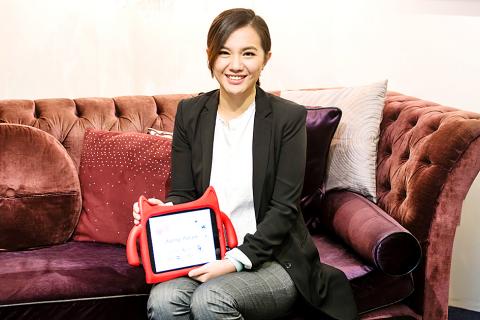 AiMatchMaker founder Tilaine Wang at the Taipei headquarters.
Photo courtesy of AiMatchMaker
DATING APP STIGMA
There are several features that make the app popular among users who share these so-called "Chinese values."
For instance, confidentiality. Wang explains that it helps to have the wine shop as a cover — though they do also sell wine and Wang is a certified sommelier.
"We're not like Tinder or Coffee Meets Bagel where you have to sign in through Facebook and see which mutual friends you have in common with a match," Wang says. "People who come from a Taiwanese or Chinese background might find that embarrassing."
That was certainly the case for Taipei native Doris Huang (黃嘉欣) who used AiMM to find her current boyfriend, an American-born-Chinese from Chicago.
Huang says that many of her acquaintances still view using dating apps as something "shameful" despite their widespread use and growing popularity.
Another AiMM user, Ellen Lin (林志暄), has a slightly different view.
"There's not really a stigma these days," Lin says.
Before signing up for AiMM, Lin thought that dating apps were primarily to find "friends with benefits" — something which she had no interest in. But when found out that her friends had found their current boyfriend or girlfriend on dating apps, she decided to sign up for a few, including AiMM.
Despite the waning stigma of dating apps, Lin says that she is unsure how her parents would react if she had found someone on AiMM as neither of her parents have met any of her former boyfriends before.
"Maybe they just feel shy and wouldn't know how to begin the conversation," Lin says.
NO CULTURAL FAUX PAS
Kenneth Wu (吳冠傑), who found his girlfriend, another Taiwanese, on AiMM says that dating someone from the same ethnic background has to do with a sense of familiarity.
"To be born and raised as a Taiwanese, you hardly realize that you belong to an ethnic group until going abroad and talking to people from all over the world," Wu says.
He adds that his experience living the US made him more aware of his own ethnicity, and that although he's not opposed to dating women from other countries, in his past experience, it's been mostly women of Chinese descent who have been attracted to him.
Wu is happy with his current girlfriend and that part of the reason why they are able to communicate effectively is because they share the same ethnic heritage.
"If I say something that's related to a lyric in a pop song, she will get it immediately," Wu says. "I don't think this is possible in a cross-cultural relationship."
Lin says that she hasn't put much thought into dating someone from a different ethnic background and that her parents probably don't think that she would "find a foreign boyfriend."
Comments will be moderated. Keep comments relevant to the article. Remarks containing abusive and obscene language, personal attacks of any kind or promotion will be removed and the user banned. Final decision will be at the discretion of the Taipei Times.