'Working holiday for middle-aged women'
Travel opportunities abound for Taiwan's 'yuesao,' or professional caretakers of postpartum mothers and their children, as demand for their services increase among Chinese speakers around the globe
Slitting a chicken's throat is among the last things one would expect to do as a yuesao (月嫂), or live-in caretaker of a mother and her newborn child in the first month after birth.
But according to Tseng Chao-chih (曾昭智), when you're in Guam sometimes that's what you have to do to get fresh poultry to make chicken soup, an essential component of a postpartum woman's diet according to Taiwanese zuoyuezi (坐月子) custom.
Roughly translated as "sitting for a month" or "one month confinement," zuoyuezi is a traditional practice where new mothers rest for one month directly after giving birth. Since Taiwanese believe that the body of a new mother is vulnerable to various ailments — depression, headaches — that may affect them for life, they have to follow certain lifestyle rules during this period to ensure a smooth recovery.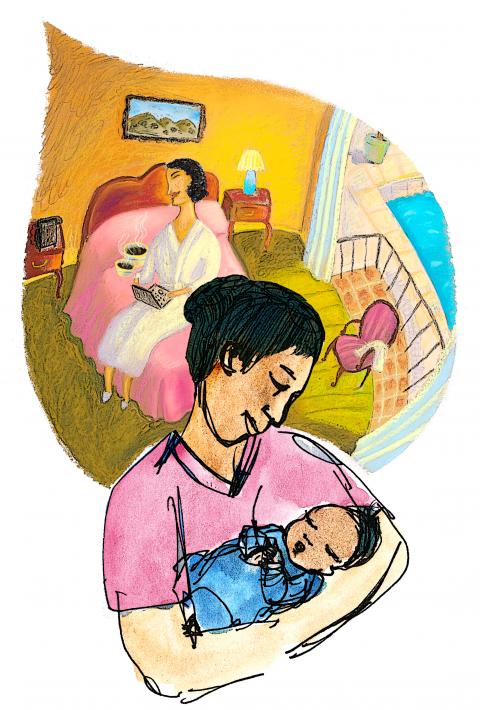 Illustration: Angela Chen
While there is substantial local demand for professional yuesao, some agencies are turning their focus overseas as the birthrate in Taiwan drops and an increasing number of affluent Chinese around the world require the service.
"The general consensus among Chinese is that Taiwan's yuezi culture is the most advanced," says Tseng, the founder of iAunty (愛月嫂), a yuesao agency that has clients who live in places as far flung as Iceland and Australia.
While zuoyuezi is part of both Chinese and Taiwanese culture, Tseng says Taiwan has a longer history of training professional yuesao, who are required to obtain a nanny's license and take specialized classes. Tseng says even Chinese living in China often prefer to fly in a yuesao from Taiwan instead of hiring a local.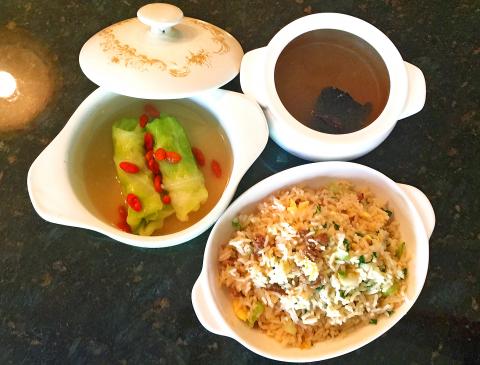 An assortment of dishes that women who undergo "sitting for a month" can expect to consume in the month following the birth of their child.
Photo courtesy of iAunty
LIKE A WORKING HOLIDAY
Tseng says most of the international yuesao are middle-aged women whose children are old enough and they can spend substantial time away from home. They earn an average of NT$100,000 a month in addition to free travel. On average, a zuoyuezi center in Taipei will charge NT$4,500 per day — a figure that's regulated by the government. Tseng wouldn't say how much he charged.
"Taiwanese culture is still quite patriarchal. Women are bound to taking care of their families, and they don't have much opportunity to travel," he says. "This is like a working holiday for middle-aged women."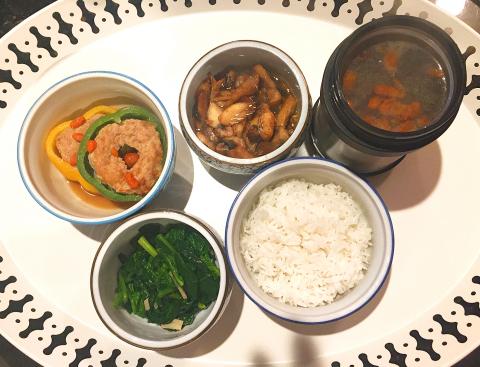 An assortment of dishes that women who undergo "sitting for a month" can expect to consume in the month following the birth of their child.
Photo courtesy of iAunty
Still, it is a demanding job with little time off — the yuesao has to cook at least six times per day for the mother, provide breast and uterus massages, help her with girdles, perform basic cleaning duties, buy groceries and also take care of the baby.
Yuesao can generally work as much as they want. Chiang Yu-yin (江育音) takes about two cases annually, while Hung Shu-chuan (洪淑娟) is pretty much booked until the end of the year. Hung is currently in Australia and will head to Germany and the Czech Republic next.
Both started as domestic yuesao before taking the international route. Hung has 13 years of experience in addition to working as a nanny.
An assortment of dishes that women who undergo "sitting for a month" can expect to consume in the month following the birth of their child.
Photo courtesy of iAunty
Neither has needed to slit the throat of a chicken so far, and both say that there isn't that much culture shock because they spend most of their time with the Chinese-speaking family, usually venturing out alone only to run errands or buy groceries.
Chiang's first overseas gig was in Redding, California, a town where the nearest Chinese market is four hours drive away. It was her first time traveling outside Taiwan. The mother was in poor health, and requested two yuesao to provide 24-hour care.
"I decided to do it because I would have another person accompanying me," Chiang says. "But after a few times, you realize that going abroad alone is not that scary. The family comes to pick you up, and even if the father is a foreigner, the mother always speaks Chinese."
Chiang and Hung both say that finding the proper ingredients for the traditional meals is one of the most difficult aspects of working overseas.
"You have to remember what the mother is or isn't allowed to eat and store lots of recipes in your head that are easily adaptable with local ingredients," Hung says.
They don't get to experience too much local culture besides the occasional family outing or trips to the mall and grocery store, but there are still memorable experiences such as seeing snow for the first time or watching a herd of turkeys scamper past the front door. After finishing their service, they often take a week or two to travel around the area.
LIFESTYLE DIFFERENCES
When strangers suddenly have to spend an entire month with each other, disputes inevitably arise — often over the methods of care and culinary preferences.
The two parties communicate beforehand to see if they are the right fit for each other, and Tseng says his agency checks in three days after arrival to make sure everything is okay.
Modern zuoyuezi is pretty lenient compared to the traditional type where the mother isn't even allowed to cry, but some mothers still push the boundaries of what is allowed. Chiang serviced one in the US who insisted on taking a daily walk outdoors, and another in Japan that wanted to drink cold Coca-cola and eat raw fish — all of which are forbidden.
"As long as the differences are not too big, we can adjust. We don't want to be too strict because the mother's mood is also important to her recovery," Chiang says. "It's a service job after all. People don't want a yuesao who is too dominant."
Chiang says if the employer is difficult to deal with, they often choose to endure it because it is only short-term work. But during her time in Redding, the other yuesao got into an argument with the mother, and was asked to leave right away. The family paid for her expenses until she could find a flight back to Taiwan.
Hung says as long as one is independent, adaptive and has good communication skills, there is not much difference between being a yuesao in Taiwan and abroad. But there may be bigger challenges ahead, as Tseng is considering marketing the concept to non-Chinese speaking people.
"I've spoken to Western friends about it and they like the idea," he says. "Postnatal care to them usually just involves the infant [and not the mother], so there's an entirely new market there. All we have to do is modify our meals to their palette."
Comments will be moderated. Keep comments relevant to the article. Remarks containing abusive and obscene language, personal attacks of any kind or promotion will be removed and the user banned. Final decision will be at the discretion of the Taipei Times.