Year in review: Restaurants
Heritage Bakery & Cafe
Address: 73-2 Hankou St Sec 1, Taipei City (台北市漢口街一段73號之2)
Telephone: (02) 2311-1079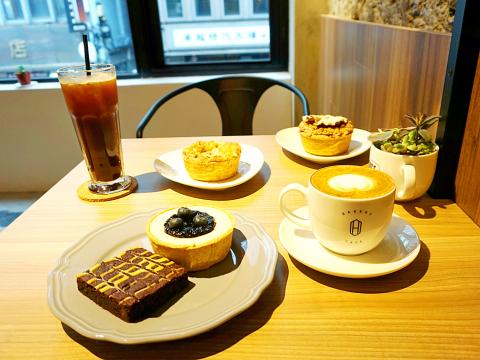 Heritage Bakery & Cafe serves North American-style pastries in a historic building on Hankou Street.
Photo: Dana Ter, Taipei Times
Open: Tuesdays to Sundays from 11am to 6pm
Average meal: NT$180 to NT$400
Details: Menu in English and Chinese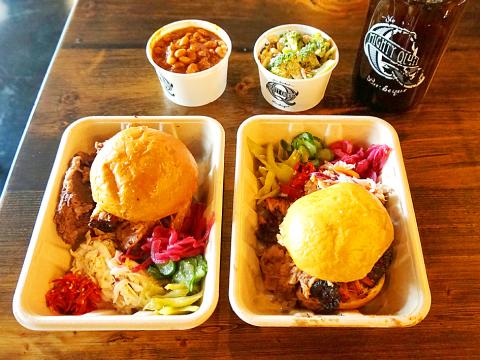 Pulled pork and brisket — Mighty Quinn's serves good old-fashioned American Southern-style barbecue.
Photo: Dana Ter, Taipei Times
On the net: www.facebook.com/heritagetaipei
Located along western Taipei's historic "camera street," the five-story building that now houses Heritage Bakery & Cafe once belonged to owner Sally Song's (宋友齡) grandfather. For decades, the lower two floors were rented out as a camera shop while Song's family occupied the upper three levels.
The interior is designed by Song herself — a San Francisco native who recently moved to Taipei. There's nothing cutesy or over-the-top about this bakery which boasts a rustic and spacious NorCal feel. The original red brick walls are left intact and interspersed throughout the cafe are some of the family's antiques including cabinets, suitcases and old fans.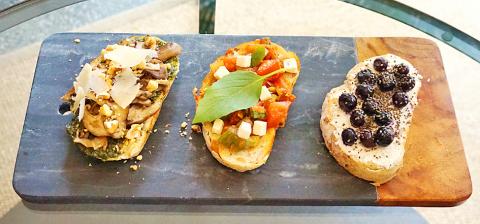 A selection of sweet and savory toasts at Yucca Cafe.
Photo: Dana Ter, Taipei Times
Patrons order downstairs from a wide range of North American-style pastries such as bacon and mushroom potato pie (NT$180) and blueberry cheese tart (NT$180). Song also likes to use local ingredients, especially fruits, in desserts such as the guava cake (NT$150) and pineapple pie (NT$180). Try the mulled cider (NT$140), which has been a big hit this season.
Mighty Quinn's Barbeque
Address: 109 Renai Rd Sec 4, Taipei City (台北市仁愛路四段109號)
Telephone: (02) 2772-6174
Open: Daily from 11:30am to 11pm
Average meal: NT$300 to NT$1,000
Details: Menu in English and Chinese, credit cards accepted
On the net: www.facebook.com/mightyquinnsbbq.tw
What started as a weekend stall serving good old-fashioned American Southern-style barbecue at Smorgasburg — the outdoor food market by the Williamsburg waterfront in Brooklyn, New York — soon grew into a thriving business in Manhattan's East Village, with outposts around the world following suit.
The brisket (NT$360) and pulled pork (NT$320) at the Taipei outpost of Mighty Quinn's Barbeque does not disappoint, though be warned: this place is not for the faint-hearted. Those with voracious appetites might want to try the brontosaurus rib (NT$1,200).
Choose your meat, sides and drinks — including locally brewed craft beer (NT$200 to NT$280) and a refreshing homemade ice tea (NT$60) — at the counter. All meats come with a bun, coleslaw and pickled vegetables. The meat is cooked Texan-style, charred and almost falling off the bone, which creates a distinct smoky flavor. Each table has a gigantic bottle of barbecue sauce — be sure to add copious amounts to your food.
Yucca Cafe
Address: 16, Aly 4, Ln 251, Zhongxiao E Rd Sec 3, Taipei City ( 台北市忠孝東路三段251巷4弄16號)
Telephone: (02) 2773-3678
Open: Sundays to Thursdays from 10am to 9pm, Fridays and Saturdays from 10am to 10pm
Average meal: NT$400 to NT$1,000
Details: Menu in English and Chinese, cash only, minimum charge is NT$120 per person
On the net: www.facebook.com/yuccataipei
Enjoy the flavors of the Brazilian Amazon at Yucca Cafe, Taipei's newest health-conscious cafe. Co-owners Fabio Grangeon and Tordan Ferreira met while studying at Ming Chuan University before launching Purple Passion, a freeze-dried powder imported from Brazil. This is used to make their signature drink, the Acai Jar (NT$310), which is topped with acai imported from the Amazon Rainforest.
Though acai is old news in North America, the craze has yet to hit Taiwan, and the menu at Yucca contains a lengthy description of the super fruit, from cultivation methods to the vitamins and antioxidants it contains.
Popular ingredients include chia seeds, homemade pesto, basil, nuts and tons of fruits. The Yucca Toast (NT$380) — a selection of three sweet and savory toasts — is highly recommended. In keeping with their holistic menu, ambiance is meditative, with plants in burlap sacks and ceiling lights and mirror frames carved from driftwood found on the beaches of Yilan by Grangeon himself.
Comments will be moderated. Keep comments relevant to the article. Remarks containing abusive and obscene language, personal attacks of any kind or promotion will be removed and the user banned. Final decision will be at the discretion of the Taipei Times.