Pepper with a difference
Widely known as an essential oil for therapeutic use, maqaw is also used in Aboriginal cuisine and has much potential to be given a bigger place in the kitchen
Litsea cubeba is a plant indigenous to Taiwan and found across Southeast Asia and is probably best known in the west as a source of the essential oil of the same name. It is used in aromatherapy, and while it does not feature widely in Asian cuisine, it is an important feature in the cooking of Taiwan's Atayal Aborigines and sometimes appears in dishes of other Aboriginal communities.
In aromatherapy circles, it also goes by the name May Chang and in the culinary sphere as "mountain pepper," but in Taiwan it is best known under its aboriginal name of maqaw (also spelt "makauy," 馬告). It is an evergreen shrub that grows in the foothills and might be considered a foraged herb, as there appears to be only limited commercial cultivation.
Attempts to promote the cuisine of Taiwan's Aboriginal communities has seen much made of maqaw, which has a flavor that combines elements of pepper, lemongrass, thyme, ginger and citrus oils. As a fresh berry, it can be crushed and used in herbal tea infusions, but for use in the kitchen it is generally dried and looks very similar to black pepper, though the dried berries are softer and cannot be ground in the manner of pepper. Crushing the berries before use is recommended to bring out the flavor.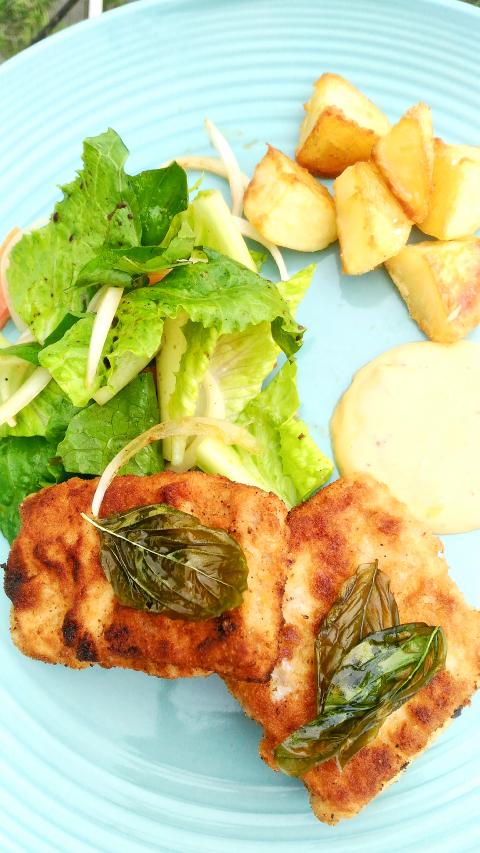 A simple dish of fried breaded fish is lifted by the combination of maqaw scented mayo and a bit of salad.
Photo: Ian Bartholomew
For all the promotion, I had not taken to maqaw, finding that its complex flavors did not diffuse well into the few dishes I tried at various Aboriginal eateries. I was quite ready to write it off as just another desperate attempt at marketing something unique about Taiwanese culture. It is widely touted as wonderful with steamed fish, but I never found the flavor suffused the dish in quite as efficient a manner as thyme or lemon zest. In a Thai-style soup like a tom kha gai, it provides an interesting twist, but not enough to demand a substitute for galangal, lemongrass and kaffir lime leaves, all of which now are readily and cheaply available.
While maqaw might be a local ingredient, it has "foraged" credentials and is relatively expensive, selling for NT$850 for just over half a kilo on the PChome shopping Web site, and often for rather more bought from Aboriginal specialty outlets. I am inclined to suspect that a certain degree of parsimony in the use of this ingredient may undermine its overall appeal in dishes served at medium or low priced establishments offering Aboriginal food.
My own efforts to showcase the distinct flavor profile of this local ingredient led me to a very simple solution, that of using it to flavor mayonnaise, and then serving this as a side to fish. The oil in the mayo seems to help draw out the flavor of the maqaw and the simplicity of the mixture avoids confusion with other similar flavors. An Aboriginal chef contributing to the Apple Daily also suggests the use of rice wine as a way of bringing out the best from this spice. Maqaw's complexity gives the mayo a layered flavor suggestive of the use of a more complex mix of herbs.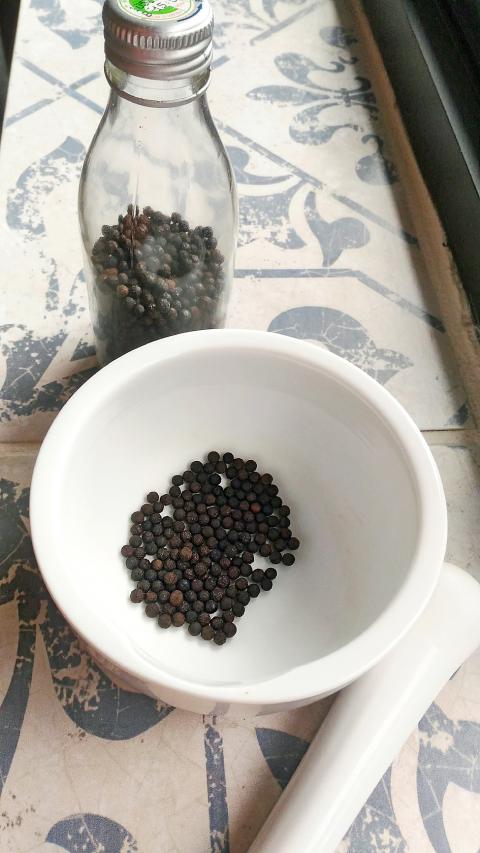 They look like pepper berries but have a flavor that carries hints of pepper, lemongrass, thyme, ginger and citrus oils.
Photo: Ian Bartholomew
While its culinary uses do not seem well known in the west, it is included in a range of culinary flavorings by Aftelier Perfumes, which suggests its use in anything from cakes to martinis.
Maqaw also has a wide range of health benefits, with various aromatherapy Web sites lauding its uses for enhancing emotional wellbeing, and the essential oil drawn from maqaw is regarded as being effective in skin care, particularly for the treatment of pimples. It is an antimicrobial and anti-inflammatory, and is excellent for cleaning pores. It has some properties similar to tea tree oil, and there are those who recommend combining the two in a powerful and fragrant insect repellent. Added to that, it can even serve as an effective deodorant. All this even before it finds its way into the cooking pot. The Taiwan Environmental Information Center Web site makes much of the fact that an infusion of maqaw is used as a hangover cure by aborigines. Other local health Web sites suggest that it aids digestion, and that it has a mild analgesic and detoxification function as well.
There is clearly still much to be discovered about the uses of maqaw, but it clearly has something to offer those interested in food, health and general wellbeing.
Fish fillets, roast potatoes with maqaw mayonnaise
Recipe
(Serves 2)
Homemade mayo has been mystified out of all proportion and now with electric whisks and food processors, the slog and risk of putting together something really rather good (better than anything store bought anyway, if not up to Michelin chef standards) have all but disappeared. Some chefs recommend using olive oil, and this certainly has great appeal, but the mayo can end up tasting rather harsh, and the simpler and cheaper sunflower or rapeseed oil makes a more dependable product. Add a dash of your preferred extra-virgin at the end to enhance the flavor if you like. The roast potatoes in this recipe are a family favorite, and though simple, are very tasty. The secret is getting the outside nicely brown in the oven, the mix of starch and oil caramelizing and giving the potatoes a much more complex flavor than you might expect from such simple ingredients.
Ingredients
2 fillets mahimahi (or other firm white fish), approx. 250g
potatoes
1 tbsp flour
2 tbsp breadcrumbs
2 eggs, at room temperature
1 heaped tsp mustard (Dijon or other mild mustard)
7g maqaw
small bunch sweet basil leaves
200ml sunflower oil
a glug of olive oil
splash of rice vinegar (optional)
salt and pepper for seasoning
Directions
1. Separate the eggs, setting the whites aside.
2. Add the mustard to the egg yokes and beat them together. Using an electric whisk, whisk this mixture, adding oil in a thin stream, very slowly at first. As the mixture begins to thicken, you can add the oil more rapidly.
3. Crush the grains of maqaw with the flat of a kitchen knife or in a mortar. Mix into the mayonnaise and season with salt. Add a slash of vinegar, if using. (Most recipes suggest the addition of vinegar or lemon juice to balance the mayo with a bit of acid, but I often find the acid in the mustard already sufficient for this purpose.)
4. Refrigerate for at least 2 hours to allow the flavor of the maqaw to suffuse the mayonnaise.
5. About 30 minutes before you want to eat, season the fish fillets with salt and pepper.
6. Peel and cut the potatoes and steam over high heat for 20 minutes.
7. Place potatoes on a non-stick baking sheet and drizzle with olive oil and sprinkle with salt. Make sure the potatoes are well coated with oil. (The potatoes at this point can be set aside for as much as a couple of hours.)
8. Pre-heat an oven to 230c. Before putting the potatoes in the oven, give them a good toss, renewing the coating of oil and salt. Place on an upper shelf for 10 minutes. Turn over and cook for another 10 minutes until golden brown.
9. When ready to eat, first dust the fish fillets with flour, then dredge them in egg white, then in the bread crumbs.
10. Heat a pan with a generous glug of oil. Fry over medium heat for about 4 minutes. While the fish is cooking, throw in the basil leaves and fry until crisp, about 1-2 minutes. Remove and drain on kitchen paper.
11. Serve the fish topped with crisp basil and a generous dollop of maqaw mayonnaise. Serve with a side of roast potatoes. The addition of a simple salad makes this a complete meal.
Ian Bartholomew runs Ian's Table, a small guesthouse in Hualien. He has lived in Taiwan for many years writing about the food scene and has decided that until you look at farming, you know nothing about the food you eat. He can be contacted at Hualien202@gmail.com.
Comments will be moderated. Keep comments relevant to the article. Remarks containing abusive and obscene language, personal attacks of any kind or promotion will be removed and the user banned. Final decision will be at the discretion of the Taipei Times.