Art exhibition listings
Michael Lin (林明弘) strays from his usual floral motifs that cover entire gallery walls and buildings with his latest solo exhibition New Paradise (新樂園), held in Taipei's Eslite Gallery. Instead, this series of paintings — made over the last 10 years during his residency in Shanghai — depicts consumer items such as the old logo for a pack of Taiwan's New Paradise cigarettes (新樂園) or the packaging for Yunnan Puer Tea (雲南普洱茶). Lin, who has lived in Taiwan, France, Belgium, the US and China, considers both consumerism and locality in his work. Who are the types of people who purchase these items? How do these items that we consume contribute to our feelings of belonging or national identity?
■ Eslite Gallery (誠品畫廊), 5F, 11 Songgao Rd, Taipei City (台北市松高路11號5樓), tel: (02) 8789-3388. Open Tuesdays to Sundays from 11am to 7pm
■ Until Dec. 4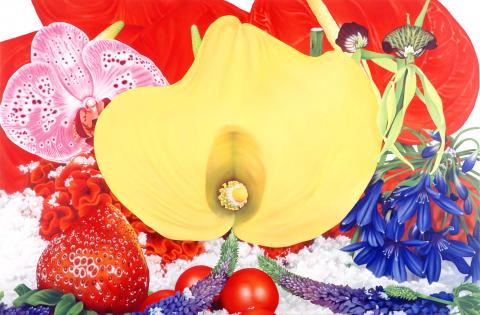 Marc Quinn, Hudson River Tide Line (2008).
Photo courtesy of Art Issue Projects
Currently on display at MOCA is Polymerization & Multiply (聚合與繁衍). The joint exhibition features the works of video artists Robert Seidel and Max Hattler from Germany and Matt Abbiss from the UK. Seidel's "moving paintings" — blotches of neon paint swimming against a black backdrop — are created through a series of scientific processes. Deriving inspiration from early 20th-century visual music experiments, Hattler plays with both sound and imagery, the result of which is kaleidoscope-like images bopping, morphing and changing form to various beats. Abiss's work is somewhat less abstract. The pop culture junkie had a career as a cartoonist before delving into animation and his cute and quirky comics still feature in his animated clips.
■ Museum of Contemporary Art, Taipei (台北當代藝術館, MOCA, Taipei), 39 Changan W Rd, Taipei City (台北市長安西路39號), tel: (02) 2552-3720. Open Tuesdays to Sundays from 10am to 6pm
■ Until Dec. 4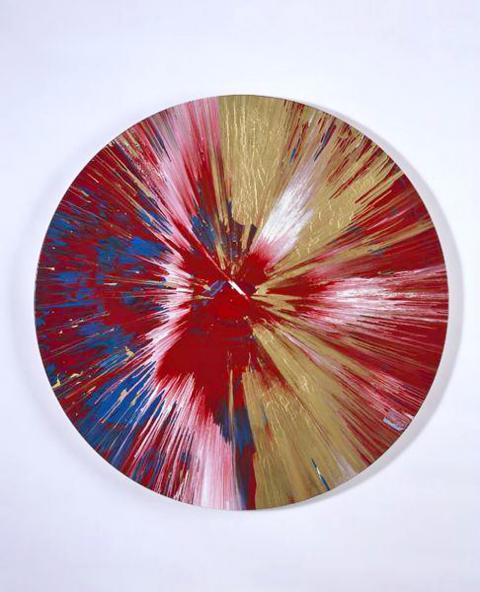 Damien Hirst, Beautiful Frolicking in Luxurious Velvet and Gold Painting (2005).
Photo courtesy of Art Issue Projects
Chiu Chen-hung (邱承宏) makes use of the natural environment surrounding the Xindian River by Treasure Hill Artist Village for his latest exhibition. Named after the fast-growing weed, Mile-a-Minute Weed (河流砂) is a series of installations that explores the entangled relationship between humans and nature, as well as narrative structures — in particular, historical narratives. Native to Central America, the plant was introduced to Asia during World War II for the purpose of camouflaging airfield hangers. Chiu looks back at the history of Treasure Hill, most notably its use as a military base and how its inhabitants would later rebuild their lives there.
■ Treasure Hill Artist Village (寶藏巖國際藝術村), 2, Ally 14, Ln 230, Dingzhou Rd Sec 3, Taipei City (台北市汀州路三段230巷14弄2號), tel: (02) 2364-5313. Open Tuesdays to Sundays from 11am to 6pm
■ Until Dec. 4
Robert Seidel, Vitreous (2015).
Photo courtesy of MOCA
The Parisian-born Ivan Gros has lived a nomadic life, moving from France and Spain to Saudi Arabia and eventually to Taiwan in 2009 to study Chinese and teach French. His prints, inspired by his travels around the world, are on display at printmaking shop MBMore. 33 Tours (三十三座塔) includes a collection of Gros' prints made during his time in Taiwan — mostly everyday depictions of people and families in scenes ranging from parks to construction sites, as well as iconic places like the hot springs in Taipei's Beitou District (北投) and beaches on Orchid Island.
■ MBMore (岩筆模), 275, Nanjing W Rd, Taipei City (台北市南京西路275號), tel: (02) 2558-3395. Open Tuesday to Sundays from 11am to 7pm
■ Until Dec. 18

Ivan Gros, Tour de Cochon (2016).
Photo courtesy of MBMore
On display at Art Issue Projects is Innercode vs Intercode (存在關係), a stellar lineup of works including Damien Hirst's morbid sculptures, Marc Quinn's psychedelic and suggestive paintings and South Korean artist Lee U-fan's minimalistic-style paintings of blue lines. Lee was one of the pivotal figures in the development of the monochrome painting movement beginning in South Korea in the 1970s. The artistic style arose out of a need to reinterpret contemporary Western art through the lens of Korea's own history and culture. The exhibition's title alludes to a need to look deep within ourselves ("inner"), but also to see connections between ourselves and others and among different cultures ("inter).
■ Art Issue Projects (藝術計劃), 32, Ln 407, Tiding Blvd Sec 2, Taipei City (台北市堤頂大道二段407巷32號), tel: (02) 2659-7737. Open Tuesdays to Sundays from 11am to 6pm
■ Until Dec. 31

Ivan Gros, The Bamboo (2016).
Photo courtesy of MBMore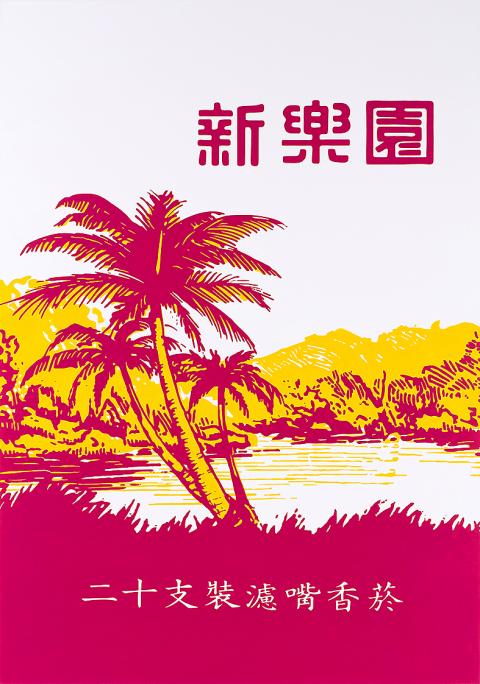 Michael Lin, New Paradise (2008).
Photo courtesy of Eslite Gallery
Michael Lin, Yunnan Puer Tea (2007).
Photo courtesy of Eslite Gallery
Comments will be moderated. Keep comments relevant to the article. Remarks containing abusive and obscene language, personal attacks of any kind or promotion will be removed and the user banned. Final decision will be at the discretion of the Taipei Times.