Director's cut : Leo Chiang talks LGBT films and Asia
With the Taiwan International Queer Film Festival in full swing, the San Francisco-based filmmaker speaks to the 'Taipei Times' about the inspiration and motivation behind his latest documentary
There's a scene in Out Run where a street vendor screams to campaigners in Tagalog: "Don't have a sex change! Don't cut it off!"
The documentary, directed by San Francisco-based filmmakers Leo Chiang (江松長) and Johnny Symons, follows the journey of Bemz Benedito, the leader of Ladlad, an LGBT political party in the Philippines, in her campaign to be the first transgender woman elected to Congress.
Chiang, who is in town for the Taiwan International Queer Film Festival where the film made its Taiwan debut last weekend, says that Out Run was inspired by reading a news article about Sunil Babu Pant, the first openly gay member of the Constituent Assembly of Nepal.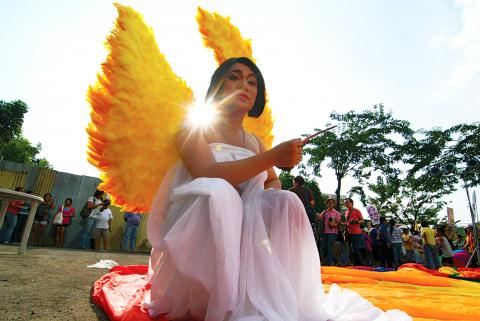 Leo Chiang and Johnny Symons, Out Run (2016).
Photo courtesy of Taiwan International Queer Film Festival
"Instead of advocating for marriage equality from a human rights angle, he pitched it as an economic innovation that will lure same sex couples to Nepal for wedding tourism," Chiang, who is openly gay, tells the Taipei Times.
"I thought that was totally genius, and started to wonder about other openly LGBT politicians outside of North America and Europe."
He and Symons set out to find politicians from around the world who were the first in their countries to run for high-ranking office as openly LGBT. They were especially interested in learning about the non-conventional campaign methods these politicians were using to overcome entrenched prejudice in their societies.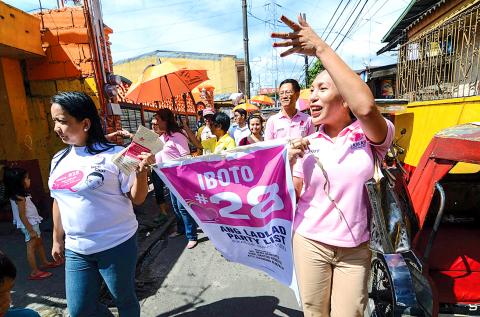 Leo Chiang and Johnny Symons, Out Run (2016).
Photo courtesy of Taiwan International Queer Film Festival
Being born and raised in Taiwan, Chiang was particularly drawn to stories from Asia. He and Symons found Benedito through an acquaintance in San Francisco, and were immediately drawn to her story of mobilizing working class transgender hairdressers and beauty queens in the Philippines.
"We reached out to Bemz, she agreed, and the rest, as they say, is history."
TELLING UNTOLD STORIES
Chiang, who is also the director of the documentary Mr Cao Goes to Washington, which deals with racial politics in the American south, says that stories from marginalized communities have always spoken to him.
"I believe that there are many amazing stories, from people who are seen as outsiders, that are not told."
He feels compelled, responsible even, to share these stories. However, he's also careful to not make what he calls "eat-your-vegetable films" — films that you should watch because they're "good for you."
Chiang adds: "I want people to watch the film because the story is well told and the film is well made."
Chiang says that working in documentary film doesn't come with the same commercial constraints as movies and TV shows because they are generally supported by foundations and organizations that share similar social goals.
Chiang's audience tends to be people who are already supportive of LGBT rights. He adds that appealing to a broader audience only requires tweaking the story.
"It's pretty straightforward," he says.
LGBT EXPERIENCE IN ASIA
Even in Hollywood, Chiang believes that it's become increasingly less of a struggle to "walk the line between social-change goals and commercial goals."
Audiences are flocking to TV shows like Transparent, which portrays transgender people as the complex, multilayered characters that they are.
The challenge now is getting people from the West interested in, or simply more aware of, films about the LGBT experience in Asia.
"Even folks savvy about LGBT history and activism tend to be fairly ignorant of LGBT communities outside of North America and Europe," Chiang says.
There's a generalization of places outside of the West being discriminatory against and tough for LGBT people, he says. But as his experiences in Taiwan, Thailand and the Philippines have taught him, this isn't always the case.
Considering the annual pride parade scheduled to take place this Saturday, Chiang says that although he's not an expert, Taipei seems to be one of the most queer-friendly cities in Asia, especially for young people who seem to be able to live without serious discrimination.
He adds, however, that if Taiwan wants to get noticed outside of Asia for its progressiveness towards LGBT rights, more should be done. Passing marriage equality law or electing an openly queer person to prominent public office, for instance, would certainly help.
Festival notes
What: Taiwan International Queer Film Festival (台灣國際酷兒影展)
When: Until Sunday
Where: Taipei Shin Kong Cinemas (台北新光影城), 4F, 36, Xining S Rd, Taipei City (台北市西寧南路36號4樓)
Admission: Regular ticket is NT$200 per film or NT$510 for three films. Tickets are available through FamilyMart FamiPort kiosk or at www.famiticket.com.tw
On the net: www.tiqff.com
Comments will be moderated. Keep comments relevant to the article. Remarks containing abusive and obscene language, personal attacks of any kind or promotion will be removed and the user banned. Final decision will be at the discretion of the Taipei Times.