Taipei Watcher: The call is loud and clear
The call for equal rights of LGBT people by the public and local governments is loud and clear. What is the central government waiting for?
Led by pop diva Chang Hui-mei (張惠妹), also known as A-mei (阿妹), 37 artists took part in a benefit concert at Taipei Arena at the beginning of this month to show support for the lesbian, gay, bisexual and transgender (LGBT) community.
The concert, Love is King. It Makes Us All Equal (愛最大), was organized to raise funds for the Taiwan Alliance to Promote Civil Partnership Rights (伴侶盟), which advocates legalizing same-sex marriage. The 10,000 tickets sold out within a minute, and millions of New Taiwan Dollars were donated to the alliance via ticket sales.
The strong show of support sent a clear message to the government. However, in the face of Asian's biggest pro-LGBT concert in terms of the number of artists contributing to it, President Tsai Ing-wen (蔡英文) and her administration has yet to take any concrete actions.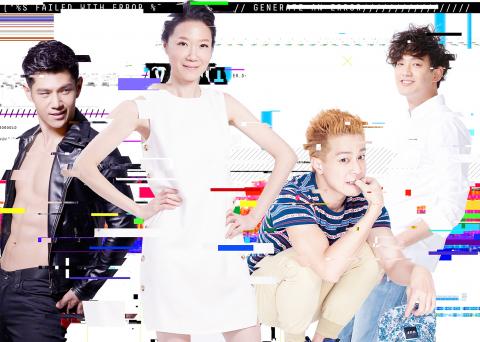 Gay rights activist Kristy Chu, second left, and entertainers Hero Tai, MC40 and William Liao, left to right, are co-hosting Taiwan's first gay-themed variety show, LGBTalk Show, on YouTube.
Photo courtesy of Outstanding Production
LGBT VARIETY SHOW
Meanwhile, LGBTalk Show (TA們說) — Taiwan's first gay-themed variety show — received positive feedback after it premiered on YouTube on Thursday last week (www.youtube.com/watch?v=NzjwSRR5RuU).
The weekly variety show is co-hosted by gay rights activist Kristy Chu (曲家瑞) and entertainers Hero Tai (戴祖雄), William Liao (廖威廉) and Simon Xue (薛仕凌), who goes by the stage name MC40. The first episode received tens of thousands of views on the day of its release, and a new episode will air at 10pm every Thursday.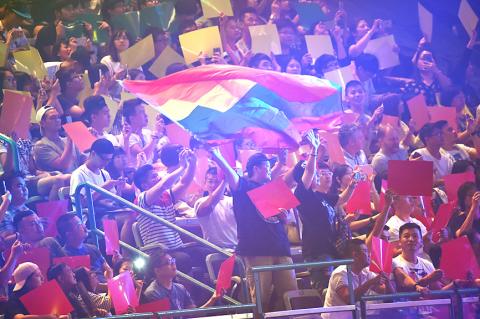 Some audience members wave a huge rainbow flag during a pro-LGBT concert, Love is King. It Makes Us All Equal, at Taipei Arena on Aug. 1.
Photo: CNA
Despite the show's popularity, TV stations have refused to carry it because they are concerned that some of the issues it may tackle could be sensitive or controversial, reported online news outlet ETtoday (東森新聞雲).
As these cases — and countless others — show, the central government and some media continue to euphemize the issue by appealing to a largely fictitious demographic that might be offended by the protection of LGBT people's human rights.
However, quite a few cities and counties throughout the nation are taking the initiative to protect the LGBT community. The Taichung City Government's ban on the barbaric practice of conversion therapy serves as a good example. The city's Health Bureau issued a document on May 13 stating that medical institutions are prohibited from using the controversial treatment.
CONVERSION THERAPY BANNED
According to Shader Liu (劉信詮), a member of Taichung's Gender Equality Committee, the policy was made because homosexuality is not an illness and therefore the practice is not necessary. Liu added that the pseudo-scientific therapy could lead to domestic violence, psychological trauma and even suicide.
"Conversion therapy used to be an ethical issue. Now it's a legal issue," Liu said, adding that any group — medical, civil or religious — practicing the treatment in Taichung is violating the Physicians Act (醫師法) and the Psychologists Act (心理師法).
Taichung's committee is making a request for the Ministry of Health and Welfare to make the new rule applicable nationwide, so as to eliminate the treatment. From the pro-LGBT concert and online variety show to Taichung's sensible policy, the call for the equal rights of LGBT people is loud and clear. What is the central government waiting for?
Comments will be moderated. Keep comments relevant to the article. Remarks containing abusive and obscene language, personal attacks of any kind or promotion will be removed and the user banned. Final decision will be at the discretion of the Taipei Times.