Eighty-eight stories behind Taiwan design
Annie Ivanova speaks to the 'Taipei Times' about launching the first comprehensive English-language book on Taiwanese industrial design earlier this month
The first time Australian curator Annie Ivanova was invited to Taiwan six years ago to be a guest curator at Art Taipei, the annual art fair showcasing works by Taiwanese and international artists, she declined the invitation.
"I turned them down several times," she says. "I'm busy. Where's Taipei? What's Taipei? But they really insisted and I came."
It's been a long and fruitful love affair with the country since then, as she became increasingly involved with the local art and design scene, including extensive work with various Aboriginal communities. Earlier this month, as the first resident curator of Home Hotel in Taipei's Da-an District (大安), Ivanova headed downstairs to the lobby from her suite on the 15th floor for the launch of her book, Taiwan by Design, the first comprehensive English-language book about Taiwanese product design.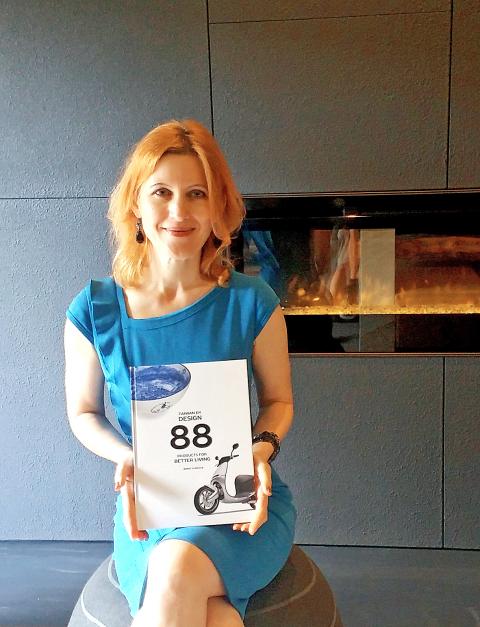 Above: Annie Ivanova poses for a photo with her book, Taiwan by Design, at the Home Hotel in Taipei's Da-an District, where she is staying as the hotel's first resident curator.
Photo: Han Cheung, Taipei Times
It took Ivanova nearly three years to research, write and crowdfund the NT$1.2 million in publication funds, the result of which features 88 products, each focusing on the designer's personal story and creative process rather than just talking about the product itself.
The book also provides an overview of Taiwanese design history, including European, Chinese, Japanese and Aboriginal influences up to the digital era.
Ivanova says that the initial challenge was finding original designs, as companies often hire famous foreigner designers to brainstorm ideas. While it is Taiwanese designers who complete the project, it is marketed using the foreign designer's name.
Cover of Annie Ivanova's book, Taiwan by Design.
Photo Courtesy of Annie Ivanova
"The focus of the book was to say that Taiwanese designers are very smart and clever and we should be proud of them instead of outsourcing talent from overseas," she says.
FIRST IMPRESSIONS
When Ivanova first landed in Taiwan Taoyuan International Airport in 2010, she was not impressed by the drab buildings and the under-construction highway en route to Taipei.
"It was so hot and dusty, just concrete and concrete and concrete. I was thinking, 'What am I doing here? Why did I accept this?'" she says. "But because I'm a curator, I don't just look at the surface. I go very deep into the roots of why things are. And I met some very interesting people."
A year later, Ivanova was in Taipei again for the International Design Alliance Congress. This time, she received a commemorative "Trip View Bowl," a blue-and-white porcelain with intricate aerial panoramic views of Taipei cityscapes painted inside.
"My fascination [with Taiwan design] started with this bowl," she says. "I told myself I needed to make more connections with the design circle here."
Ivanova started introducing Taiwanese designers to Australia through her work curating design exhibits at major design festivals. Later, she traveled to various Aboriginal communities, collecting various art and design crafts.
Overall, she found the creative community of Taiwan to be quite dynamic. She believes that part of it has to do with the country's "convenience culture," which includes easy access to manufacturing and engineering and extends to transportation and connectivity to the Internet — which is quite different from Australia.
"When people choose convenience as a lifestyle, they're quite eager to experiment and explore so many new possibilities," she says.
"When you work with people so engaged with their creative practices who feel so passionate about having a voice as Taiwanese, you want to be proud of that and want to be the connector between this place and the outside world," she adds.
But with each exhibition, she could only invite one or two designers from Taiwan.
"I thought that was a slow process," she says. "We need to write a book, so we can introduce 100."
REAL STORIES
The project grew and started taking longer than Ivanova had expected, but she could not give up because she says Taiwanese designers told her they really needed her to help present them to the international community in way that told the real stories behind the product instead of the usual glossy marketing package.
Ivanova stood firm with her quest for authenticity, personally visiting 350 design companies and studios around the country in two years.
"I did not want any marketing statements or branding information, anything that a marketing department concocted," Ivanova says. "I made it a rule that I would speak directly to the designers."
It was not easy to gather the stories behind the inspiration, the perseverance, the crazy ideas that come out of nowhere that lead to an amazing product.
"Language is a problem," Ivanova says. "Many designers did not speak English. How do we discuss profound ideas when we can't even have a normal conversation?"
She says she found more trouble communicating with men but usually they had wives or girlfriends who spoke decent English, whom she gives special thanks to in the book. Others were either shy or apprehensive to talking to a foreign woman, she says.
Other than that, it was just keeping things casual and not forcing things, often making several visits to break the cultural barrier.
"I'm a professional curator and I understand the creative process," she says. "Even if they draw me a picture, I can know the intention or meaning behind the product. It's translating not just in language, but the creative process and the motivation."
HOME AT THE HOME HOTEL
The Home Hotel, which incorporates many Aboriginal design elements, found Ivanova through her book and asked her to come stay in the hotel for two months to curate various events and activities.
After being mostly on the road or crashing with a friend during her visits to Taiwan, Ivanova feels that she finally has a home here, for now.
After the book launch, events in the works include a fashion show featuring Aboriginal designers, a pop-up store introducing some of the designers, products featured in the book, and more.
"To work and also be looking for a home in Taipei is hard," she says. "And now I have a beautiful home at the Home Hotel."
Comments will be moderated. Keep comments relevant to the article. Remarks containing abusive and obscene language, personal attacks of any kind or promotion will be removed and the user banned. Final decision will be at the discretion of the Taipei Times.