Movie review: 'Chang Chang Going to School Overseas'
Chang Chang, a Chinese boy with intellectual disabilities and behavioral issues, is the heart and soul of this candid, funny and heart-warming documentary
"Don't walk so fast, walk behind me and film my backpack," says 11-year-old Zhang Zhechen (張澤晨), known as "Chang Chang" (晨晨), at the beginning of Chang Chang Going to School Overseas (晨晨跨海上學去). "You're too close ... People say I look like Justin Bieber, but it's not true … I'm the main character, of course I have to be awe-inspiring."
This scene sets the tone for the rest of the film — it is natural and completely candid. Chang Chang appears to simply be himself, often interacting with the camera operator and making funny statements to the audience, who frequently burst out in laughter during the film's Taipei screening on Wednesday.
More than once he tells the operator to stop shooting, and there is even a hilarious sequence where he declares his love to a female schoolmate and suggests that they should have a traditional Chinese wedding.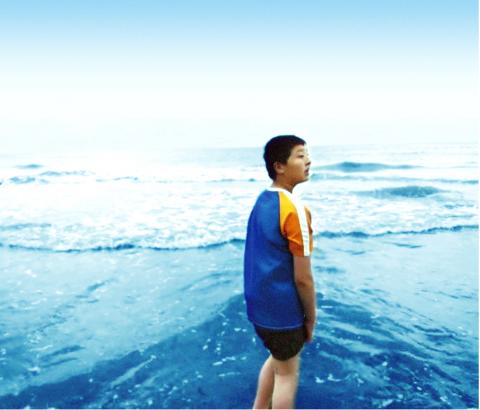 A scene from Chang Chang Going to School Overseas.
Photo Courtesy of Wu Shwu-mey
Indeed, Chang Chang's larger-than-life personality drives the narrative, which was filmed over two years. Director Wu Shwu-mey (吳淑美), a Hsinchu University of Education special education professor, who shot most of the film, says that she was forced to include herself in the final cut because Chang Chang kept mentioning her name in the scenes.
"Otherwise people would be wondering, who is this Professor Wu?" she says.
Despite having no filmmaking background, this is Wu's third documentary about children with disabilities, winning her a Bronze Remi at WorldFest Houston last year.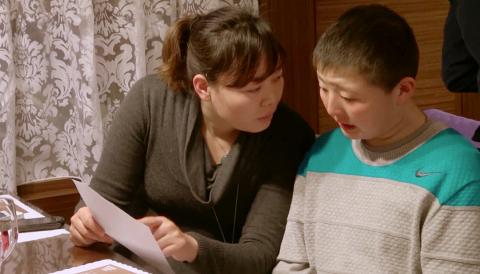 A scene from Chang Chang Going to School Overseas.
Photo Courtesy of Wu Shwu-mey
A native of China's Zhengzhou (鄭州) in Henan Province, Chang Chang was having difficulties at school due to intellectual disabilities and behavioral issues. In the fifth grade, he came to Taiwan to attend an inclusive education school in Hsinchu run by Wu, where special needs and typical students study side by side. Usually, each class is about one-third special needs.
The camera follows him through his everyday life over two years, through the good times and the bad, telling Chang Chang's story as a human being rather than a child with disabilities.
His exact disability is never mentioned in the film — a conscious decision by Wu, who wanted to let the narrative do the talking. Wu started shooting a few months after Chang Chang started attending school in Hsinchu, so there were no scenes of his previous behavior and how he was like in China, or even when he first arrived.
We do hear about his difficulties and the challenges of dealing with him from his parents, teachers, caretakers and former classmates, and watch his struggles and meltdowns in Taiwan — but the main focus appears to be how his behavior, performance and self-esteem improves as he finds his place in a more accepting environment. You almost forget that he has a disability at one point.
Over two years, Chang Chang visited Taiwan nine times — going back to China for holidays and other reasons as his mother was not able to be with him in Taiwan all the time. But the narrative does not get messy because of this disjointed timeline, even following him back home several times. It is well-organized and briskly paced, making full use of the 70 minutes of running time — it helps that Wu had Liao Ching-sung (廖慶松), best known for his long-time collaboration with Hou Hsiao-hsien (侯孝賢), as editing consultant.
But, as mentioned earlier, it is Chang Chang that captures the audience's attention and keeps the story moving. It is more than the fact that he is simply hilarious. It is the compassion, the potential, the genuine humanity that exists in a person who was once deemed a lost cause by society and those around him. No drastic events, major conflicts or sharp social commentary actually take place in the film, but maybe that is not needed in every production.
Unfortunately, Wednesday was the only screening of this film in Taiwan due to limited finances, Wu says. It will be released in DVD format at the end of June.
Publication Notes
Filme Notes
Chang Chang Going to School Overseas 晨晨跨海上學去 DIRECTED BY: Wu Shwu-mey (吳淑美) Language: Mandarin with English and Chinese subtitles Running Time: 70 minutes Taiwan Release: DVD release at end of June
Comments will be moderated. Keep comments relevant to the article. Remarks containing abusive and obscene language, personal attacks of any kind or promotion will be removed and the user banned. Final decision will be at the discretion of the Taipei Times.