The god of geekdom
Lucifer Chu has a well-earned reputation as an iconoclast, but in real life he's actually rather cuddly and nice
You know that feeling of disappointment, when someone isn't what you thought: the well known philanthropist is actually self-serving; the actor you looked up to is much smaller than he seems on the big screen; and the radiant cover model is anorexic, with terrible skin.
So it was with the TV entertainer, fantasy novel translator, social commentator and media bete noire Lucifer Chu (朱學恒). With a name that gives the devil a nod and a reputation for shooting off at the mouth, I was hoping for brimstone and controversy. He did make an effort, but at the end of the day he's actually rather reasonable. He even drops me off at the end of our interview, despite having an Era TV appointment.
We meet in the lobby of his Neihu apartment building, at a spot not far from where the military top brass polish their battle plans. Near some NT$300 million villas, the kind that Sotheby's International Realty have on their books. It's a swish place and the concierge has that Hong Kong service mentality that's hard to find in Taipei.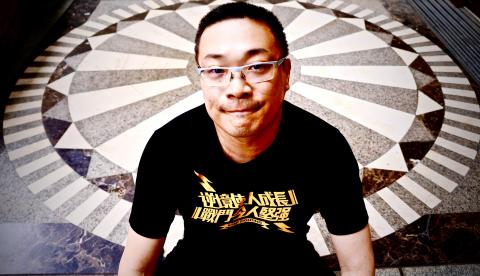 It's not all black and white for the TV star and social commentator Lucifer Chu.
Photo: Jules Quartly
But it's not palatial. Lucifer rents and if he drives, it's a second hand car. He's a family man, with two boys, whom he's obviously devoted to — possibly another disappointment for those who see him as some kind of iconoclast tearing down the establishment walls.
PROVOCATEUR
So, what's all the fuss about? He's what we call in the business a "rent-a-quote," someone with something to say about everything. For instance, a couple of days before we meet there's a news story about a woman caught out by loan sharks. The reporter from ETtoday wants to spice up the court judgment with a quote from Lucifer, which loosely translated reads: "That makes me laugh, how can this out-of-touch dinosaur judge blindly apply the law without regard to justice" — and that becomes the story.
Other times, all the reporter has to do is check Lucifer's Facebook posts. Instant news. As a social media presence he's a bit like AC, a current that periodically reverses in direction and popularity. A supporter of capital punishment, like 80 percent of the country's electorate, nevertheless it's one of those touchstone issues that gets his liberal friends and followers frothing at the mouth.
For instance, there is Freddie Lim (林昶佐), the artist formerly known as the leader of heavy metal band Chthonic and a former chair of Amnesty International Taiwan who is now a legislator.
"(Lim) was against the death penalty on March 1, but a month later when the 4-year-old girl was killed he didn't have anything to say. He's a fucking politician, he's not brave, I can't respect him," Lucifer says.
He's dismissive of Ko Wen-je (柯文哲) too, comparing him to Donald Trump and a "fallen angel." He believes the Taipei mayor's poor decisions like shutting down the Taipei Dome (台北大巨蛋) and putting porn stars on MRT cards show a "lack of common sense." Basically, Ko is an academic with no idea about real life, surrounded by "brownnosers who come up with bad decisions and then say, 'I'm a joker, but my king will protect me.'"
So, Lucifer does have some good lines. But for the record, what you see is what you get. In the flesh, so to speak, he's fairly tall, well built and dressed all in black (which is an important detail because he has a clothing line and a web store selling gear for geeks). He speaks from the hip, is funny, but listens too.
'LONELY GEEK TEEN'
Lucifer chose his name as an avid follower of mythology, when he was the archetypal "lonely geek teen." (By his own admission, this is probably why he's an attention seeker now.) The name, Lucifer says, harks back to the time before paradise was lost and refers to the bright, guiding star of Venus. But he's well aware of its demonic tone, would cheerfully admit the branding has worked and even being put in the maximum security line when entering the US hasn't put him off.
He studied electrical engineering at university, but only because he mistakenly thought this was the key to computers and the online world, which he was interested in. After graduating he joined Ogilvy & Mather and trumped the "better candidates" by convincing them he was the man for the Nokia account, as he was the only one who actually understood the technology.
It was his love for fantasy novels and translation of nearly 30 tomes that won him a contract to translate J.R.R. Tolkien into English, just before Peter Jackson's Lord of the Rings came out. He negotiated a share of book sales over 10,000 and on the back of this became a millionaire (in US dollars, to boot).
Not bad for a geek, but hardly unusual these days. He claims to have poured the money he earned into open-source learning, putting knowledge online and working with institutions like Harvard and MIT. He also spends upwards of NT$80,000 on holding mass education workshops that inspire children to "Find their own Passion" and "Be Proud of Yourself." He advocates doing what you love in life, rather than simply passing exams and settling for a salary.
I think this gives him a perspective worth hearing on mainstream education, of which he's fairly dismissive.
"In Taiwan everyone has a diploma but most of them are worth less than the paper they are written on … It's a lousy system controlled by a select few hiding away in ivory towers," he says.
Naturally, such views have not always endeared him to the educational establishment.
It's a thankless task, but he also attacked the Buddhist Compassion Relief Tzu Chi Foundation for a lack of transparency in dealing with donations, making questionable investments and generally acting like a cult. He was called a "hired thug" and alienated another demographic for that. "I have to be the bad guy to speak the truth," he says.
On another occasion he was picked up by the thought police in China for wearing a T-shirt with the legend, Geek Resistance Army (阿宅反抗軍). Local media ran with the idea he was arrested, but as a former editor used to put it: "Don't let the facts get in the way of a good story." Actually, he was questioned for 30 minutes or so, but nevertheless "The King of Geeks" was alternately praised for standing up to the Communist authorities, or denigrated for not doing so.
Even showbiz has a "dark side," he says. " I have very few celebrity friends because they all fall down at some time or another. It's my job to say something, so I'm either going to be loyal or a liar."
Like Spider-man, he believes that being rich or a celebrity means, "With great power comes great responsibility." It crosses my mind more than once that he's a bit of a politician, so I ask him if he's ready to cross the line. The Batman line swiftly follows: "You either die a hero, or live long enough to see yourself become the villain."
Lucifer has a sense of chivalry, a code of honor, which presumably the hard knocks of politics would beat out of him. So perhaps it is better to be on the outside looking in and stick to what he knows. Or, as he puts it, "I'm a lucky guy because I say what I like and get paid for it. Not only that, I sleep well at night."
Just as well for the politicians, as he would probably beat them at their own game.
Comments will be moderated. Keep comments relevant to the article. Remarks containing abusive and obscene language, personal attacks of any kind or promotion will be removed and the user banned. Final decision will be at the discretion of the Taipei Times.