An eyewitness to intimidation and violence
First-time director Wang Nanfu's documentary is a daring expose of the dangers faced by human rights activists in China
"That's me, with the camera," director Wang Nanfu (王男?) narrates as she appears on camera-phone footage on the street in front of a group of men who glance at her. "Those guys are watching me because of the camera."
Seconds later, the angry men surround Wang. Some threaten to beat her, and one cries, "Get the camera!"
"The following is the story I captured before they took the camera from me," Wang's voiceover explains.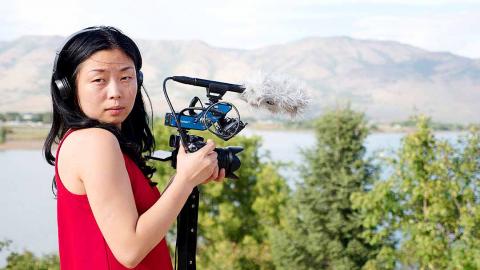 New York City-based Chinese director Wang Nanfu turned heads at Sundance with her first film.
Photo courtesy of Urban Nomad Film Fest
This powerful scene opens Hooligan Sparrow (流氓燕), a documentary that offers a look into the cost of defending human rights in China through the life and work of women's rights activist Ye Haiyan (葉海燕), whose nickname provides the film's title.
With a sense of personal urgency, the film captures Ye's perilous journey that involves interrogation by government security agents, harassment and attack by hired thugs and secret police as well as detention and imprisonment.
It also reveals the danger in making a socially conscious film in China, and Wang says it has opened her eyes to frightening realities about her own country.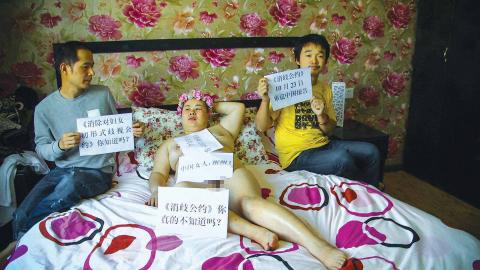 Chinese women's rights activist Ye Haiyan, center, is the central character in Hooligan Sparrow.
Photo courtesy of Urban Nomad Film Fest
"It is like I suddenly wake up from a long sleep, and I can never go back [to my old self] again," Wang says.
TARGET OF THE STATE
Born and raised in a poor farming village in Jiangxi province, Wang was forced to quit school when she was 16 to support her family. She later financed herself through vocational school, and in 2011, moved to the US to study journalism and documentary filmmaking.
Now based in New York, Wang says before she left China, she did not know anything about social movements and politics, and never met an activist or saw a documentary about one.
"In China, there is an invisible wall," she says. "If you are not on the other side [of the wall], you will never know anything about activists and what their lives are like."
That all changed when Wang returned to China in summer 2013 with an initial plan to make a documentary about sex workers.
She contacted Ye, (in)famous for her provocative methods such as offering free sex to migrant workers to expose the terrible working conditions faced by sex workers and also the desperate lives of the men who visited them.
Wang met Ye and her fellow activists, including prominent human rights lawyer Wang Yu (王宇), as they prepared to protest a sex abuse scandal in Hainan province, where six schoolgirls aged between 11 and 14 were allegedly raped by their principal and a government official.
In China, rape is punishable death penalty. But for child prostitution, the sentence is only five to 15 years, thus creating a loophole for rapists who can claim that they paid their victims and avoid a capital sentence.
Such crimes are incomprehensible, but equally so are the abuses the activists endure simply for trying to end injustice. Wang Nanfu accompanied the activists to Hainan and captured with her camera how they were threatened and harassed by undercover security agents and thugs thought to be hired by the government.
One week after the protest, Wang Nanfu's family received a phone call from national security agents, asking if they knew that she was in Hainan making a film about the case.
"I was shocked. How did they know my whereabouts, who my family were and how to reach them?" she says. "It suddenly hit me that I have been closely watched since I picked up my camera and started filming."
At that moment, Wang Nanfu realized that the mere act of documenting also made her a target of the state. She has become part of the story on how far the government will go to silence dissent.
GATHERING EVIDENCE
Using a small digital camera and a hidden camera mounted on a pair of eyeglasses, Wang Nanfu resort to guerrilla-style filming to record the intimidation and violence directed at her, Ye and other activists. Much of the film is shot hand-held and on the run. Sometimes the audience can only hear the menace of mobs as the lens is tilted sideways or toward the ground.
The raw footage evokes an immediate sense of danger and chaos as Ye is threatened by thugs, then arrested and sent to prison for assault after being attacked. She and her teenage daughter were evicted from their home, chased from town to town by violent mobs and ended up being dumped on a road by the police, along with all their possessions, in the middle of nowhere.
All the while, Ye remains resolute and calm.
"Like other activists [in the film], she is used to the crackdowns," Wang Nanfu says.
In contrast to Ye's composure, the film is soaked in fear and paranoia.
In addition to the constant harassment, the film also captures the startling degree of government surveillance on the streets. Wang Nanfu and her subjects often found themselves followed and threatened by undercover security agents while passersby and uniformed police looked the other way.
"I felt hopeless and desperate, fearing that we might be beaten to death on the street, and no one would care," Wang Nanfu says.
Sometimes, the situations became too dangerous to capture, such as when police assaulted and smashed the phones of several activists who took pictures of the undercover agents.
"They got beaten right in front of me. I was so angry. But I couldn't get it on camera," she says. "Nobody will believe what happens if you don't have evidence."
Wang eventually did gather enough evidence — and managed to have the footage, shot between May and August 2013, smuggled out of China before security agents could interrogate her.
In January, Hooligan Sparrow premiered at the Sundance Film Festival, receiving applause and rave reviews.
SELF EXILE
Wang Nanfu was lucky to leave China. She says five of the activists in the documentary have been imprisoned.
Wang Yu and her husband Bao Longjun (包龍軍), also a human rights lawyer, were formally arrested in January on charges of subversion after being detained by police last summer. Their 16-year-old son is currently under house arrest, his passport confiscated.
Ye now lives in Songzhuang (宋莊), an artist commune in Beijing's outskirts. She is not allowed to leave the country and needs to regularly report her whereabouts to the police.
Wang Nanfu says she will not be returning to China any time soon — but she hopes the film can offer some protection to the activists by raising awareness.
"If more people pay attention to their situation, the [Chinese] government may hesitate to take extreme measures against them," she says.
Hooligan Sparrow opened the Urban Nomad Film Fest (城市游牧影展) last Thursday. Wang Nanfu will discuss her experience of making the documentary after Saturday afternoon's screening at Taipei's Wonderful Theater (真善美戲院).
Comments will be moderated. Keep comments relevant to the article. Remarks containing abusive and obscene language, personal attacks of any kind or promotion will be removed and the user banned. Final decision will be at the discretion of the Taipei Times.