Encouraging Aboriginal youth to dream big
Choreographer Bulareyaung Pagarlava is on a major voyage of discovery — going back to find what he lost and looking for ways to encourage Aboriginal youngsters to pursue their dreams
Bulareyaung (Bula) Pagarlava is a man who is has been straddling disparate cultures for decades. Now he is on a journey into his past, seeking to reconnect with the county he grew up in, with his Aboriginal culture, while forging connections between the contemporary dance world that made his career and the world he left behind to do so.
Bula is also trying to run his own modern dance company with all the administrative, choreographic, public relations and travel requirements that involves — from Taitung.
Born 42 years ago in the Paiwan community of Jialan Village (嘉蘭), Taitung County, the last child in the family, Bula left home as a young teen for high school in Kaohsiung. He then studied at Taipei National University of the Arts (TNUA, 國立臺北藝術大學), where he met dancer Sheu Fang-yi (許芳宜), who would be both his partner and muse for many years, and was a dancer with Cloud Gate Dance Theatre (雲門) before becoming a choreographer full time.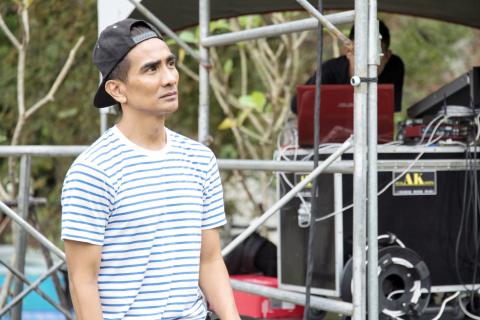 Bulareyaung Pagarlava monitors his technical team before a performance by the Bulareyaung Dance Company in an undated photograph.
Photo courtesy of Bulareyaung Dance Company
Bula credits Cloud Gate 2's (雲門2) first artistic director, Lo Man-fei (羅曼菲), one of his teachers at TNUA, for encouraging him to choreograph. He later became the troupe's first resident choreographer before turning freelancer.
HOMECOMING
However, after spending the more than two decades in Taipei, Bula decided two years ago to head home to Taitung County. It was something he had been thinking about since he was at the Lincoln Center in New York City in 2011 as the Martha Graham Dance Company performed his work Chasing. He said he had made a vow then to give young Aborigines an opportunity to "strut their stuff on the world stage."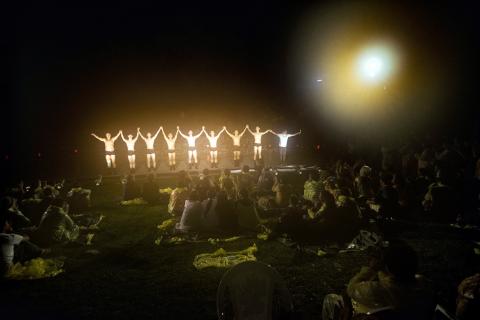 Bulareyaung Pagarlava and his dancers take a bow on Nov. 14 last year after a performance in his hometown of Jialan Village in Taitung County.
Photo courtesy of Bulareyaung Dance Company
In 2012 he teamed up with Puyuma singer-songwriter Sangpuy Katetepan, another Taitung County native, to promote Sangpuy's Dalan CD, which led to them visiting Aboriginal communities to encourage young people to learn their own languages and cultures. He also began to incorporate Aboriginal stories, traditions and music into his works.
His decision to actually move to Taitung to establish a dance company took many of his friends by surprise.
During an interview at a coffee shop on the grounds of the Taitung Sugar Factory, where the Bulareyaung Dance Company (BDC,布拉瑞揚舞團) has a studio, Bula laughed remembering the disbelief of Taipei friends who said he would not last three months in Taitung, especially because it then lacked a Starbucks.
"This is where I want to be," he said, confessing that for years he would last about two days on visits home before he would start itching to be back in Taipei.
Bula said he originally wanted to found his company in 2012, but didn't do so until August 2014. He set up shop in Taitung in January last year.
"When I signed the contract [for the studio], I didn't realize how much it would cost, or how much stuff had to be moved," he said. "I want [Aboriginal] kids to learn to dance, but my hometown is too far away."
"A lot of people think I came back to do traditional dance, but that is not it. I feel I have to go back to find what I lost. I have an indigenous name, but I feel empty. Creating BDC is not about trying to create the 'biggest Aboriginal dance group,' it's about sharing my story," he said.
That feeling of loss was apparent as Bula talked about leaving home at 14 to pursue his dream of being a dancer, a disconnect with his father, of trying to blend in with his non-Aboriginal peers. However, what also came through was the drive that has sustained him since he was 12.
"My sister, who was 15, took me to see a performance by Cloud Gate — Legacy. I didn't even know Cloud Gate's name then," Bula said. "I told my father I wanted to study dance; he said: 'No way'… I got Mr Lin's [Hwai-min (林懷民)] picture from my sister, cut it out and put it on my wall. I wanted to be the second Mr Lin."
"I thought 'I am Aborigine, I can dance," Bula said about going to take the Tsoying's entrance exam even though he had never really studied dance. "But when I saw the others at the barre, I didn't have clue what they were doing. One of the examiners [Lin] asked: 'If we let you in, are you really going to work?' … he gave me a chance. He deserves all the credit."
FITTING IN
While a comment by Bula's father made him realize that his dad was embarrassed that he was in Tsoying's dance department, not a "proper" high school, he said he felt embarrassed at school for different reasons.
"People laughed at my accent, my skin color, made me feel different in a bad way. I wanted to fit in …Three years in high school, four years college changed the way I speak, my clothes, everything," he said.
Even though he did not graduate from TNUA on time — a required 6:30am taichi class "was too early" — Cloud Gate hired him as a dancer. Once again, he said, he felt a debt of gratitude to Lin.
"I thank Mr Lin for giving me the chance. I wasn't good," Bula said.
After finishing his two-year mandatory military service, Bula won an Asian Culture Council grant that took him to New York City for a year. He was offered a job with a company there, but opted for Taipei, where he rejoined Cloud Gate and began choreographing for the nascent Cloud Gate 2.
Bula said it was choreography that triggered his initial desire to reconnect with his Paiwan identity when he was at TNUA.
"I made the decision that for my first work, I am indigenous, I want to use my 'real name,'" he said. "I wanted to remember who I am and let people know who I am."
The only problem was that Bula had grown up in a Chinese-speaking household — with the name Kuo Chu-ming (郭俊明) — and had no idea what his Paiwan name was. He had to make a visit home to ask his parents and then change his national ID card.
Even though he began to embrace his indigenous identify two decades ago, Bula said that at times he still "feels empty," which he why he feels the need to "set roots, to share" so strongly.
"I took too much from all the people who gave to me … it's time to give back," he said.
He knows he faces a tough road. His first attempt at running a company, with Sheu, did not work out. While it also cost them their personal relationship, Bula said it made him realize creating dances was what he had to do.
However, forming the BDC was more than just creating a platform for his work. He wants to show young people that pursuing their dreams can pay off — and encourage parents to support their children in doing so.
That parental backing is something he sought most of his life. Even though his parents did not stop him from dancing, he knew they wanted a different career for him. Right up until 2012, his dad continued to ask if Bula wanted to take the civil service exam as his brothers had.
In October that year, when Bula stood on stage with President Ma Ying-jeou (馬英九) to receive his "Ten Outstanding Young Persons Award," he said he looked out into the audience to where his family was sitting and said: "Is it okay for me to be a dancer?"
He said he knows his parents are proud of him, that they were just worried about him making a living. Now his mother has a new worry: his dancers.
"Whenever I go home, she always offers me money for groceries for me and the dancers," Bula said.
He has lots of plans for the BDC. In addition to developing an in-house technical team of Aboriginal artists, there are plans to offer dance classes for Taitung youngsters. He also wants the troupe to travel around the nation to perform like Cloud Gate and CG2, especially in Aboriginal communities. He said a show the BDC gave in Jialan on Nov. 14 last year was the fulfillment of a lifelong dream to have his works performed in his hometown.
"Mr Lin said founding a company is hard, doing it in Taitung is even harder," Bula said
The National Theater commissioned Bula to create a piece for its annual "1+1" program this year. The BDC will perform Qaciljay (阿棲睞) as part of a double bill this weekend with Ku Ming-shen's (古名伸) Sadhu (沙度). Bula said Qaciljay is an attempt to better understand both indigenous history and the present day.
That pretty much sums up Bula's current goals: learning how to infuse his Aboriginal roots with everyday life and using choreography to connect his two worlds.
Comments will be moderated. Keep comments relevant to the article. Remarks containing abusive and obscene language, personal attacks of any kind or promotion will be removed and the user banned. Final decision will be at the discretion of the Taipei Times.