5 places to peruse art in Phnom Penh
The art scene in the once-sleepy Cambodian capital is flourishing, with galleries and centers devoted to preserving past memories and exhibiting socially-charged art
It's 40 degrees Celsius when I meet Vuth Lyno at Sa Sa Bassac. The small and discreet art gallery in downtown Phnom Penh is located above a scuba diving shop. I follow a narrow staircase up to the gallery, which is designed as a minimalistic prism with a cool marble floor and surrounding white walls.
The only familiar thing about the area from when I last visited a decade ago is the unrelenting April heat. The nearby Tonle Sap River provides little reprieve. Neighboring slums have vanished and in their place are advertisements in Chinese for luxury condos.
"It's gentrification," says Vuth, who co-founded the gallery in 2009 with curator Erin Gleeson and Vuth's artist collective Stiev Selapak, or Art Rebels, which also included Taipei-based artist Vandy Rattana.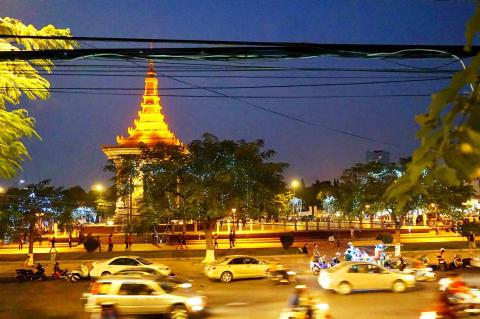 The evening view of Independence Monument in Phnom Penh, as seen from the balcony of Java Cafe and Gallery.
Photo Dana Ter, Taipei Times
Vuth explains that in order for art to remain relevant to ordinary Cambodians, many galleries in Phnom Penh, including Sa Sa Bassac, also have public art programs that encourage community participation. In fact, I was invited to attend a noise art performance at Meta House, a German-Cambodian cultural center, the night before. It ended up being too avant-garde — if I wanted to hear tuk-tuks honking I could just stand on my hotel balcony.
An entire generation of artists was murdered during the genocide of 1975 to 1979. From the 1980s up until the early 2000s, the primary concern was rediscovering traditional art and producing artwork to remind younger generations of the genocide. It's only recently that artists have the luxury of doing with something contemporary like noise art.
Vuth calls today's Cambodia a "controlled democracy." Although the art scene is small and supported by individuals and private initiatives rather than the government, in a way it also gives artists considerable freedom to do what they want.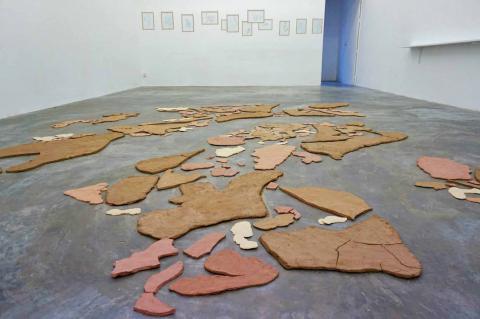 An exhibition by Eng Rithchandaneth and Kong Dara at Sa Sa Bassac, one of Phnom Penh's leading art galleries.
Photo Dana Ter, Taipei Times
Young artists, in particular, have become adept at using their art to subtly criticize the government and raise awareness of issues such as social inequality and environmental pollution.
"Contemporary art in Cambodia is an interesting space that allows this kind of expression to take place," Vuth tells me.
A few days in to my trip I realize Vuth is right, that contemporary art in Cambodia does indeed have a rebellious streak. Here are five art spaces that are worth a visit — some may even make you appreciate noise art more.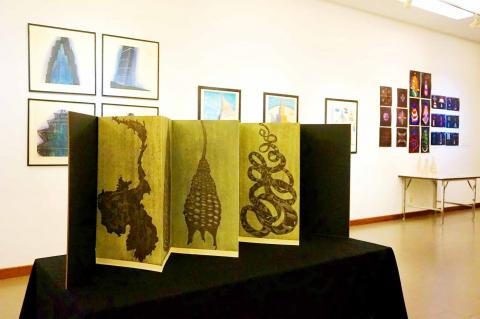 Meta House in Phnom Penh.
Photo Dana Ter, Taipei Times
SA SA BASSAC
When I visit Sa Sa Bassac, on display is 22-year-old Eng Rithchandaneth's fractured map of Cambodia made out of unfired clay lying on the gallery floor. The fragments represent the changing Cambodian landscape due to evictions of the urban poor and how displacement affects one's feeling of belonging. The intention is for the clay to disintegrate throughout the course of the exhibition.
Her work is featured alongside 25-year-old Kong Dara's maps outlining gay communities in Cambodia, as well as Thailand and Vietnam where he previously completed artist residencies. The material that Kong uses — ink on tracing paper — is equally fragile. Like Eng, Kong brings to light the question of identity and the struggle for belonging.
The gallery is known for engaging in collaborative projects with curators from overseas, with the intention of facilitating dialogue with international artists and making contemporary Cambodian art more visible on the global stage.
SA SA ART PROJECTS/ THE WHITE BUILDING
Sa Sa Art Projects, which was also founded by the artist collective Stiev Selapak in 2010, is dedicated to experimental art. It runs a residency program and holds weekly workshops for artists and community members. To get a sense of what they deem as "experimental," last year, Sa Sa Art Projects hosted a sound art performance by Beijing-based Chinese artist Yan Jun (顏峻) on their rooftop.
The residencies and workshops take place in the White Building, which was built in 1963 as part of an ambitious housing project to integrate the neighborhood's lower and middle-class residents, among whom many were artists. It was abandoned during the Khmer Rouge regime, but in 1979, a couple of surviving artists returned to the building. In the meantime, squatters had also claimed some of the apartment units. As a result, the White Building became a melting pot of sorts.
Today, the building is more grayish than white, and though the surrounding area by the Bassac River may still be associated with drug dealing and petty theft, Vuth says that inside, "it's a self-sustaining mini city where artists live amongst other residents."
BOPHANA CENTER
Co-founded by filmmakers Rithy Panh and Ieu Pannakar in 2006, the Bophana Center has since been dedicated to recovering and preserving audiovisual archives from around Cambodia — especially those that were damaged under the Khmer Rouge. The center, which is named after a young woman who was executed in 1977, strives to keep her memory alive.
"It goes to show that the Khmer Rouge cannot destroy our soul," Chea Sopheap, the deputy director of the center tells me.
Chea says it was initially difficult to ask for photographs, videos and other documents from the people who owned them. They were worried that their items would be destroyed again. The center had to explain to them the importance of making these documents accessible to the public so that younger generations won't forget this part of Cambodian history.
When I ask Chea what he thinks of artists who want to break away from creating artwork related to the genocide, he brings up Neang Neak, a dance performance choreographed by Cheam Sophiline in 2012, about a goddess that is half-human and half-dragon. She wishes to chop off her tail so that she can become more human and fit in with everyone around her.
But "she can't cut it off because it's a part of her," Chea says.
Bophana Center also conducts training programs for young filmmakers, and during the dry season, they organize a "mobile cinema" where they drive to different parts of Cambodia and set up outdoor film screenings in the evenings.
JAVA CAFE AND GALLERY
Java Cafe and Gallery serves arguably the best salmon avocado bagels in Phnom Penh, which can be enjoyed from atop the balcony of an old colonial-style building shrouded in potted plants and overlooking Independence Monument.
But it's the art that they're most well known for. During my visit, an exhibition by UK artist Alan James Flux is ongoing and the walls are affixed with his photographs of ordinary Cambodians — street sellers, coffee shop workers and random passersby — striking somewhat suggestive poses. The current exhibition features the works of artist and sculptor Srey Bandaul who explores the notion of "cultural colonialism" through the influence of European culture and art in Cambodia today.
Opened in 2000 by American expat and curator Dana Langlois, Java Cafe was one of the first Western-style cafes in the Cambodian capital and also one of the few spaces where young, emerging local artists could exhibit their work. Today, Java Cafe invites international artists to work on collaborative projects with Cambodian artists. All profits from the gallery go to supporting artist initiatives via Java Arts, a non-profit enterprise which was launched in partnership with Java Cafe.
META HOUSE
A three-minute walk from Java Cafe is Meta House. Founded in 2007 by German filmmaker Nicolaus Mesterharm, the center consists of a ground-floor exhibition space, a second-floor cafe/bar that hosts musical performances and workshops and a rooftop cinema.
Mesterharm, whose grandparents were killed in the Holocaust, decided on the name Meta since it means "loving kindness" in Khmer. Like the Bophana Center, Meta House keeps the memory of the genocide alive by showing how the past impacts the present — though in 2009, they were instructed by the government to cancel a beauty pageant featuring landmine victims.
Training young documentary filmmakers is their forte, but art workshops for children, noise art performances and burlesque shows featuring international DJs are also held at Meta House. The center is a mixed bag of everything under the umbrella of "art."
IF YOU GO
GETTING THERE
Eva Air offers round-trip daily flights from Taipei to Phnom Penh for around NT$12,000. China Airlines and Asia Airlines also flies from Taipei to Phnom Penh at similar prices but with a stopover.
GALLERY INFO
The art spaces are clustered near each other (not more than a 10-minute tuk-tuk ride), except for Sa Sa Art Projects, which is near the Bassac River.
Sa Sa Bassac: www.sasabassac.com
Sa Sa Art Projects: www.sasaart.info
White Building: whitebuilding.org
Bophana Center: bophana.org
Java Cafe and Gallery: javacambodia.com
Meta House: www.meta-house.com
STAY
There are numerous boutique hotels near the galleries/centers to choose from and some rooms, like those at the Pavilion Hotel, come with a list of art galleries to visit.
White Mansion Boutique Hotel: hotelphnompenh-whitemansion.com
Pavilion Hotel: www.thepavilion.asia
Library Boutique Hotel: www.la-librairie-phnom-penh.com/en
Comments will be moderated. Keep comments relevant to the article. Remarks containing abusive and obscene language, personal attacks of any kind or promotion will be removed and the user banned. Final decision will be at the discretion of the Taipei Times.