The pursuit of liberty
A North Korean defector shares his story about life in the Hermit Kingdom and his escape to the South
Kim Jo-seong always had a knack for fixing electronic gadgets. He took apart cellphones that were imported and smuggled from Japan, China and Taiwan and pieced them together to pass the time while growing up in a small mining village in North Korea near the Chinese border.
Five years ago, a friend was about to discard his broken mobile phone but Kim convinced the friend to give it to him. He fixed it, and managed to make a few phone calls to acquaintances in China to help him orchestrate his escape. Soon he found himself trekking through China and Southeast Asia, finally resettling in South Korea where he now studies engineering and fixes electronic devices on the side.
Kim shared his story last week at Taipei American School (TAS) where he was one of the guest speakers at the Model United Nations. The other guest was Park Sokeel, Director of Research and Strategy for Liberty in North Korea (LiNK), a Seoul-based NGO that works with North Korean refugees. As part of his job, Park liaises with the media and policymakers to share stories like Kim's and push for a people-focused approach rather than a nuclear weapons approach to reporting and formulating policy towards North Korea.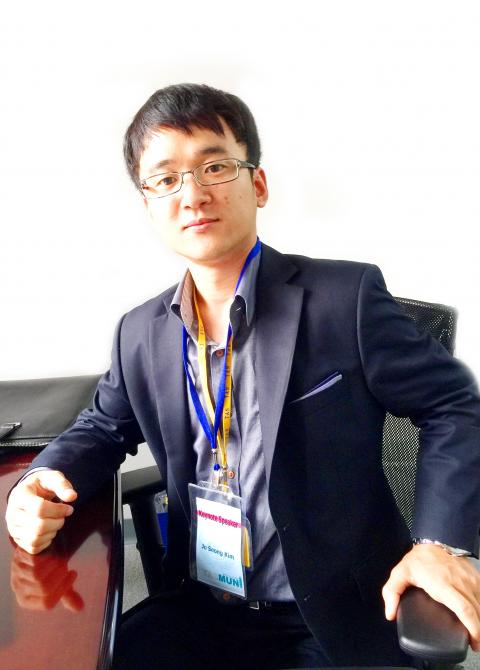 North Korean defector Kim Jo-seong was at Taipei American School last week as a keynote speaker for the Model United Nations.
Photo courtesy of TAS Kim Jo-seong
CALCULATED DECISION
When I meet with both men at TAS, Kim is all smiles and eager to talk. The thin, bespectacled young man cannot have been much taller than five feet. Tall and bearded, Park towers over him. They joke around when I get them to pose at a staircase for a photo, Park asking me if it looks too much like a prom picture.
In a way, it was serendipity that brought Kim to Taiwan.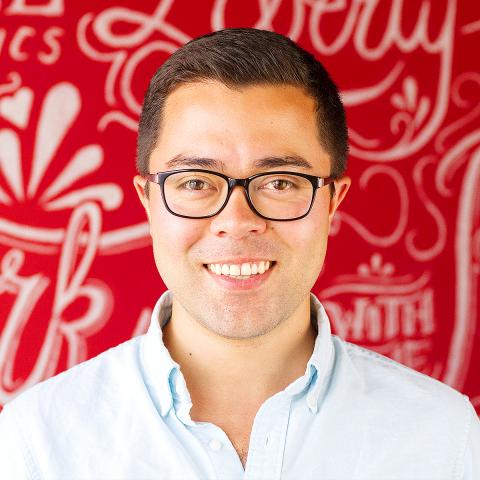 Park Sokeel, Director of Research and Strategy for Liberty in North Korea
Photo courtesy of TAS Park Sokeel
"When I was young, I wasn't so interested in studying or doing sports," Kim says, with Park translating. "My biggest source of entertainment was playing with electronics."
When disassembling a couple of Japanese products, he noticed that a lot of the printed circuit boards or PCBs had "Made in Taiwan" stickers on them. He came to the conclusion that Taiwan must be a high-tech nation.
It was differences like these — the discrepancy in the quality of products made in North Korea and elsewhere — that made Kim suspect there might be a better world out there than the one he grew up in.
Kim learned about life in China from his mother who defected several times but was caught, interrogated and tortured each time.
"I heard stories that in China, people eat rice and meat and that access to food isn't as big of a problem," Kim says.
Kim's father, who was from Pyongyang, had gotten into trouble with the government and was sent to work as a miner before passing away after a long illness when Kim was still young. For Kim, one of the hardest things about life in North Korea was not just living in a constant state of fear of provoking the government, but also having to cope with feelings of depression.
"It's difficult to have a sense of hope for a bright future, rather you're just focused on worrying about food and living day by day," Kim says.
Kim's decision to defect was a calculated one. He knew there was a risk of being caught and sent back to North Korea. But the thought of living with hunger and depression while knowing that there could be something better out there was enough to compel him to leave.
"It was a decision that was built up over a decade, and as I was crossing the border, I didn't know if I would be shot in the back or caught and sent to prison for the rest of my life."
HUMAN NARRATIVE
Park says the number of defections last year was approximately 1,300. According to a Guardian report in May of last year, this marks a sharp decrease from 2008 to 2013 when the yearly number of escaping refugees averaged between 2,400 to 2,900.
Park cites North Korean leader Kim Jong-un's tightening of border security as one of the reasons behind this trend. While during the Kim Jong-il era, it was possible to bribe border guards, it has become increasingly difficult to do so in recent years. Even paying a bribe does not guarantee that a border guard will not shoot someone trying to defect.
"You hear all these numbers and statistics, but it doesn't hit home how huge this problem is until you get to know the defectors personally," Park tells me.
Though there's more reportage these days by foreign correspondents in Seoul on human rights in North Korea, the dominant framework remains security-focused — or at least one that is obsessed with Kim Jong-un's latest antics and his haircut.
"It's easy to grab the attention of people if we say, 'hey, there might be a nuclear war.'"
Park says that the nearly 25 million people living in such a repressed society deserve better than that.
"It's a huge privilege to be able to work on this issue, but it feels wrong that it's a niche market," he adds.
ADJUSTING TO THE SOUTH
It was initially difficult for Kim to adjust to life in a modern, industrialized country. Coming from a place where his daily routine revolved around scavenging for food, having to compete in school and at work was a foreign concept to Kim.
"Life isn't just about finding food now," Kim says. "In South Korea, it's about developing your abilities, knowing people and having talent and the ability to survive."
Kim says he sends money back to his family in North Korea and like many other defectors, he often finds himself yearning for his hometown. But Kim has come to accept that life in South Korea is his new reality.
Park says that people like Kim — North Korean millennials — will be instrumental in leading North Korea towards change and the possibility of opening up. Kim's generation grew up in world of increasing information flows and knowledge of the outside world from friends and relatives who have defected.
In the meantime, Kim is intent on doing something for his country's people. If North Korea opens up, he wants to work on re-development and to help people who did not have the same opportunities as he did.
"I may not be able to pay back, but I can pay forward when the time comes," Kim says.
Comments will be moderated. Keep comments relevant to the article. Remarks containing abusive and obscene language, personal attacks of any kind or promotion will be removed and the user banned. Final decision will be at the discretion of the Taipei Times.