Live Wire: The great unintended
"I have no idea about the man Dan Bejar."
Reading through the lines of an e-mail interview with Vancouver-based singer/songwriter Dan Bejar is a master class in the inner workings of the occidental pop/rock psyche.
Famous first as a member of The New Pornographers, then with his own far more prolific invention, Destroyer (which actually predates TNP), Bejar is something of an enigma in the indie world. That fluid sort of stylist who seems to move so seamlessly between genres you can't tell if he's being intentionally ironic, deliberately obtuse, unconventionally brilliant or some combination of all three.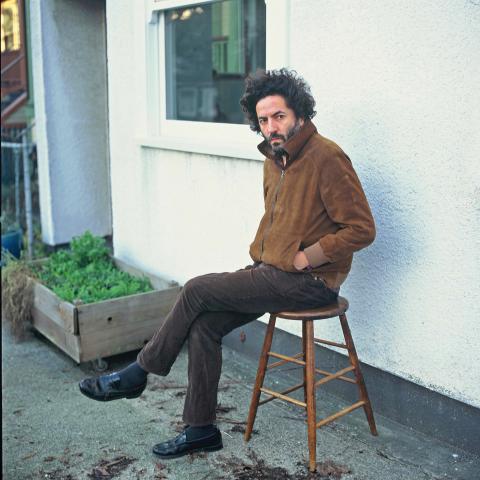 Dan Bejar, the man behind indie phenomenon Destroyer, has made a career of making improbable transitions of genre.
Photo courtesy of Highnote Asia
Nearing his mid-forties, Bejar is now 11 albums and four EPs deep into a Destroyer catalog that spans 20 years. As is the norm, on the latest record, Poison Season, the man has a lot on his mind, many deep-seeded notions to mull vulnerably and poetically over.
The album is rich in death and religious imagery, lush with that awkward introverted weirdness Bejar and his similarly smart and odd cohorts have used to help shape the image of indie itself.
"I was in some strange room in my mind for these songs that I don't wholly recognize from other Destroyer songs," he tells the Taipei Times of putting the record together. "Something sinister, globally oppressive, and written in character, yet still more intimate-sounding than the last few records."
That whatever follows a Destroyer record will be a departure from what came prior is about the only semblance of predictability that exists in Bejar's world.
Kaputt, precursor to Poison Season, was widely hailed as the band's most pop album to date. It's only natural Bejar felt the need to go in a darker direction on his latest exploration—one in which classical balladry finds itself fused with a muted yet no less prescient '70s classic rock vibration.
It's a seemingly strange combination, one which begs the question of common ground.
"Not sure there is much common ground," he answers, "which is why Poison Season is kind of a weird record. I will say that in the '70s, which is the decade I feel closest to when it comes to rock music or pop music, diverse and heady arrangements where not considered exotic things. Nor were grand gestures, melancholic melodic lines, or defeatist lyrics."
Talk to Bejar long enough, be it in person or in the virtual world, and it's not long before the conversation trips over his conflicted views of pop music via the vile indie antipode of careerism.
It's the struggle that seems to define him — the artist's artist who can't help but make accidental pop music, no matter how hard the superego might rail against it.
Case in point: Bejar simultaneously feeling most comfortable within the decadent, overblown strains of '70s classic rock, albeit reigning it in with indie's translucent chains, while appearing nearly ready to toss it out the proverbial window.
"I'm almost willing to throw away any attachment I have or have ever had to American radio music. Almost willing to throw out Bob Dylan and Marvin Gaye and other things that I've carried around so close to my heart for years now. Just to be rid of the whole damn thing. Almost. But this would be acting on principle, and I'm not very good at that."
It's that raw honesty that has attracted legions of fans to Bejar's work. He's succeeded, again, deliberately or otherwise, in drawing in the sort of supporters who will poke and prod at the viscera of his body of work and pick it apart down to the last note and syllable.
One of the major themes of his career picked up on by fans and critics alike has been the transition away from the sort of literary geekdom of his early work to more straight-ahead singer/songwriter fare.
It's just something that kind of happened, but one wonders if it's something Bejar regrets — the fading of the writer's voice in his work.
"I don't mourn it. I know some older Destroyer fans do. But the transition to me has felt like a pretty natural one, even if the break between Trouble In Dreams, the most 'writerly' record I've ever done, and Kaputt, the most 'pop' record I've ever done, seems sudden."
He goes on.
"I've never controlled what I've written or sat down and done so from a conscious place, so I have no control over the fact that these days I'm writing more songs that sound more like songs than books. I also have simpler things to express, which I've heard is typical of growing older, doing one thing over and over again."
There are more important matters to ponder as life transitions to the half-empty type scenario of middle age anyway. Themes of shelf life and purpose. One's place amid the odd and absurd Pantheon of rock and pop.
Aging gracefully within that limited frame of reference, however, has never entered the equation.
"When you're actually making something, unimportant things like pop culture can't really be on your mind. There are heavier matters at hand, like making the thing. Obviously in your mid-forties you start to feel ridiculous and doomed in the coliseum."
And so Dan Bejar the artist comes to realize, perhaps unintentionally, that although he might not have any idea about Dan Bejar the man, both share the same limitations of the flesh and a fickle public. Where he is now, he got there naturally. Where he's going, it doesn't matter.
"I've always thought of myself as shockingly static in this thing I do. Like I've cornered one very tiny corner of the market for a while now, and that's just where I live."
■ Destroyer plays tonight at The Wall, B1, 200, Roosevelt Rd, Sec 4, Taipei City (台北市羅斯福路四段200號B1). Tickets are NT$1,400 in advance (available via books.com.tw), NT$1,600 at the door. Doors open at 7pm, show starts at 8pm.
Comments will be moderated. Keep comments relevant to the article. Remarks containing abusive and obscene language, personal attacks of any kind or promotion will be removed and the user banned. Final decision will be at the discretion of the Taipei Times.