Live Wire: The Scream and 'The Force'
Many a time music fans in Taiwan have been left teary-eyed. It starts with their favorite band announcing a tour of Asia; full dates pending. The anticipation builds. Hopes run high — only to have it all come crashing down when, yet again, Taiwan is given a miss.
The factors are many and oft repeated. Too few promoters of vastly varied skill, dedication and scruples. A paucity of venues. A scene too small to guarantee a return on investment for all but the biggest acts. The high costs involved when every band, their crew, and their gear, is coming in via air.
It's less a surprise when booking agents take a pass on Taiwan than an inevitability.
Onslaught will stage a special for fans, by fans show in Taipei on April 13th, playing their sophomore album in full.
Photo courtesy of Florian Stangl
So, it warms the cockles of ones heart when a rare feel-good story comes of all those bands waving at Taiwan through the passenger window as their flights pass by.
When legendary British thrash band Onslaught announced a run of shows in Asia this month and May, Taipei once again found itself on the outside looking in. Adding to the sting was the fact that throughout the tour, the band would be playing its classic album The Force in its entirety to celebrate the thirtieth anniversary of the release.
A group of Taipei thrash fans took a look at the tour poster and said no more.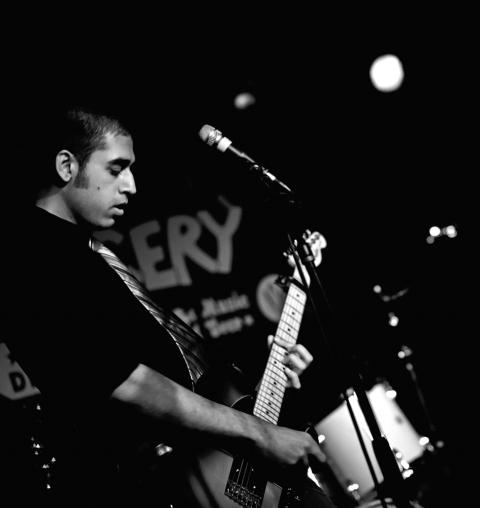 Neil Matharoo, a.k.a. Soundstatues, arrives in Taiwan this weekend for appearances at Spring Scream and beyond.
Photo courtesy of Soundstatues
They pooled their resources. Got on the horn to the band. They booked the venue, paid the advance — got everything done themselves. While the promoters who book metal bands for a living took a flier on the show, the fans made it happen.
A sign of things to come? An era in which Taiwan's music fans subvert the promoter paradigm and start booking shows themselves? More likely a one-off. Still, you have to tip your hat. Where so many would simply piss and moan, this crew got to work and did something about it.
Now, here's hoping The Force doesn't pull every last spare copper from the pockets of those who so bravely turned out to make this show happen.
■ Onslaught plays April 13 at Jack's Studio (杰克音樂) B1, 76, Kunming St, Taipei City (台北市昆明街76號B1). Tickets are NT$900 in advance (available at Jack's Studio, Pub Metal Merchandise and Liberated Rhythms), NT$1,200 at the door. Doors open at 6:30pm and the show starts at 7pm.
SPRING SCREAM
Where bands of a more businesslike mindset might still be giving Taiwan a bit of the old side-eye, the underground scene continues to thrive and attract. Thanks to the Internet, it takes only a cursory glance at some metrics for an artist to see who is digging their stuff and where they are.
For Soundstatues, the solo project of Brooklyn-based singer/songwriter Neil Matharoo, one of those places who happened to take a particular shine to his guitar-driven mix of nineties alt rock, the eclecticism of Ween and the powerful simplicity of the Mountain Goats, was Taiwan.
Naturally, Matharoo set about organizing a DIY circuit of Taiwan centered around the Spring Scream (春天吶喊) music festival in Kenting this weekend. It will be another step on a long journey, both personal and musical, that's taken him from angst to clarity, from the small town to the big city, and from his home country out into the world.
The roots of all of this can be traced back to that decade of plaid flannel-clad angst that was the nineties, when a teenage Matharoo gravitated towards the Nirvanas, Pearl Jams and Smashing Pumpkins of the world, as did so many of his generation.
"The vibe of 90s rock was disaffected youth — angst, rebellion, anger," says Matharoo in an interview with the Taipei Times.
"Of course, those themes will resonate strongly with a teenager growing up in a small town, especially a teenager with anger problems who doesn't quite fit in with that small town."
Angst will only get you so far. It's all well and good for teenagers or those who just want to appeal to them. Eventually, though, it has to be channeled and refined into something more substantial, lest you find yourself near 50, still warbling about rage and being a rat stuck in a cage to rooms full of divorcee relics and their kids.
Luckily for Matharoo, angst was just a stepping stone.
"I quickly grew out of the angsty teenager phase," he says, "and suddenly I was able to see other themes in music. Mountain Goats showed me just how powerful a simple, well-written song can be. Ween showed me that I'm perfectly allowed to compose in any style I wish. Mozart was a revelation, because it was like reading a novel after having just read limericks before."
■ Catch Soundstatues at Spring Scream, which begins tomorrow and runs until Monday at Oluanpi Lighthouse National Park (鵝鑾鼻燈塔國家公園). Single-day passes range from NT$1,380 to NT$1,470 in advance, NT$1,500 at the gate, and three-day passes range from NT$1,800 to NT$1,950 in advance, NT$2,200 at the door. Advance tickets are available at 7-Eleven ibon kiosks. For more information, go to: www.springscream.com
Soundstatues' tour continues on Monday at Rocks Club in Kaohsiung, April 9 at Taipei City's Kafka By The Sea (海邊的卡夫卡), and April 12 at Taipei City's Riverside Live House.
Comments will be moderated. Keep comments relevant to the article. Remarks containing abusive and obscene language, personal attacks of any kind or promotion will be removed and the user banned. Final decision will be at the discretion of the Taipei Times.