Live Wire: Violence in action
The best music is filled with violence of the flesh and the soul. The incalculable beauty, the relative superfluity or value of song — all are more often than not determined by a troubled mind guiding a hand prone to vice.
That vice can be anger and violence itself. From Charles Mingus to Anton Newcombe to Eugene Robinson, the tempest has sometimes been self-inflicted. At others it has been brought on by a deliberate provocation courtesy of one of those addled souls who has been sucked into the swirl.
Violence attracts. It releases its practitioners and victims and willing participants from all social contracts. It liberates. It does what all great art sets out to do. And in the process, it naturally goes that it destroys all who allow themselves to be sucked in.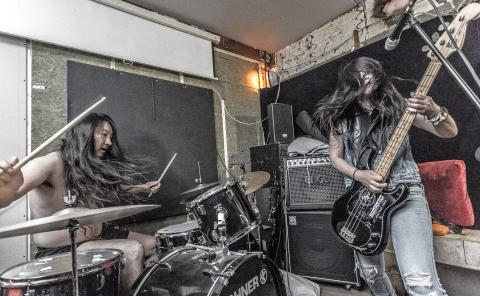 Tokyo noise-grind duo Sete Star Sept have forged a career out of nothing less than pure musical deconstruction.
Photo courtesy of Sete Star Sept
The question becomes: how does one tap into the fathomless well without falling headlong into it?
For Japanese noise-grind duo Sete Star Sept, the key is focus. Taking the rage of grindcore, the misanthropy of harsh noise and the heady possibilities of free jazz and funneling the ensuing maelstrom wholly into the music.
Over the past six years, bassist Kae Takahashi and drummer Ryosuke Kiyasu, have disgorged a veritable landslide of split tapes, EPs, full-lengths, live recordings, MCDs, LPs — every medium past and present short of the eight-track. In touring and recording around the world several times over, the pair has never lost hold of the beast they tap into.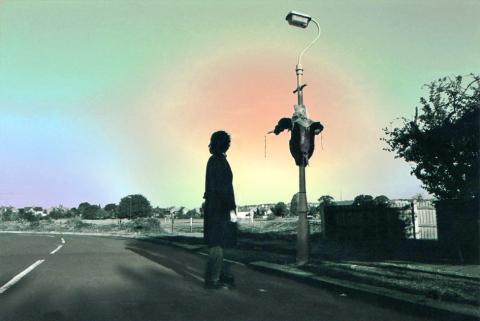 One-man experimental electronic artist Yearning Kru headlines Future Proof Sound Fest Vol 6 this Saturday in Taipei.
Photo courtesy of Yearning Kru
In their stage performance the violence and danger flows from and around them as the show inevitably devolves into Takahashi writhing on the floor, screaming into a wall of feedback, Kiyasu dissembling his kit down to the snare, sitting bow-legged on the ground, beating the already battered skin like a child's toy.
Like most violent displays, the audience is left braying for more. Like any good art, it also leaves people with questions.
What in the hell did I just watch? Was it calculated? Improvised?
"Both," answers Kiyasu in an interview with the Taipei Times. "Basically all the songs are structured. However, there are improvisational parts in each song."
In the course of the band's extensive touring (they seem to spend several months of the year on the road, returning to Tokyo to work part-time jobs between sojourns), Sete Star Sept has played everywhere from punk squats to traditional venues and, along the way, many places where music of an extreme nature might seem out of place, such as when they played Regensburg, Germany in the summer of 2013.
"The venue was kind of a stylish and upscale restaurant," Kiyasu recalls. "There was nothing! No drum set. No bass guitar. No backline. There was even no microphone. The organizer had some troubles to get backline and musical gear. Kae sang a song a cappella without bass guitar and I played a snare drum on the ground."
Sete Star Sept is currently touring Asia yet again. In September they'll head back to Europe and are working on playing in such disparate locations as Mexico and Africa. When your music has no limitations and an endless well of chaotic inspiration from which to draw, the list of potential places to play becomes proportionally vast. The world over, violence attracts.
As Kiyasu puts it, Sete Star Sept is, "Destroying musical notes by intense energy." Violence in action, one city, one country, one musical cynosure at a time.
■ Sete Star Sept headlines Argh Vol 4 tonight at Revolver, 1-2 Roosevelt Rd Sec 1, Taipei City (台北市羅斯福路一段1-2號). Tickets are NT$300 at the door with a drink, and the show gets started at 8:30pm
■ Tomorrow, Kiyasu will play a solo snare show at Lacking Sound Festival #101 at Changee (噪咖), 180, Fuhua Rd, Taipei City, (台北市福華路180號). Tickets are NT$250 at the door and the show begins at 7pm
■ On Sunday, Sete Star Sept reconvenes in Taoyuan at Vulgar Space (低俗空間), 255, Datong Rd, Taoyuan City (桃園市大同路255號). Tickets are NT$200 at the door and the show starts at 4pm
From the madcap precision and bombastic excess of noise to a festival celebrating all facets of pulsating electro-glitch and lo-fi psychedelia. Future Proof Sound Fest (聲響驗證未來) has evolved and thrived through five previous incarnations, with the sixth installment coming this weekend.
This time around, curators Phin Berry, of the currently on indefinite hiatus Dronetonics and recently activated new project Colour Domes Cam Scherman and Chung Po-hsun (鐘柏勳), known to most simply as "Mad," have assembled an eclectic group of musicians for an afternoon and evening of electronic explorations.
Headlining the event is Croydon sound and visual artist Yearning Kru, who pieces together digital soundscapes and samples along with tripped out visual montages, all inspired by the literary world and building on the likes of Frank Herbert and Mervyn Peake.
Other highlights of the bill include the aforementioned Colour Domes, aptly described by Berry himself as "Nostalgic pop-ish songs braised in menace," experimental synth duo (and Lonely God Records artists) Lu & Du, and D.R., precisely one half of EAOW (藝藥), another act plucked from the Lonely God roster which recently released their debut EP, 1st Kommt.
It should be a day of music that can only be described as post-everything, wallowing in the primordial essence of the weird and wonderful resurgence of sounds non-traditional here in Taiwan, assembled by those precocious minds, both violent and gentle, mildly psychotic and beautifully bent, from at home and abroad.
■ Future Proof Sound Fest (聲響驗證未來) Vol 6, tomorrow at Miculture Foundation Tiger Mountain (微遠虎山), 186-1, Ln 221, Fude St, Taipei City (台北市福德街221巷186-1號). Tickets are NT$300 at the door, and the event gets underway at 2pm
Comments will be moderated. Keep comments relevant to the article. Remarks containing abusive and obscene language, personal attacks of any kind or promotion will be removed and the user banned. Final decision will be at the discretion of the Taipei Times.