Restaurant review: Mayur Indian Kitchen 4 – Tonghua St (馬友友印度廚房 — 通化街)
Mayur Indian Kitchen tries to be a bit of everything — North Indian and South Indian cuisine, vegetarian and non-vegetarian, halal and non-halal. They have four branches, each with a different menu and concept ranging from buffet to fine dining.
While I understand the idea of wanting to showcase India's culinary diversity, my experience has been that restaurants who cultivate a niche tend to fair much better. That being said, the dishes were still artful and flavorful, and lacked the taste of being mass produced that many restaurants who try to do a bit of everything generally fall victim to.
I dined at Mayur Indian Kitchen's newest branch on Tonghua Street (通化街). Being technically a buffet restaurant, there are no frills, just simple red and green walls, mirrors and colorful plates. The bar top is lined with endless bottles of spices. Though modest and compact, the establishment exudes a warm, neighborhood vibe, and by virtue of its location near Tonghua Night Market (通化夜市), well-marinated pork chops is a welcome option to greasy pork sausages.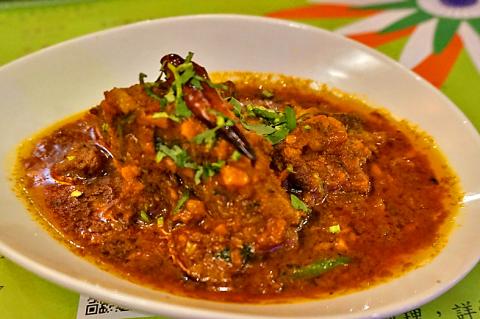 The beef vindaloo was nicely shredded, tender and juicy.
Photo: Dana Ter, Taipei Times
My dining companion and I opted for a la carte. The chef and owner, Mayur Srivastava, helped us thread through the exhaustive menu and recommend a few dishes — meat for me, vegetarian for my friend.
Of course, every Indian meal needs naan bread for dipping, so we decided on the garlic naan (NT$65). It was served fresh from the oven, crisp, fluffy and charred on the edges, the garlicy aroma adding an extra punch to the curries we paired it with. It worked well with the savory ginger taste of the chana masala (NT$245) for instance. The crunchy chickpeas were soaked in a mild curry grinded with various spices, onions and tomatoes, while small bits of ginger gave it added zest.
I quite fancied the sauces that were served with the Punjabi vegetable samosas (NT$150) — in fact, more than the samosas themselves. Both are homemade. One is a mildly sweet tamarind sauce, and the other, yogurt blended with coriander, mint, spinach and some spices. The coriander and mint were quite evident in the yogurt sauce, though not overwhelming so, but just enough to bring more pungency to the samosas. The samosa skin was not that crispy, and the potatoes and peas were quite a mouthful to digest. It was still done quite well, though the yogurt sauces were the stars of this show.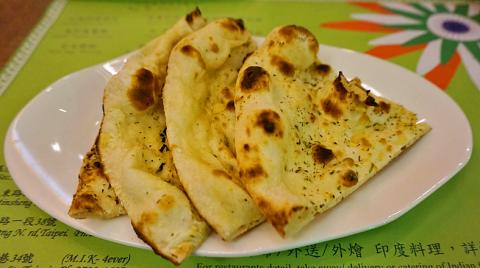 The garlic naan bread was served fresh from the oven, crisp, fluffy and charred on the edges.
Photo: Dana Ter, Taipei Times
For vegetarians, I recommend the Tandoori vegetables (NT$280). My vegetarian friend devoured the roasted veggies, dipping each piece of mushroom, capsicum and beet into the sweet tamarind sauce. The veggies were freshly marinated and roasted in a Tandoori oven, which gave it a tantalizingly charred quality without being overcooked. The best part, though, was the cooked apple hidden inside the mountain of veggies. It was unexpected but refreshing, its softer texture complementing the capsicums.
Now, on to the meat. The chicken tikka masala (NT$325), the Indian-British fusion that was named a UK national dish in 2001, was slightly different than what I remembered eating during my graduate school days in London. There were much more vegetables, and not as much curry. While I did not mind the added veggies — the tossed capsicums, peppers and onions mixed with spices were fragrant and crunchy — I would have preferred a creamier, heavier sauce. The roasted chicken was still elegantly done, tender and chewy.
The beef vindaloo (NT$350) was one of my favorite meat dishes. The strips of beef were nicely shredded and tender. The Goan-style curry it was soaked in was a delectable blend of sour and spicy. Also worth sampling is the roasted pork chops (NT$350). Marinated in barbecue sauce and served with fennel seeds, the pork chops tasted naturally sweet and were slightly charred and crisp around the edges.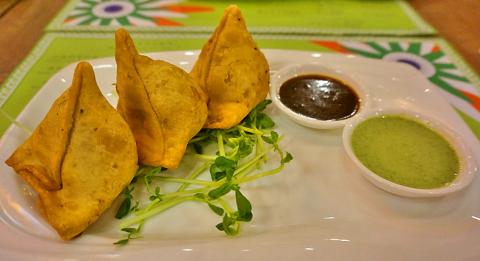 The Punjabi vegetable samosa was a mouthful of potatoes and peas served with two homemade sauces — a mildly sweet tamarind sauce and a delightful yogurt blended with coriander, mint, spinach and some spices.
Photo: Dana Ter, Taipei Times
Definitely check out Mayur Indian Kitchen's Tonghua Street branch if you're looking for a full, satisfying meal of curries and veggies. Sometimes, more is more.
Publication Notes
Mayur Indian Kitchen 4 – Tonghua St (馬友友印度廚房 — 通化街)
Address: 34, Ln 171 Tonghua St, Taipei City (台北市通化街171巷34號) Telephone: (02) 2732-1687 Open: Tuesdays to Sundays from 12pm to 10pm Average meal: NT$449 for buffet (with reservation), NT$499 for buffet (walk in), NT$500 to NT$750 for a la carte Details: Menu in Chinese and English, credit cards accepted On the net: www.facebook.com/bestindiantaipei
Comments will be moderated. Keep comments relevant to the article. Remarks containing abusive and obscene language, personal attacks of any kind or promotion will be removed and the user banned. Final decision will be at the discretion of the Taipei Times.